Shrink to fit
Sony Ericsson XPERIA X10 mini review: Shrink to fit

Android Market has what you need
We mentioned the Android Market in the previous section and we found SatNav software, both free and paid, with very little effort. Since we haven't heard of some of the apps, user ratings were a good clue of what's worth checking out and user reviews helped us decide which ones to download.
The Android Market made a very positive impression – the number of available apps is growing by the day and a good deal of them is free. In fact as it turns out, if you're after free apps, Android Market has a larger percentage of those than any of the application stores of the competition. The Market organizes apps and games into two separate tabs, and each tab shows the best in the relevant category. The third tab keeps track of what you've already downloaded.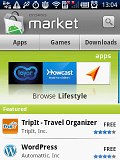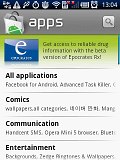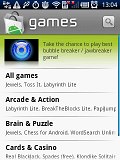 The Android market will cover your 3rd party software needs
Searching is very easy – just tap the search button, type what you're looking for (e.g. "navigation"). From then on, it's pretty easy to choose – each app has a rating, a short description by the author, user comments and screenshots.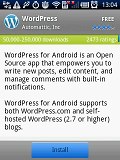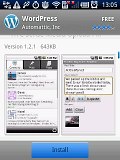 Checking out a single app details
Applications vary from pretty basic tools (such as the one that turns the display into a flashlight) to real must-have's (including file managers, navigation software and more), but that's true for every other app store.
Final words
Small phones are special, no doubt about that. The Sony Ericsson XPERIA X10 might just be too special to have mass appeal but we don't think it's what this phone is trying to do. The X10 mini is an experiment, which works out well.
It's hard not to like the Sony Ericsson XPERIA X10 mini. It's equally hard we think to not notice its limitations. But we should make it clear: it delivers on the main promise it made when it first appeared in public – it's a capable smartphone that every pocket can take. Better yet, it isn't outrageously expensive either.
The user-interface has been well optimized for the little (in touchscreen terms that is) display and while this has involved some functionality sacrifices, they aren't too bad. Granted, you won't be able to edit documents or read maps as comfortably as on the full-size XPERIA X10 but the mini is by no means a poor relation.
No review can help you make up your mind about a phone like this one – if you haven't already. You might think it's a cool and cute li'l droid – or see no point in it whatsoever. After all, there's plenty of smartphones out there that will do the same things (and better) within the same budget.
Anyway, to put things into perspective, let's check some of the potential challengers in the lightweight division.
If you can do without smartphone capabilities you might want to check out the Samsung M5650 Lindy and the LG GD880 Mini. Both are lookers (we do admit though to a particularly soft spot for the LG mini) and offer plenty of connectivity in compact form factor. They certainly aren't as small as the XPERIA X10 mini but will perhaps cost substantially less.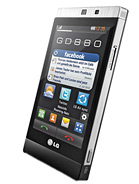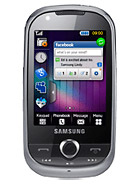 LD GD880 Mini • Samsung M5650 Lindy
If smartphone is a must, but it doesn't have to be Android, Nokia 5530 XpressMusic is another affordable handset that will easily slip in any pocket. Again, the size comparison is undoubtedly in the X10 mini's favor and the Nokia 5530 skimps on 3G but essentially it's a compact smartphone that will save you a good deal of cash.
If you would like to stick around in droid land, you have the HTC Tattoo to check out. It gives similar performance but comes in a larger body and trades the Timescape UI for Sense.
You can always go for some QWERTY-ness with the XPERIA X10 Mini Pro or the Nokia N97 Mini. Because, let's face it – text input is not among the X10 Mini's strengths.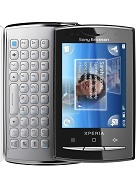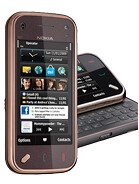 Sony Ericsson XPERIA X10 mini pro • Nokia N97 mini
Well it does look like there is plenty of choice in the compact class, but not a single one goes quite as far as the XPERIA X10 mini. If size really matters this is the ONE real mini, and basically your best option.
Reading your mail, browsing the web or watching video will be better on almost any other touch phone out there. But the X10 mini doesn't want you to be sensible and practical. It hopes you'll appreciate the idea behind it. Getting smaller and better – isn't this the life story of mobile phones.