Mini Me... ssenger
Sony Ericsson XPERIA X10 mini pro review: Mini Me... ssenger

Shopping at the Android Market
The Android Market has grown a lot. It offers over 80,000 apps, the majority of which are free.
Some apps (like the official Twitter client) require Android 2.1, which leaves the XPERIA X10 mini pro out. For now, that is – the Eclair update for the X10 family is coming up.
The Market organizes apps and games into two separate tabs, and each tab shows the best in the relevant category. The third tab keeps track of what you've already downloaded.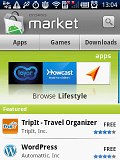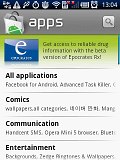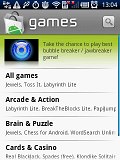 The Android market will cover your 3rd party software needs
Searching is very easy – just tap the search button, type what you're looking for (e.g. "navigation"). From then on, it's pretty easy to choose – each app has a rating, a short description by the author, user comments and screenshots.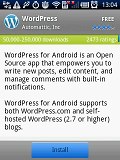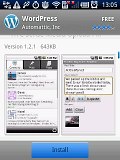 Checking out a single app details
Applications vary from pretty basic tools (such as the one that turns the display into a flashlight) to real must-have's (including file managers, navigation software and more), but that's true for every other app store.
Final words
It sometimes makes sense to start big and go smaller. In all honesty, their top Android phone doesn't quite stand up to the most recent competition. But since the original XPERIA X10, Sony Ericsson have been narrowing their focus – trying to make a difference. And in the end, the X8 and the two mini droids may pay off better than the flagship.
The Sony Ericsson XPERIA X10 mini pro is certainly not a phone without flaws, but it's hard to stay mad at it for long. And that's not just because we have a soft spot for it. It's mostly because the handset does what it's supposed to – and does it well. No one promised you great movie watching, out-of-this-world imaging or a full office suite.
The X10 mini pro is perhaps the smallest smartphone / QWERTY messenger – but by no means a lesser smartphone package than most. If it wasn't for the somewhat steep price it would be the easiest to recommend. Don't forget though that the X10 mini pro has only been selling for a week or so. And the price will drop to more reasonable levels sooner rather than later.
Let's now have a look around to see where possible competition might come from.
Of course anyone who doesn't do much texting should save themselves a few bucks and some pocket room and go for the Sony Ericsson XPERIA X10 mini. It's the same package save for the physical keyboard. The X10 mini comes with a non-user-replaceable battery but that's hardly a biggie. At the pace modern smartphones age, you are more likely to change your phone before you need to change its battery.
The FlipOut is Motorola's take at a compact Android messenger. While we haven't seen this one in flesh, the rest of the QWERTY-enabled Motorola droids have impressed us enough to be optimistic on this one.
If you are willing to wander away from Android, the Nokia N97 mini is a larger but more capable QWERTY smartphone. However its usability is somewhat compromised by the unpolished S60 UI and it does take the mini tag far more lightly than the X10 mini pro.
The Vivaz Pro will give brand-loyal users a larger keyboard and a better camera for a few extra bucks. The thing is it comes with the pretty much the same S60 UI (though Sony Ericsson did get their own homescreen on top), which isn't nowhere near as fluid as Android.
The upcoming Nokia X5-01 merits an honorable mention. If a boxy smart messenger is an absolute must, do give it a look when it hits the shelves in the following months. You will get a 5 megapixel shooter and a QVGA screen but will have to live without a touch UI.
So as you can see even if alternatives do exist, none of them is able to perfectly match the Sony Ericsson XPERIA X10 mini pro spec-by-spec. It's always good to first make up your mind about what you need.
OK, we'll say it again – everyone needs a phone. Few people need a smartphone. Fewer yet need a smart messenger. Now, what does that leave pint-sized smart messengers? It doesn't look good. But we know what does. A Sony Ericsson XPERIA X10 mini pro.