Promising multimedia
Image gallery looks cool, but runs slow
Sony Ericsson have added a second gallery to the rather plain and boring WinMo app and it's accessed through the main menu.
You use sweeps to navigate around the images. If you tap on screen you also get zooming and slideshow controls. In addition, the screen has auto rotation thanks to the built-in accelerometer and you don't need to slide the keyboard for a landscape view. Unfortunately it's rather slow with noticeable lag, which is quite a disappointment for such a nice looking gallery. But once again this is probably due to the old hardware Sony Ericsson have used in the XPERIA X2.
A basic music player
You can find the embedded music player into the media menu and it's very similar to the Walkman player in the Sony Ericsson's feature phones and can handle playlists, organize your tracks by albums, authors, etc. Album art is supported, but unfortunately there are no equalizer presets, stereo enhancements or visualizations.
Its design matches the whole multimedia menu and looks good, but this beauty doesn't completely disguise the rather basic functionality.
The Sony Ericsson XPERIA X2 sports stereo speakers on its back and they sound loud enough to satisfy most users, but you need to put the handset into an appropriate position otherwise you may muffle them.
Windows Media Player is also on board, but we all know it's pretty useless.
Full DivX/XviD support for the video player, incapable hardware
Much like the gallery, Sony Ericsson have an alternative video player, which is better than the stock Windows variety.
Surprisingly it has native DivX/XviD support and can play videos up to 720p resolution. There is even subtitle support, but there are no settings for it and we think it's kind of buggy and needs some more work.
Now here comes the bad news. The player handled perfectly all videos up to WQVGA resolution with no dropped frames or rendering problems. Come any video higher than that and things get ugly. Higher-res videos barely ran at 5-10 fps, which made them impossible to watch. Again, it's probably the outdated hardware at fault.
FM Radio
Similar to HTC Touch PRO 2, the XPERIA X2 has FM radio receiver inside but it's not enabled and there's no software to control it on board. Again, hopefully Sony Ericsson will deliver that with an upcoming firmware update in March.
Audio quality is a bit disappointing
Unfortunately the audio quality of the Sony Ericsson XPERIA X2 is a real step backwards compared to its successor. Don't get us wrong - it's not unbearable or anything - it's just that the first XPERIA was excellent and the XPERIA X2 is average at best.
The X2 has its highest frequencies cut-off, unlike its predecessor that had an almost perfect frequency response. The noise levels and the dynamic range are also worse and so is the stereo crosstalk.
Total harmonic harmonic distortion is the only area where improvement is noticed but the intermodulation distortion (which was the worst part of the X1 audio output) is even worse now.
Here go the results so you can see for yourselves.
| | | | | | | |
| --- | --- | --- | --- | --- | --- | --- |
| Test | Frequency response | Noise level | Dynamic range | THD | IMD + Noise | Stereo crosstalk |
| Sony Ericsson XPERIA X2 | +0.44, -3.36 | -81.3 | 84.0 | 0.057 | 0.0952 | -93.1 |
| Motorola MILESTONE | +0.16 -0.06 | -74.1 | 74.7 | 0.014 | 0.040 | -73.1 |
| Nokia N97 mini | +0.05, -0.32 | -90.5 | 90.4 | 0.0049 | 0.487 | -91.0 |
| Nokia N97 | +0.04, -0.27 | -90.7 | 90.7 | 0.0048 | 0.896 | -89.5 |
| HTC Touch Pro2 | +0.17, -1.61 | -84.6 | 87.1 | 0.023 | 0.182 | -84.9 |
| Sony Ericsson XPERIA X1 | +0.11, -0.47 | -93.2 | 94.8 | 0.448 | 0.897 | -96.3 |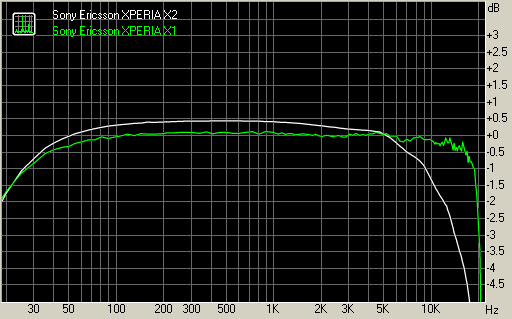 Sony Ericsson XPERIA X2 vs Sony Ericsson XPERIA X1 frequency response graphs
You can learn more about the whole testing process here.