Surprisingly good camera, disappointing video recording
Sony Ericsson XPERIA X2 is equipped with a 8 megapixel autofocus camera with a maximum image resolution of 3264x2448 pixels. It also has a LED flash that is supposed to assist night photography but as usual its power is inadequate for producing a decent photo at distances over a meter. On the positive side it can also be used as a video light unlike its xenon siblings.
The camera interface resembles those of the CyberShot series, this time upgraded and optimized for thumb use. Pop-up sub-menus enhanced with icons and the Multi Menu packing all the available settings are here to facilitate the user experience.
The camera toolbar gives access to shoot mode, scenes, focus, flash, exposure and the settings Multi Menu. ISO setting is not available in XPERIA X2.
In the advanced settings you will find options for white balance, picture quality, picture size, effects, self-timer and geotagging.
The other notable camera features include touch focus and image stabilization. The touch focus works like a charm, allowing you to choose the focus point, while the image stabilization speaks for itself - just don't expect any miracles.
The status bar at the bottom is a new addition and it displays all the options you have chosen in the viewfinder - from size to self-timer. It is very nice of Sony Ericsson to save us all the digging in the menus just to check if geotagging is on for example.
Image quality
The image quality is surprisingly good, outclassing a top-end Cyber-shot like the C905. Colors are rich and accurate, there's no over-sharpening or purple fringing, white balance is fine, there is enough resolved detail with foliage looking especially good. It's only that we believe the resolved detail could be somewhat better, but we are nitpicking here.
However we noticed that the Sony Ericsson XPERIA X2 is having the pink spot issue that we know from the HTC HD2 camera. It might be mistaken for wrong white balance in busier scenes but when you point the camera towards a white wall it becomes pretty evident. You can also clearly see it our res-chart shot below. HTC already came up with a fix for that issue so we are hoping Sony Ericsson will follow suite soon.









Sony Ericsson XPERIA X2 camera samples
Synthetic resolution
We also snapped our resolution chart with the XPERIA X2. You can check out what that test is all about here.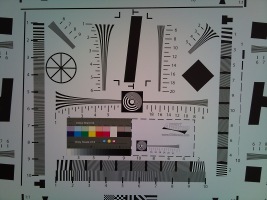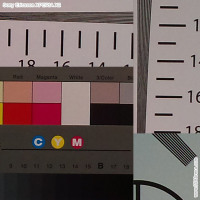 Sony Ericsson XPERIA X2 resolution chart photo • 100% crops
Video recording is useless
The camcorder interface copies the camera one. The XPERIA X2 is capable of capturing videos at 30 fps and uses the LED flash as a video light. Unfortunately, the video quality is just awful. The captured videos have almost no detail, they are blurred, pixilated and are completely useless. Even the actual frame rate goes up to 10-15 fps and the rest is just duplicated frames. In fact the videos look more like a QVGA sample at 10 fps extended to WVGA @ 30fps.
Here is a sample video for you to see.
Top-notch connectivity
When it comes to connectivity the Sony Ericsson XPERIA X2 has it all - HSDPA 7.2Mbps, HSUPA 2Mbps, Wi-Fi with DLNA support, stereo Bluetooth + EDR. It hasn't added 802.11n yet but that is still extremely rare to be seen in a mobile phone.
The X2 has quad-band GSM support for worldwide roaming and dual-band 3G - 900 and 2100 MHz bands are supported (that is Europe and the likes). You can check out our Worldwide GSM Network Bands distribution database for further reference.
USB 2.0 connections are supported as well, through a microUSB port. When connected to a computer, the XPERIA X2 prompts you to select among ActiveSync, Mass Storage or Modem mode.
The 3.5mm audio jack for the audio purists is also onboard, and it serves the TV out function too.
Internet Explorer Mobile has full Flash support
As you may have expected, the web browser is Internet Explorer 6 Mobile, which has received a nicer touch-optimized interface and cooler design since the Windows Mobile 6.5 update. It has even adopted some of the treats of Opera Mobile, including kinetic scrolling and Flash support.
There are five available font sizes and there is an optional mobile view mode. Still, with the high-res screen we are far more comfortable using the desktop mode as web pages look much more natural that way.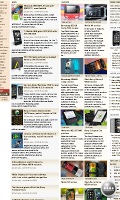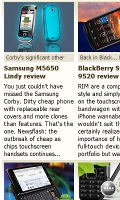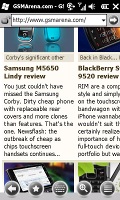 Browsing GSMArena.com wiht Internet Explorer Mobile
Zooming in is best done with a double tap on the text. Your other option is to hit the menu or tap and hold you finger on screen to launch the context menu and make a zoom slider appear. This kind of zoom has no Fit-to-screen mode.
A flaw of the IE browser is that it doesn't automatically rotate the pages with the built-in accelerometer. One would think that this is the easiest thing for the developers to do but they obviously saved themselves the effort here.
Anyway, you'll get there if you slide the keyboard. There isn't a setting for manually switching to landscape mode either so like it or not - sliding the hardware QWERTY keyboard out is the only way to go landscape.
The IE has Flash and Flash video support, thank to Flash Lite 3.1 and runs almost everything which requires Flash - even desktop YouTube streaming videos. Unfortunately, the browser is really slow and has a lot of lag, so don't expect much from Flash either. Of course you already know whose fault is that - the ageing hardware of the XPERIA X2.
We guess that and the handicapped zooming is exactly what dooms Internet Explorer Mobile to remain second best to Opera Mobile - and this is even after the major overhaul it has received.