3 megapixel fixed-focus snapper
As you already know by now, the Sony Ericsson Zylo has a 3 megapixel camera capable of producing images at a maximum resolution of 2048 x 1536 pixels. There is no LED flash on board.
The features include user-controlled white balance, shot and metering mode, geotagging, a self-timer and various color effects. You can capture panos by taking three consecutive shots using the dedicated shooting mode.
The camera has the familiar user interface. Its pop-up sub-menus enhanced with icons and the Multi Menu packing all the available settings are here to facilitate the user.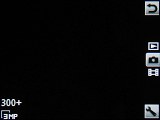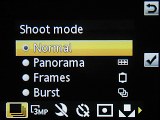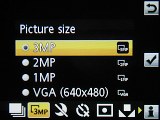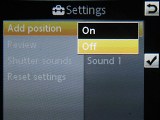 Cybershot camera user interface • the Multi Menu settings
The Sony Ericsson Zylo is capable of putting standard positioning coordinates in images using Cell-ID. You can enable geotagging (Add position) from the settings to add location data to your pictures. A flag icon at the bottom of the viewfinder indicates that the option is activated.
Thanks to the built-in accelerometer the camera is also able to auto-rotate your images when you are previewing them.
There is one shortcoming that concerns the one-way camera menu layout - to reach the Multi Menu you have to pass all the other settings on the toolbar as it's the last item there. Looped scrolling of items on the toolbar should be an option, as with the camera interfaces of competing brands.
Image quality
The Sony Ericsson Zylo snapper managed to impress us. We're used to seeing images affected by too aggressive processing. Well, this is not the case here. That means that you'll have to add some final touches to the images taken with the Zylo but that certainly is the better case scenario.
Contrast and colors are fine and there isn't much noise to see. We were glad to notice that there were no artifacts caused by oversharpening. As for the amount of detail, it is fair for a 3-megapixel shooter.
As there is no autofocus, close-ups are a no-go for the Zylo.
Here's a handful of camera samples:
Synthetic resolution
We also snapped our resolution chart with the Sony Ericsson Zylo. You can check out what that test is all about here.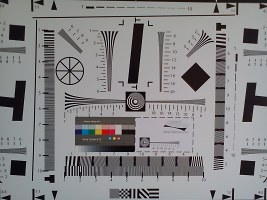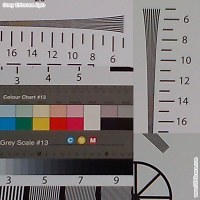 Sony Ericsson Zylo resolution chart photo * 100% crops
Video recording
Of course, the Zylo is also capable of capturing video - VGA resolution at 24fps. Clips are recorded in MP4 format.
The video stacks up pretty well against the VGA-recording crowd. There are compression artifacts and the occasional doubled frame, but unfortunately this seems common in the mobile phone world.
Here is a sample video for you to check out.
Connectivity is decent
The Sony Ericsson Zylo scores average on connectivity options. Quad-band GSM/GPRS/EDGE and 3G (two localized versions with dual-band and single-band network support) are all on board as is HSDPA (7.2 Mbps).
Besides the network-based connectivity, the Sony Ericsson Zylo offers the usual Bluetooth v2.1 and USB options, though you'd need a Sony Ericsson Fast Port to USB converter. There is also A2DP support allowing you to listen to music on a stereo Bluetooth headset.
Then there's the hot swappable microSD card – it is the fastest way to transfer large amounts of data.
A nice web browser to match the great screen
The Sony Ericsson Zylo comes with the nice Access NetFront web browser v3.5 featuring the extended home screen, also available in the other recent Sony Ericsson handsets. Plenty of shortcuts arranged in a tree structure are listed on the homescreen right under a search and an address bar. The appearance of the home screen changes to a different bright color each time you start the browser.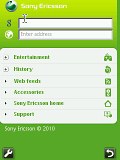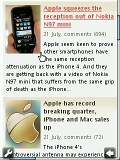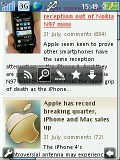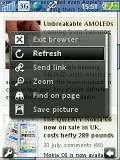 The extended home screen is a nice touch
Elaborate web pages are rendered well and there are lots of configurable settings too. There is a full screen mode both in portrait and landscape view. Auto-rotation works like a charm and the panning/scrolling speed is up to scratch.
The Sony Ericsson Zylo web browser offers a virtual mouse pointer that's nice to work with. For YouTube, you have a dedicated application, which launches automatically when you try to view a YouTube video. There is also support for RSS feeds and on-page search, while copying text or downloading pictures off a page are not a problem for the Zylo browser.
We experienced some lags in the browser however. Nothing major, nor too common, but still noticeable.
Organizer
The Sony Ericsson Zylo offers a wide range of time-management features as usual for its class. There is an Organizer icon in the main menu and it contains several applications: a File manager, Java Applications, Video call, Calendar, Tasks, Notes, Synchronization, Timer, a Stopwatch and a Calculator.
The Calendar offers monthly, weekly and daily views. When you save a birth date in the phonebook, the phone prompts adding it to the calendar too. There is just one general-purpose type of entry in the Calendar, but it features enough details. Notes are composed similar to messages and the T9 dictionary can be used here as well.
The Alarms application hardly needs any explanation. There are five alarm slots available. Each one offers a lot of options - you can choose to repeat the alarm on chosen days of the week or everyday.
Apps and games
The Sony Ericsson Zylo comes with some of the usual apps preinstalled.
The AccuWeather application gives you up-to-date weather information for locations of interest. An overview of current conditions and a three day forecast is available for a great number of cities around the world. You should bear in mind that the data is downloaded in real time so data charges apply. Not that we can think of any other way for the application to work but we still feel a warning is due.
Music Quiz tests your knowledge of songs - it plays samples of your music library and asks you to name the song. The Checkbook allows you to create different accounts, enter a balance and start managing them (income and expenses). There is also a graphical chart for easy tracking of your transactions over time. The NeoReader is a barcode scanner.
Also on board are the popular Facebook, YouTube and Google Maps applications.
As for the preloaded games, the Zylo packs a hefty eight. Half of them are full versions (Dance! Music Genie, LoccoRocco, Powerboat Challenge, and Quadrapop), while the rest are all demos (BejeweledTwist, Brick Breaker, Bubble Town, and Luxor Quest).
The Dance! Music Genie is supposed to teach you how to dance (sort of). You pick a song and press the button shown on the screen. Occasionally, you'll also need to shake the phone to get your health recovered. Powerboat Challenge is a boat racing game.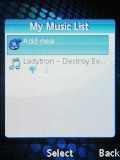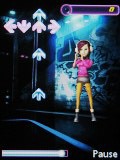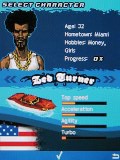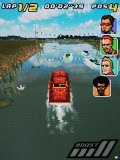 Dance! Music Genie • Powerboat Challenge
Quadrapop is a Tetris replica, this time with some colorful creatures instead of bricks. As for LocoRoco, this is a very kid-friendly fun physics-based game.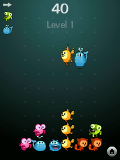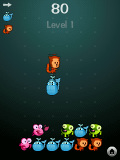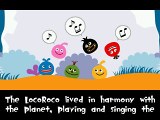 Quadrapop • LocoRoco