Triple camera on an Xperia
The Xperia 1 is the first Sony smartphone to be equipped with a trio of cameras on the back. A fairly common arrangement consisting of a regular snapper, a telephoto one with 2x zoom, as well as an ultra-wide. All with a resolution of 12MP. Going into more particulars, here is the camera setup it has to work with:
Main: 12MP (1/2.6"), f/1.6, 26mm lens, dual-pixel PDAF, OIS
Telephoto: 12MP (1/3.4"), f/2.4, 52mm lens (2x zoom), PDAF, OIS
Ultra-wide: 12MP (1/3.4") ultra-wide, f/2.4, 16mm lens, fixed-focus
Sony has been building up a pretty compelling and multi-faceted camera setup throughout the years. Most tech that has proven worthwhile has definitely stuck, like the stacked RAM image sensor that enables things like the 960 fps FullHD slow motion video capture and the fast sensor readout which prevents distortion when shooting fast moving objects.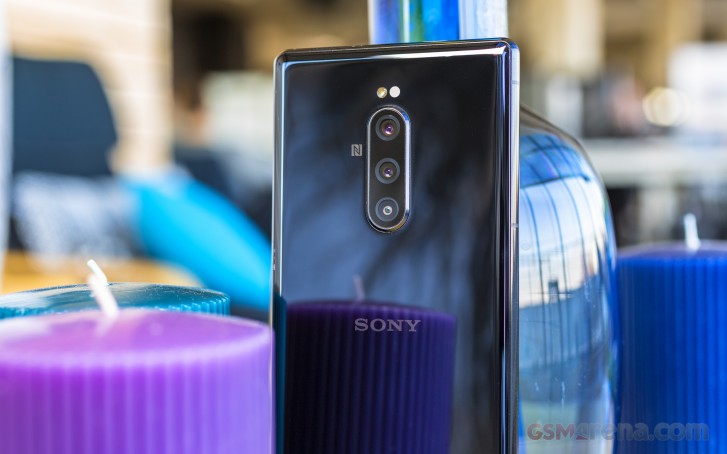 Having said that, there are a few new camera features which the Xperia 1 introduces too. One such addition is optical image stabilization - which has been a long time coming if you ask us. It is now part of Sony's SteadyShot stabilization feature. So not only does it have the benefit of its traditional 5-axis EIS system for 4K video, but there is also OIS to give it an extra hand with photos in low light.
Sony has also borrowed a few bits and pieces from its professional "Alpha" camera division. Bionz X for mobile now offers a few interesting new technologies. One is Eye AF - an intelligent focusing system that can fix itself on a subject's eye and provide impressively accurate tracking. Not only it is smart enough to easily tell the distance the person in question is at, but it can also remember a particular eye. So that even if more people come into the frame or said person moves out of the frame and then returns back in, the eye-tracking and focus, that goes along with it remain unfazed.
In this implementation Eye tracking is based on Face Tracking, which is still the faster technology, Sony admits. The phone will first detect a face and only then will it look for the eye - but this process happens seamlessly for the user and is instantaneous. Sony claims their Face tracking is among the fastest in the mobile industry regardless of the orientation of the subject's head.
Continuous burst shooting is another nifty trick. It allows the Xperia 1 to capture stills at a rate of up to 10fpsm with Auto Focus and Auto Exposure for each shot so that each and everyone comes out looking perfect. We tried that and indeed it works mostly as advertised. However, you should keep in mind that Burst shooting is not available for the Ultra-wide angle camera.
The camera app itself is lifted from the XZ3 with an additional toggle for switching between the different cameras - 1x, 2x, and Wide. Switching between photo and video mode is a one-click operation, and all the corresponding modes and settings are well contained within menus, in those modes.
Unfortunately, the switch to the ultra-wide camera on this phone takes more time than on any other phone we've tried so that's definitely something the company needs to work on. Also, the exposure compensation slider - which is probably the second most used control after the camera selection button - always overlaps the latterр which is far from ideal.
The Superior Auto is still here and it's the default Auto mode, though Sony has ditched the Superiority of its name. It successfully detects the scenes and adjusts parameters accordingly, and it even takes into consideration whether the phone is stable enough to invoke longer shutter speeds.
Manually triggering HDR is possible only via the manual mode though, just as on previous Xperia phones. Otherwise, the choice of whether to trigger HDR is left to the Auto algorithm to decide.
Image quality
Photos taken with the main camera on the Xperia 1 look lovely in fit-to-screen magnifications. Colors are pleasingly rich, exposure is spot on and contrast is great. Zooming in to 1:1 pixel level reveals tons of detail, though noise is clearly visible too. Apparently, the noise suppression algorithms are more conservative preserving more detail.
And here are some more shots.
The dynamic range is good, though not the best we've seen on a flagship. Manual mode is where you need to go to force the HDR processing on and improve further the dynamic range if needed. The Auto mode has the Backlit scene mode, but it doesn't always engage when you need it to.
The fact that you have to resort to forcing HDR while all the competing phones have AlwaysOn HDR is far from ideal and definitely is one direction Sony phones can be improved. Furthermore, when you enable HDR manually, the EyeAF is no longer available. Also, while in Pro mode, there is no camera selection toggle so the only way to switch to the tele camera is by pinch zooming. And there is NO way to switch to the ultra-wide camera from this mode at all.
With those strange shortcomings aside, we found the HDR processing to be quite effective at retaining highlight detail. The effect on shadows is not readily noticeable and it doesn't appear to do that much.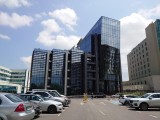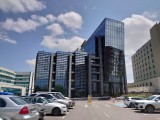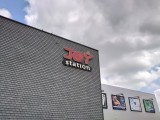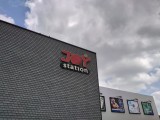 HDR off • HDR on • HDR off • HDR on
The 12MP images from the telephoto camera are as excellent as the ones by the main camera. The snapper has a darker f/2.4 lens, but the dynamic range is quite good and the OIS helps in snapping sharp photos. The detail is plenty, the sharpness - just right, and the colors - lovely.
Our only complaint here is that the Autofocus performance and AF reliability of the telephoto lens is not as good as on competing phones - it's especially challenged when you have EyeAF on.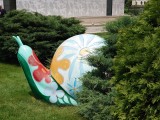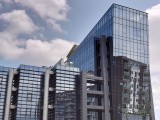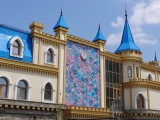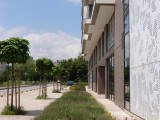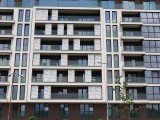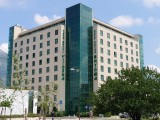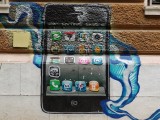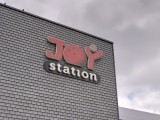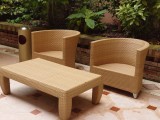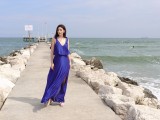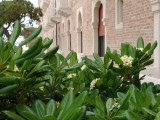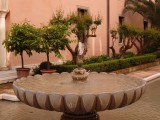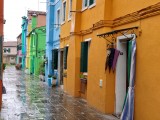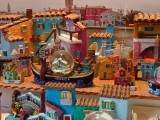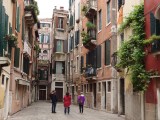 Sony Xperia 1 12MP telephoto samples
Then there is the 12MP ultra-wide-angle camera, which will also take some great shots. The camera's settings also allow for distortion correction, if you find the buildings too curvy for your taste (which we did). Supposedly, that comes at the expense of detail rendition, but we were happy with the tradeoff as by default, the geometric distortion is way too much. We had the optional distortion correction on for all of these photos and we really like the quality of the photos we were getting - dynamic range is adequate, contrast is great, and colors really pop.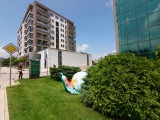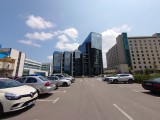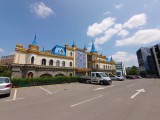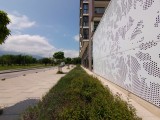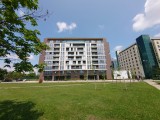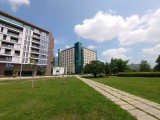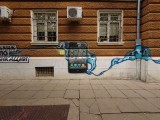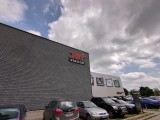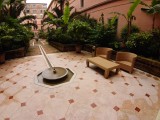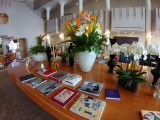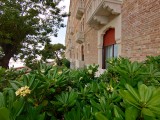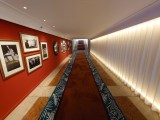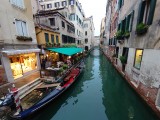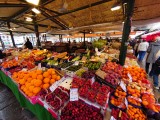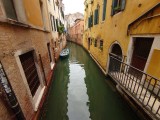 Sony Xperia 1 12MP ultra-wide-angle samples
Since the Xperia 1 EU launch was in Venice, Italy, we used this opportunity to snap as many photos around this lovely place with all three snappers. Too bad the weather hardly cooperated being constantly overcast and raining all the time but even in these challenging conditions, the Xperia 1 managed to take some really nice shots.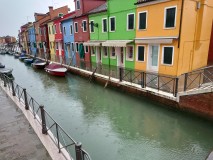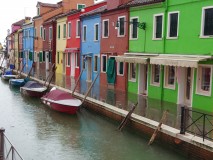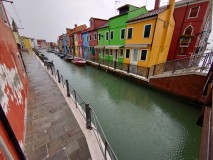 Normal • Telephoto • Ultra-wide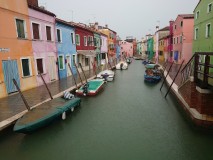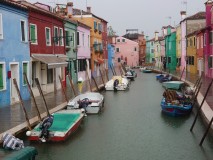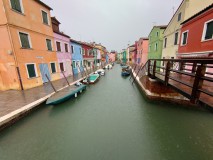 Normal • Telephoto • Ultra-wide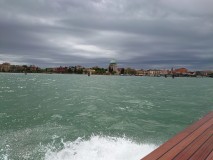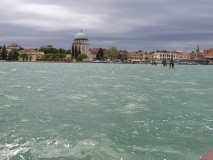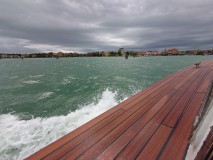 Normal • Telephoto • Ultra-wide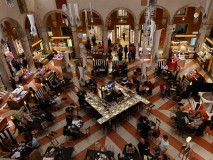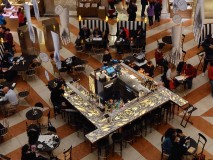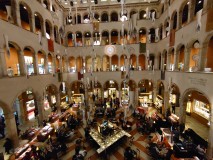 Normal • Telephoto • Ultra-wide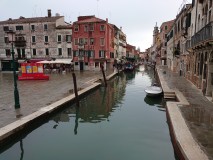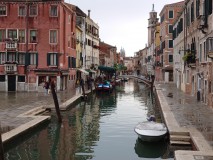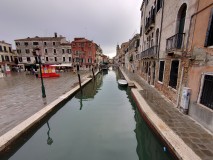 Normal • Telephoto • Ultra-wide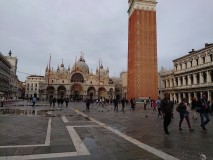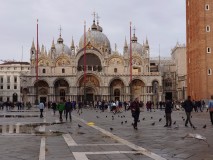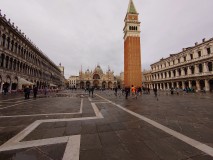 Normal • Telephoto • Ultra-wide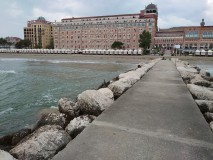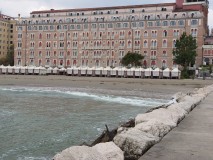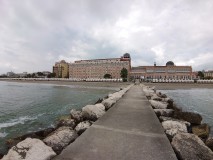 Normal • Telephoto • Ultra-wide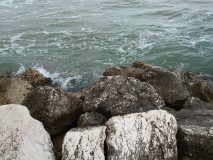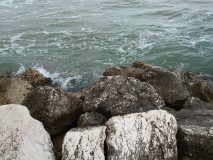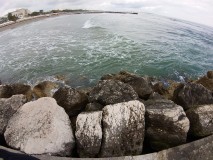 Normal • Telephoto • Ultra-wide
When the light is low the Xperia 1's excellent camera performance continues. The Auto mode can sense if your hand is stable enough and will display a tripod icon even if the phone isn't mounted on a tripod. This will allow the camera to use some night mode-like trickery that takes a couple of seconds and saves a very nice photo. This isn't an actual night mode, though. Instead, the Xperia 1 drops the shutter speed down to around 1 second. And while shooting this kind of (a real) long-exposure shot, it also tries its best to compensate for the handshake - probably by using its OIS- and quite successfully we'd say.
So, and this is probably a first for Sony, the Xperia 1 shoots some stunning low-light photos, no need for a tripod or even a dedicated Night mode. There is plenty of detail in those, low noise and well-preserved colors. Not all highlights are blown, and the exposure is mostly even.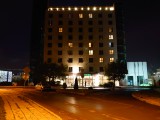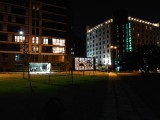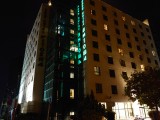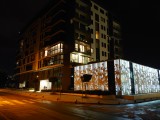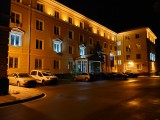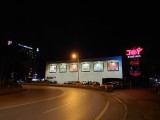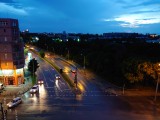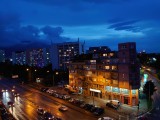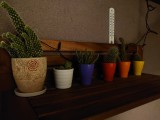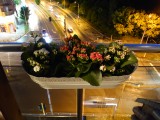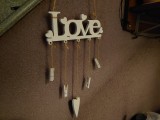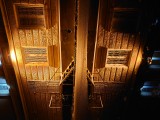 Sony Xperia 1 12MP low-light photos
You can't use the telephoto camera at night, if you switch to 2x mode the images you'll get a digitally zoomed and cropped image from the main cam - perhaps for the better.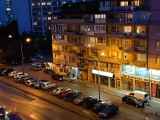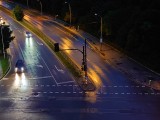 Sony Xperia 1 12MP low-light telephoto samples
You can use the ultra-wide-angle snapper though, and surprisingly is captures some very usable photos with decent detail and low noise levels. They are no match for the photos we got from the main camera but are not terrible either.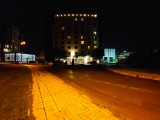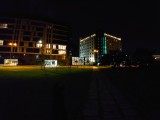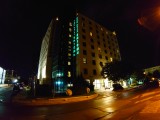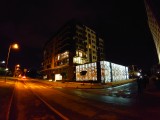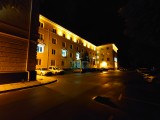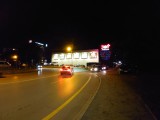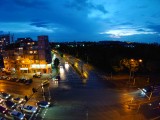 Sony Xperia 1 12MP low-light ultra-wide samples
Once you're done examining the real-life samples, you can have a look at our Photo compare tool for some studio shots in conrtolled lighting environment. We've pre-selected the OnePlus 7 Pro and the Galaxy S10+. You can, by all means, pick any other set of phones to compare once you're there.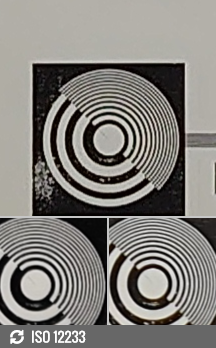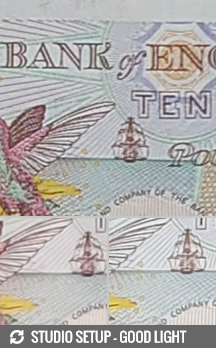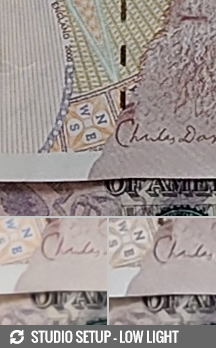 Sony Xperia 1 against the OnePlus 7 Pro and Samsung Galaxy S10+ in our Photo compare tool
Portraits
The Xperia 1 captures some very decent portraits. The background blur is natural looking and the subject separation is good but not exactly infallible. We observed some oil-painting-like artifacts on people's faces, but still, for all intents and purposes, the portrait mode gets the job done and we enjoyed shooting in it.
Unfortunately, once you take several Portrait photos in rapid succession, it seems the processing bogs down the phone and the camera app becomes unresponsive for a couple of seconds. You can't take any more photos and we even had it crash on us a few times.
Selfies
The Xperia 1 is equipped with an 8MP selfie camera with a 1/4" sensor, 1.12µm pixels and a lens with an f/2.0 aperture. The focus is fixed, as usual.
When there is plenty of light you can count on very detailed selfies with true colors. In less than ideal light, the images quickly turn softer, but they still look plenty nice in fit-to-screen magnifications.
There's a portrait selfie mode too, but it's on par with other single-cam fixed-focus efforts from competitors, which is to say anything but flawless. It works fine when there is good light, but also introduces more noise. The separation isn't ideal, and nor is the blur, but if you want such a selfie mode - you have it and it isn't terrible.