Vanilla Android Pie
The Xperia 10 boots Android Pie, and as we observed on the 10 Plus, this is a variation that stays closer to Google's own implementation than what we saw on the Xperia XZ3 last year. That's most obvious in the option to use the pill navigation (which Sony calls 'Swipe up on Home button') in addition to the classic nav bar. You can find the setting in the display menu, and enabling it makes the Xperia behave almost precisely like a Pixel phone.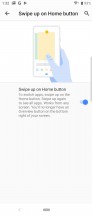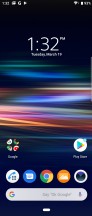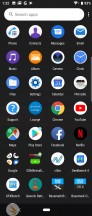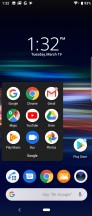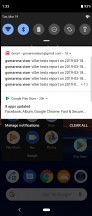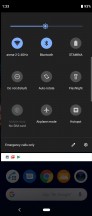 Swipe up setting • Homescreen • App drawer • Folder view • Notification shade
There are unique Xperia bits on top, however - ones that are meant to help out with the tall aspect of the display. This smaller model is naturally easier to operate single-handedly than the Plus, but even so, the notification shade is pretty far up - one-handed mode to the rescue!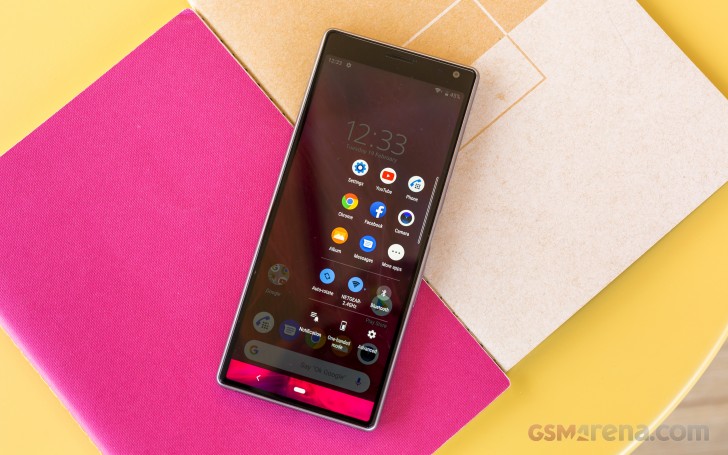 It's not a new thing, but we've grown to appreciate it on these 21:9 Xperias more than we used to on previous occasions. A quick double tap on the Home button shrinks the entire UI to one of the bottom corners and makes the notification shade conveniently reachable with one hand - good luck with that on the full-screen UI.
Then there's Side Sense - a custom drawer-like interface that can be triggered by tapping twice on a handle located on the side of the screen. You can move the handle up and down, adjust its size, and have it on either side or both sides. The menu itself is sort of a take on the Android Pie recent apps interface, which is notably missing from its intended location as a row in the app drawer. You can disable the handle from showing up over apps on a per-app basis, or you can turn off side sense entirely.
An inherent benefit of an extra long display is the ability to show more items in long lists - that includes boring stuff like the settings menu, and marginally more fun stuff like, say, Instagram. The benefits aren't at as great on the 10 as on the 10 Plus, because of the slightly different scaling and text fit, but there still are gains.
Another good use for a 21:9 screen is showing two apps in two larger-than-average halves of the said screen. The thing is that with Pie Google introduced much clumsier mechanics for going into multi-window and it affects all phones who adopt it.
There's a downside to the unusual aspect too, in that some apps may not be able to display properly in it. We ran into this with one of the benchmarks we do, but not the more common apps you're likely to use. Even so, the possibility for incompatibility is there.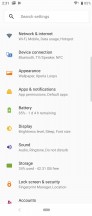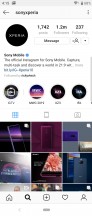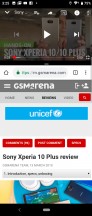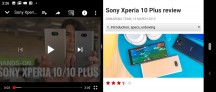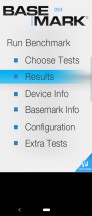 Settings • Instagram (0.5 extra row) • Multi- window • and in landscape • Incompatible app
Sony also notably handles its own multimedia display and playback. Album features both photo and video support, can connect to the cloud and local network services and is pretty good at organizing galleries and doing the occasional light edit on a shot.
The Music app is simple and well organized, without lacking any important features. All the while, it looks very appealing with large format album art (and automatic art download) and a flat design. It also features Google cloud integration. There are also various options to tweak sound including the DSEE HX up-scaler and the Automatic optimization which work with wired headphones. Others, like aptX HD, are compatible with Bluetooth devices.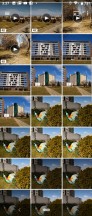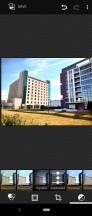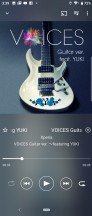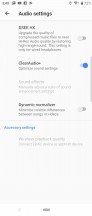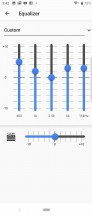 Album app • Photo Editor • Music app • Audio settings
Synthetic benchmarks
The Xperia 10 has the Snapdragon 630 inside doing the number crunching, a familiar midrange chipset. Perhaps a little too familiar - it's been around since the fall of 2017 and, as was the case with the 10 Plus, we'd have liked to see a newer/faster chip powering the 10.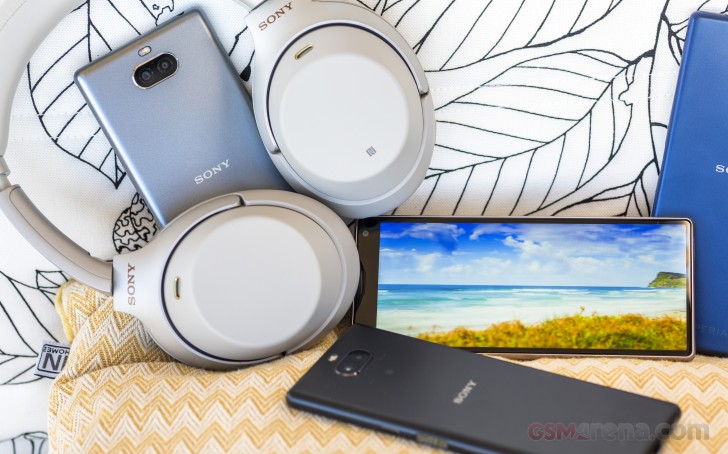 Anyway, the Snapdragon 630 has an octa-core 2.2 GHz Cortex-A53 CPU and the Adreno 508 GPU inside. The Xperia 10 can be had with 4GB of RAM in China and 3GB in the rest of the world, and we got the ROW package. Storage is 64GB regardless.
The Xperia 10 is off to a pretty bad start already in GeekBench, posting a slightly lower score than other phones with the same chipset in the multi-core test. And then higher-grade chips are even speedier, of course. Under single-core loads, the Xperia's numbers are closer to other S630-equipped rivals, but still that several points behind.
GeekBench 4.1 (multi-core)
Higher is better
Xiaomi Mi 8 Lite
5894
Nokia 7 plus
5893
Samsung Galaxy A9 (2018)
5763
Honor 8X
5651
Huawei Mate 20 Lite
5574
Nokia 7.1
4975
Motorola Moto G7 Plus
4927
Sony Xperia 10 Plus
4780
Motorola Moto G7
4755
Samsung Galaxy A7 (2018)
4446
Nokia 6 (2018)
4225
Sony Xperia XA2
4215
Motorola Moto X4
4136
Sony Xperia 10
3985
GeekBench 4.1 (single-core)
Higher is better
Nokia 7 plus
1634
Xiaomi Mi 8 Lite
1628
Honor 8X
1618
Samsung Galaxy A9 (2018)
1611
Huawei Mate 20 Lite
1595
Samsung Galaxy A7 (2018)
1524
Nokia 7.1
1344
Sony Xperia 10 Plus
1340
Motorola Moto G7 Plus
1334
Motorola Moto G7
1255
Nokia 6 (2018)
882
Motorola Moto X4
866
Sony Xperia XA2
865
Sony Xperia 10
848
The less than stellar run continues into Antutu, where the Xperia 10 is trailing behind key rivals with even the S632-packing Moto G7 posting some 20% higher scores. Predictably, the phones with more powerful chipsets than that are way out of reach of the Xperia.
AnTuTu 7
Higher is better
Xiaomi Mi 8 Lite
143257
Nokia 7 plus
140820
Samsung Galaxy A9 (2018)
140500
Honor 8X
137276
Huawei Mate 20 Lite
136583
Samsung Galaxy A7 (2018)
123883
Sony Xperia 10 Plus
120573
Motorola Moto G7 Plus
117829
Nokia 7.1
117175
Motorola Moto G7
106292
Nokia 6 (2018)
90918
Sony Xperia 10
89697
It's not exactly like the Xperia is any better in the graphics department, where its Adreno 508 is struggling with the FullHD resolution of the display. In the offscreen tests, it posts similar fps numbers as the other S636 devices, which are predictably behind the Snapdragon 660s of this world.
GFX 3.1 Manhattan (1080p offscreen)
Higher is better
Xiaomi Mi 8 Lite
15
Nokia 7 plus
15
Samsung Galaxy A9 (2018)
15
Huawei Mate 20 Lite
14
Honor 8X
14
Sony Xperia 10 Plus
10
Motorola Moto G7 Plus
10
Samsung Galaxy A7 (2018)
10
Nokia 7.1
10
Nokia 6 (2018)
9.9
Motorola Moto X4
9.8
Sony Xperia 10
9.6
Sony Xperia XA2
9.6
Motorola Moto G7
6.9
GFX 3.1 Manhattan (onscreen)
Higher is better
Nokia 7 plus
14
Samsung Galaxy A9 (2018)
14
Xiaomi Mi 8 Lite
13
Huawei Mate 20 Lite
13
Honor 8X
13
Motorola Moto X4
11
Sony Xperia XA2
10
Nokia 6 (2018)
10
Motorola Moto G7 Plus
9.7
Nokia 7.1
9.7
Samsung Galaxy A7 (2018)
9.4
Sony Xperia 10 Plus
8.4
Sony Xperia 10
7.8
Motorola Moto G7
6.4
GFX 3.1 Car scene (1080p offscreen)
Higher is better
Nokia 7 plus
9.1
Samsung Galaxy A9 (2018)
9.1
Xiaomi Mi 8 Lite
9
Huawei Mate 20 Lite
7.6
Honor 8X
7.6
Sony Xperia 10 Plus
6.3
Motorola Moto G7 Plus
6.3
Samsung Galaxy A7 (2018)
6.3
Nokia 7.1
6.3
Nokia 6 (2018)
5.6
Sony Xperia XA2
5.5
Sony Xperia 10
5.4
Motorola Moto X4
5.3
Motorola Moto G7
3.8
GFX 3.1 Car scene (onscreen)
Higher is better
Nokia 7 plus
8.6
Samsung Galaxy A9 (2018)
8.3
Xiaomi Mi 8 Lite
8
Huawei Mate 20 Lite
6.7
Honor 8X
6.7
Sony Xperia XA2
6
Nokia 6 (2018)
6
Motorola Moto G7 Plus
5.9
Nokia 7.1
5.9
Motorola Moto X4
5.8
Samsung Galaxy A7 (2018)
5.7
Sony Xperia 10 Plus
5
Sony Xperia 10
4.3
Motorola Moto G7
3.5
As we said when looking at the Xperia 10 Plus, the Xperia 10 comes off as underpowered for its price range. Both new and old devices can be had for the same money while offering superior performance.