Dual camera on the back
The Xperia 10 has a different camera setup compared to the one on the Plus and it goes beyond replacing the telephoto with a depth sensor - the main camera is different as well. The vanilla 10 has a 13MP sensor as opposed to the 12MP one of the 10 Plus, but it's a smaller sensor with tinier pixels - 1/3" and 1.12µm vs. 1/2.8" and 1.25µm. The lens has the same focal length at 27mm equivalent, but it's slightly dimmer - f/2.0 aperture vs. the Plus's f/1.8.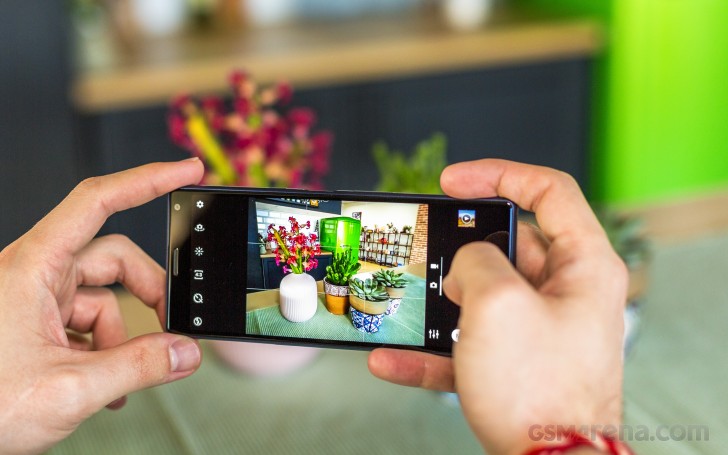 Where the Xperia 10 Plus has an 8MP telephoto camera, the Xperia 10 has a depth-only module with a 5MP 1/4" sensor.
The camera UI is identical to the one we're familiar with from the XZ3 - with just one standalone camera, there's no need for the 1x/2x toggle of the 10 Plus. There are dedicated viewfinders for stills and video and extra modes behind a mode button. In the stills mode viewfinder, you have settings for flash, self-timer, aspect, basic white balance, and exposure compensation. There's also a toggle to switch between front and read cameras, but you can do that more easily with a swipe on the screen.
As on the Plus, we can't fail to mention that the UI doesn't rotate 180 degrees if you're holding the phone in landscape with your left hand. It's a remnant of the times when there was a physical shutter release button and consequently a right-side-up. Perhaps the software engineers will eventually get to it, seeing as how these Xperias are the first in a long time without a shutter button.
As usual, there's a Manual mode, where you get to tweak exposure parameters yourself. It's not the most full-featured - white balance, for example, can only be set to one of four presets, but not by light temperature. ISO range is 50-3200, while shutter speed can be set between 1/4000s and 1s. You can dial in exposure compensation in the -2/+2EV in 1/3EV increments and you can also focus manually, but there's no focus peaking.
Image quality
The Xperia 10 takes decent daylight images with good detail and sharpness. There's some noise when looking up close, but the 10 isn't the worst offender in this area. It does, however, produce overly saturated colors with a noticeable yellowish warm cast.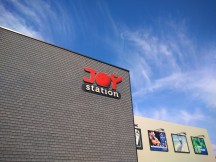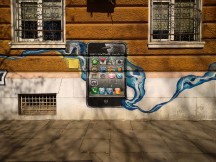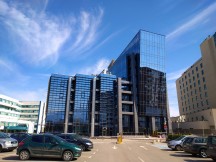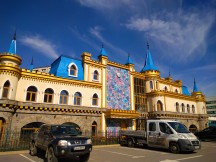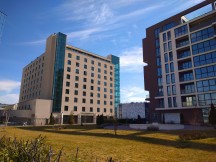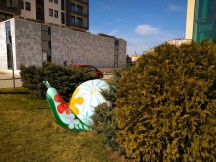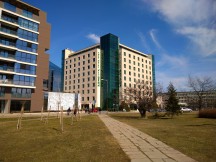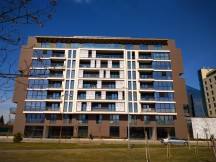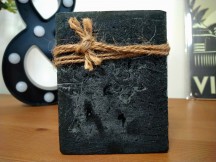 Camera samples, regular camera
There's also the narrow dynamic range, which you cannot combat with HDR processing in the full auto mode. You do get a toggle for that in manual mode and with HDR off, the shots turn out identical to those in auto mode, regardless of the scene, indicating that it doesn't bother applying Auto HDR in auto mode. The Backlit scene mode that it does engage isn't remotely that, evidenced not only by the photos but also the difference in processing time that actual HDR shots require on the Xperia 10.
With HDR turned on in manual mode, however, you do get significantly improved results in terms of dynamic range, with images viewed at fit to screen magnification having much better-developed shadows and highlights. However, there's also a substantial sharpness penalty with HDR shots being noticeably softer than non-HDR ones.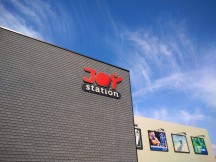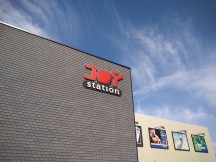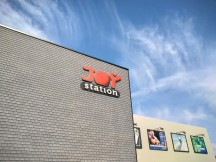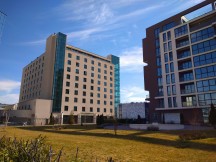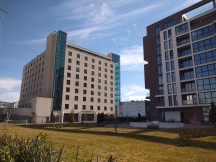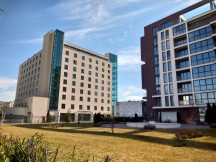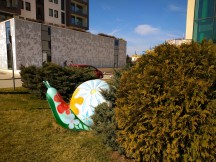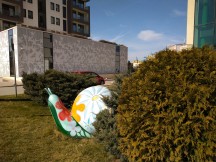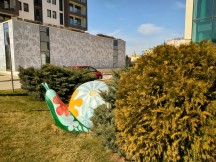 HDR scene: Auto mode • Manual mode, HDR off • Manual mode, HDR on
Low-light photos from the Xperia 10 are largely unimpressive and are best characterized by their overall softness, the absence of fine detail and limited dynamic range. Having said that, disappointing low-light performance is practically the norm in the midrange, so the Xperia doesn't really stand out in a bad way here.
Once you're done looking at real-life samples, don't forget to head over to our Photo compare tool to check out how the Xperia 10 deals with our studio charts.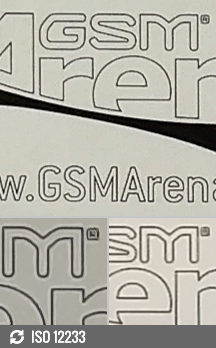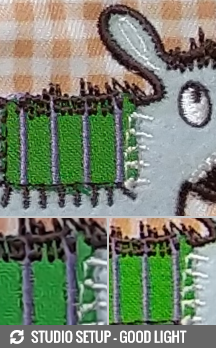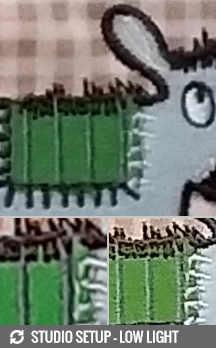 Xperia 10 against the Galaxy A7 (2018) and the Moto G7 in our Photo compare tool
The Xperia 10 takes portraits with blurred backgrounds thanks to its secondary depth camera. Unlike the 10 Plus where the shot was taken with the telephoto camera, the 10 takes it with the regular one (due, in no small part, to the obvious lack of a telephoto). The point is, with the Xperia 10's setup headshots need to be taken from up close making for a less flattering perspective. The flipside is that you'd be getting overall better image quality, particularly in dim light, but also in good light.
The algorithms' pickiness about the subject's distance remains, however, and we often struggled to get it just right. Which is weird, because the phone will take a perfectly good-looking portrait shot even if it was giving instructions to move closer or further when you were taking it.
Portraits have good subject separation and natural-looking background blur rendering. They're also easily as sharp in the in-focus areas as regular photos, so you're not sacrificing sharpness for bokeh.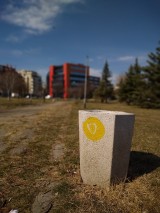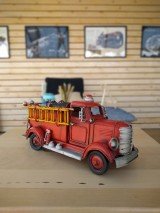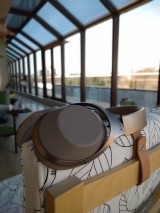 Bokeh samples, non-human subjects
8MP selfies
The Xperia 10 shares the front-facing camera with the 10 Plus and the 1. It's an 8MP 1/4" sensor with 1.12µm pixels behind a 24mm-equivalent lens with an f/2.0 aperture.
The selfies turn out alright in ideal lighting with good detail and skin tones. However, in even moderately dimmer indoor scenes you can expect a rapid drop in sharpness and increase in noise.
Portrait selfies are on par with other single-cam fixed-focus efforts from competitors, which is to say anything but flawless. With the right combination of subject and background you could achieve some nice results. Portraits do end up consistently softer than regular selfies, mind you.
Video recording
The Xperia 10 records video up to 4K resolution at 30fps, with 1080p resolution at 30 and 60fps available as well. There's also a 21:9 mode where you can record in the phone's native aspect at 3840x1644px.
4K videos are encoded at around 55Mbps, which is a little higher than average. 1080p/60fps footage gets 30Mbps flat, while 1080p/30fps is treated to 17-17.5Mbps. Audio is recorded in stereo and gets a 156kbps bit rate regardless of video mode.
Starting off on a positive note, the videos from the Xperia 10 don't suffer from the patterned artifacts in areas of solid color that we observed in Xperia 10 Plus footage. However, the 10's clips, regardless of resolution and frame rate, and much like its stills, have a pronounced warm yellowish color cast - something we didn't see on the 10 Plus.
Having said that, the Xperia 10's 4K videos are as sharp as the ones from the 10 Plus (meaning very sharp) and dynamic range is similarly very good. The same applies to 1080p footage which is among the better examples in general, and one of the best you can get in this segment. A notable drop in quality is observed when shooting in 60fps with aliasing (jaggies) readily apparent. It's a rather typical outcome, but at least there's no change in color reproduction like we saw on the 10 Plus.
Stabilization is only available in 1080p, unlike on the 10 Plus, where 4K was also covered. This makes the 10's hand-held 4K videos pretty shaky, but 1080p is very well smoothed out.
Here's a glimpse of how the Xperia 10 compares to rivals in our Video compare tool. Head over there for the complete picture.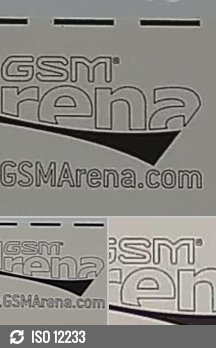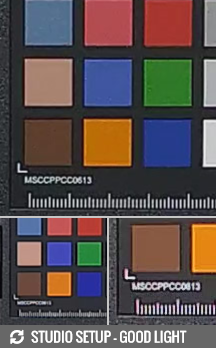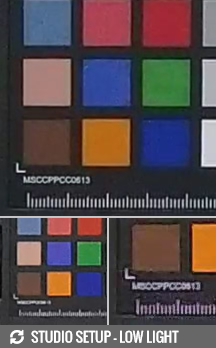 Xperia 10 against the Galaxy A7 (2018) and the Moto G7 in our Video compare tool
As usual, we're providing you with unedited short samples to download and examine - 2160p@30fps (11s, 73MB), 1080p@30fps (10s, 22MB), and 1080p@60fps (10s, 39MB).