Smaller but better
Sony Xperia E4g review: Smaller but better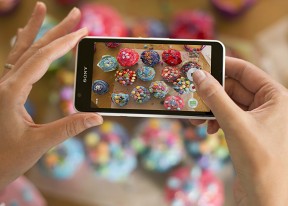 Google Chrome
The Sony Xperia E4g comes with Google Chrome as the default web browser out of box instead of the generic Android browser. While the minimalist interface hasn't changed since Chrome launched on Android, the browser is being constantly refined by Google, and this has resulted in one of the smoothest and most powerful browsing experiences we've encountered on a mobile.
Of course, one of Chrome's strengths is its ability to seamlessly sync with the desktop version, using nothing but your Google account. This allows you to open an article on your PC and finish reading it on your mobile phone. It also syncs your bookmarks and favorite sites.
Other pre-installed apps
The calendar has three different types of view - daily, weekly and monthly. The lower section of the screen is reserved for a list of upcoming events. Adding a new event is quick and easy, and you can also set an alarm to act as a reminder.
Sony Xperia E4g also features the Office Suite 8, which allows for creating, viewing and editing office files (docs, xls, ppt), and it can also read PDFs.
Calculator, Clock app (with stopwatch, world clock and timer), Sketch and File Manager apps are available on board the device by default.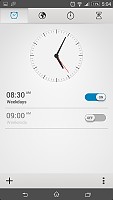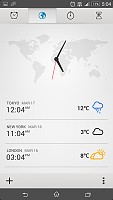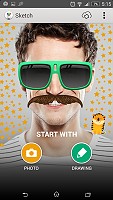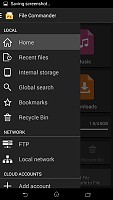 Alarms & Clock • Sketch • File manager
The Socialife app comes pre-installed too. It is a service similar to Samsung's My Magazine and HTC One's Blinkfeed. The interface is clean and simple yet beautiful, and there are lots of preloaded feeds. You can add your own RSS links too.
What's New app has very beautiful UI and will show you the hottest apps and multimedia today, but it isn't limited to the Play Store only. It'll display content from Sony's PlayStation store too.
Sony Select does the same as the Sony's What's New app, but comes with much less functions and old UI. It has been begging for retirement for quite some time now, bur, inexplicably, Sony is still keeping it around.
The Power Saver - now part of the settings menu - helps you extend your battery life by toggling things like Wi-Fi, GPS, Bluetooth, screen brightness, auto sync and background data on and off automatically when the battery charge falls below a certain user-defined threshold. You can also turn off the Wi-Fi if there are no known Wi-Fi networks in range or turn off mobile data when the screen is off, etc.
Sony also provides a Backup & restore app, which can use the internal storage, a microSD card or even an attached USB mass storage device. You can backup the system and downloaded apps and their data along with any media files.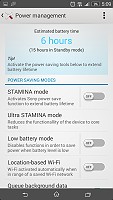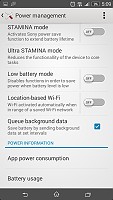 The Power saver app • Backup & Restore app is really handy
Other preinstalled apps on the Sony Xperia E4g, which deserve mentioning, include a dedicated PlayStation app, which allows remote management of a PS4 console.
Alongside it, there is the Xperia Lounge - a sort of custom-tailored deal and promotion aggregator. It gives users the opportunity to participate in various Sony promotions and win prizes. Another interesting little feature is PartyShare. It lets you turn the E4g into a multimedia HUB, so you can centralize content, like music and photos on a single device and control it from other nearby, locally connected phones.
You bet Google Maps and Navigation are also part of the app package to utilize the built-in GPS receiver (now complete with GLONASS support). Offline maps are available, again, since the last update, so you can save some data traffic too.
Whatever you may be missing, there is the always-growing Google Play Store for you.