Organizer and apps (continued)
There is a nicely touch-optimized calculator aboard. The buttons are really big and easy to hit, and it also offers advanced functions (trigonometry, logarithms).
The clock app supports multiple alarms, each with its own start and repeat time. There's also a desk clock option, although it doesn't have integrated weather or news information.
The stopwatch, world clock and timer are available within the clock app. The Timer function now has a history option, and the world clock features a cool slider which helps you quickly figure out the local time in another city.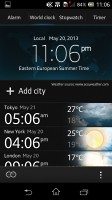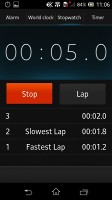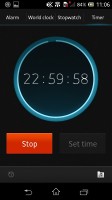 World Clock • Stopwatch • Timer
The Power Saver setting helps you extend your battery life by toggling things like Wi-Fi, GPS, Bluetooth screen brightness, auto sync and background data on and off automatically when the battery charge falls below a certain user-defined threshold, turn off the Wi-Fi if there is no saved Wi-Fi network in range or turn off the mobile data when the screen is off.
Sony also provides a Backup & restore app, which can use the internal storage (you shouldn't as it's too small), a microSD card or even an attached USB mass storage device. You can backup system and downloaded apps and their data along with media files.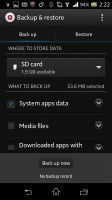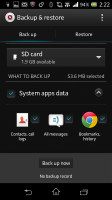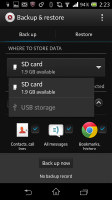 Backup & Restore app is a great tool to have out of the box
Another helpful tool is the Update center, which checks for updates for your phone and your apps. You can enable automatic download with the option to use Wi-Fi only.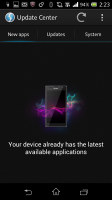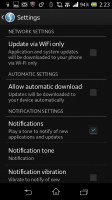 Update center keeps your phone's software up to date
The Sony Xperia M also comes with Google+ and Facebook apps out of the box. The Facebook app also has a nice widget that will show you updates on the homescreen.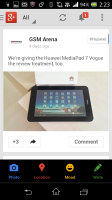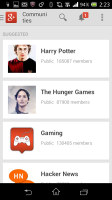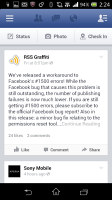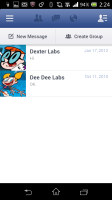 Google+ and Facebook are preinstalled
This being a Sony phone, you can install PlayStation Mobile for Android to play exclusive games.
Google Play has all the apps
The Google Play Store features several scrollable tabs - categories, featured, top paid, top free, top grossing, top new paid, top new free and trending. You can also check out the Play Picks, Apps to Watch, Apps Highlights and Editor's Choice categories on the Home tab for more curated app lists. The Recommended for you list is based on what apps you've installed and what your Google+ friends have liked.
Apps usually have several screenshots (some even offer a demo video) so you can get an idea of what the app looks like before installing it.
You can also check out comments and ratings, as well as the number of downloads and so on, to help you decide if the app is worth it.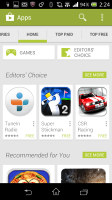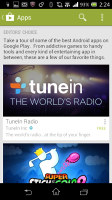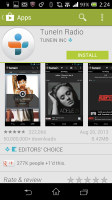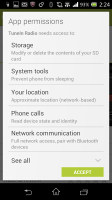 The Play Store will give you access to hundreds of thousands of apps
The Google Play Store is full of all sorts of apps, but in some countries it also offers music, movies and TV shows, books and magazines.
Google Maps finds your way
The Sony Xperia M has a built-in A-GPS receiver with GLONASS support, which managed to get a lock in about a minute. If all you need is a rough idea of where you are (within 150 meters) you can use the Cell-ID and Wi-Fi network lock, which is very fast as well.
Google recently revamped the UI, but the basics are the same. Maps offers voice-guided navigation in certain countries and falls back to a list of instructions elsewhere. You can also plan routes for bicycles and public transport. A nice addition in the latest version is that Maps shows you a couple of alternative routes like the desktop version of Google Maps.
For navigation, the map will cache the data it needs and will reroute you offline (so you don't need a data connection along the way). The Navigation app itself had its UI polished to match the rest of Maps.
You can also search for nearby POI and go into the always cool Street View.
Popular places around the world feature pictures and reviews by people. Street view isn't available everywhere, but it is growing in coverage and is one of the most useful features in Maps as it lets you see your destination so you don't have to look around for the exact building when you arrive.
You can save maps for offline view, which caches them on your device's storage, but keep in mind that not all map info is saved (meaning not everything down to street level like businesses, POIs, etc.).