Decent connectivity
The Sony Xperia M has quad-band 2G and up to quad-band 3G connectivity depending on your regional model. Mobile data speeds can hit the impressive 21 Mbps of HSDPA and 5.76Mbps HSUPA.
Local connectivity is covered by dual-band Wi-Fi a/b/g/n with DLNA and Wi-Fi Direct, so you can easily share content from your phone on a DLNA TV or music player. If a media app supports the Throw function (like the video player), you can use the Smart Connect app for DLNA functions (sharing screen, etc.).
There's also Bluetooth 4.0 with A2DP and ANT+, both of which can be used for low-power accessories (e.g. sports trackers), and NFC.
MicroUSB handles the charging and PC connectivity, and there's also USB On-the-go so you can attach external flash drives.
Media Remote isn't preinstalled on the Xperia M but you can get it off the Google Play Store for free. It will serve as a remote control for DLNA-capable BRAVIA TVs and Sony DVD/Blu-ray players too. There are a few versions of the interface ranging from simply changing the channels to mouse input and viewing disc history. This sort of a remote only works over the Wi-Fi connection.
The Xperia M comes with Sony's Smart Connect app, which replaces the former LiveWare manager, although the functionality remains basically the same. With Smart connect, you can set your device to do a variety of things, like launch an app or set an alarm, whenever you connect an accessory, e.g. a headset or a charger, or at a preset time. It doesn't work with NFC though, which is very disappointing.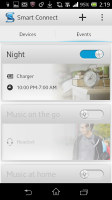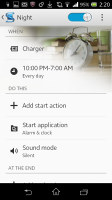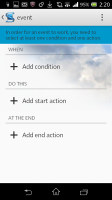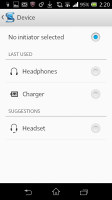 Smart Connect manager can, for example, launch the music player as soon as you connect a headset
In fact, there's no app to handle the NFC functions out of the box, which is strange considering Sony took the time to install a QR code reader app, which will see a lot less use. Luckily, there are plenty of capable NFC apps in the Play Store.
Finally, there's Xperia Link, which shares the phone's Internet connection over Bluetooth instead of Wi-Fi. All you have to do is use the camera to scan the QR code generated by the app on the tablet or computer. If you have the Xperia Tablet Z, the app will also display notifications for incoming calls and show full text messages.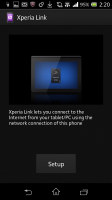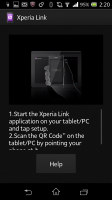 Xperia Link shares your phone's Internet connection with a tablet or PC over Bluetooth
Google Chrome is the sole web browser
The Sony Xperia M comes with Google Chrome as the default web browser out of box instead of the generic Android browser. The minimalist interface hasn't changed since Chrome launched on Android.
At the top there's an URL bar with a refresh/stop button next to tabs and settings. You can switch between tabs with a wide horizontal swipe in either direction.
Opening the tabs area reveals a list of tabs which can be closed, again with a left or right swipe. The animation accompanying this action is neat, too.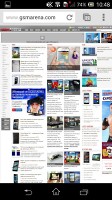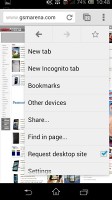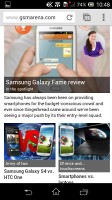 Browsing GSMArena.com with Chrome
Chrome is running on the WebKit rendering engine, so underneath the minimalist UI it's basically the same as all Android stock browsers.
Of course, one of Chrome's strengths is its ability to seamlessly sync with the desktop version, using nothing but your Google account. This allows you to open an article on your PC and finish reading it on your mobile phone. It also syncs your bookmarks and favorite sites.
Google Chrome is generous with settings as well. You can control almost every aspect of your web browsing from choosing what content you want to allow to load like JavaScript, images, cookies and pop-ups.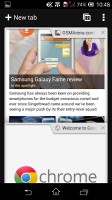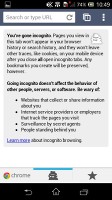 Switching between tabs • an incognito tab
A brand new setting is called Reduce data usage and does what it says - Google servers compress the webpage (using Google-developed tech like SPDY and WebP) and send them to the phone. You can check the graph to see how much data you've saved. Unlike Opera Mini, this mode keeps the full functionality of web pages. Also, secure connections bypass the Google servers, for privacy reasons.
Also, keep in mind you can use the Small app browser, but that doesn't work that great on a 4" screen. Plus there's no easy way to switch from Chrome to the floating browser.
Organizer and apps
The Sony Xperia M comes with the older version OfficeSuite 7 viewer. OfficeSuite 7 lets you view Word, Excel, PowerPoint, PDF along with plain text files. Just view them though, you'll have to buy the Pro version if you want editing capabilities as well.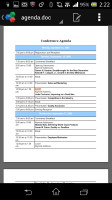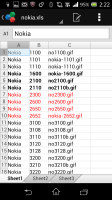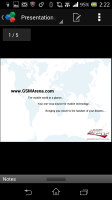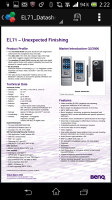 OfficeSuite 7 handles all your documents
The calendar has three different types of view - daily, weekly and monthly. The lower section of the screen is reserved for a list of upcoming events. Adding a new event is quick and easy, and you can also set an alarm to act as a reminder.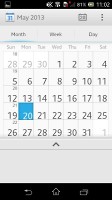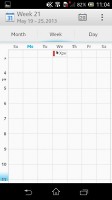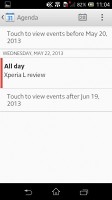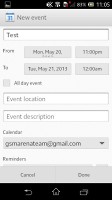 The organizer centerpiece - the calendar
The Calendar also pulls info on upcoming events from your Facebook account. Facebook events appear just like regular calendar entries, except that you can't edit them from the app.
There's a Notes app that comes with the Xperia M. It's pretty simple to use - you can select the color of the note and just start typing or doodling. There's also Evernote integration.