The bigger, the better
Sony Xperia T2 Ultra review: The bigger, the better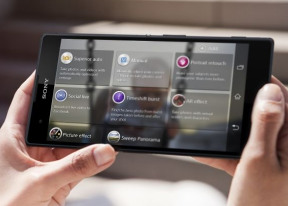 Unboxing the Sony Xperia T2 Ultra
The retail package of the Sony Xperia T2 Ultra covers just the basics. There's an A/C adapter, a microUSB cable and the headset.



Sony Xperia T2 Ultra retail box
Sony Xperia T2 Ultra 360-degree spin
Sony Xperia T2 Ultra stands at 165.2x83.8x7.7mm, which is more than a centimeter shorter and nearly as much narrower than the 6.4" Xperia Z Ultra, but a millimeter thicker. With a smaller screen and lack of water protection, the T2 Ultra is 40g lighter at 172g - though probably losing the sheet of glass at the back contributes the most.
Design, build quality and handling
The Sony Xperia T2 Ultra may have lost the water and dust resistance, but looks no worse than its premium sibling. The OmniBalance design has been the defining feature of the entire Xperia lineup and the T2 Ultra got the same treatment - within its own budget of course. What we mean is the rear finish - no glass here, plastic instead.
The Xperia T2 Ultra's entire front is naturally occupied by the massive 6" display, while the non-removable back cover is made of glossy black plastic that will get covered smudges in no time. Probably the white or purple paintjob will be less plagued by this.
Fingerprints aside, the reflective black finish, the all-glass front and the familiar one-piece matte framing work well together for excellent looks, modern and stylish.
The Sony Xperia T2 Ultra is huge and there is no point denying that. The build quality is still top notch though, and while the slippery back may harm the handling, the matte sides offer enough grip. The T2 Ultra is a centimeter shorter and narrower than the Z Ultra, a good deal lighter and easier to operate with one hand.