Display
The Sony Xperia XA has a 5" screen covered under a 2.5D scratch-resistant glass (Sony doesn't give out brand names). It's backed by Mobile Bravia Engine 2 and also offers Super-vivid mode.
The resolution - 720 x 1,280px, or simply 720p - is stretched a bit thin at this size. Up close you can see it's not as sharp as a 1080p screen, though the 294ppi pixel density makes this a minor complaint (iPhone 6s is at 326ppi).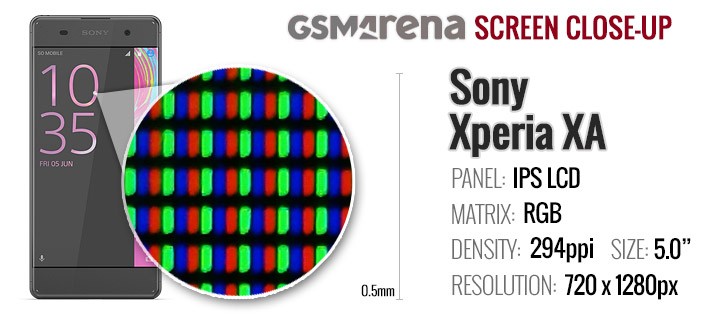 Colors are not as vivid as on Triluminos displays on some other Xperias. They are not as accurate either, with an average deltaE of 8.3 (max 11.4). We've seen better in this price range, but accuracy is comparable to say, Galaxy S6.
White balance is off, but there are sliders that allow you to manually adjust the white balance by using R, G and B sliders. Improving accuracy is tricky with this system, but at least you can get a white balance you like.
Colors aside, Sony did pick out a capable panel - it's fairly bright and offers great contrast thanks to the low black levels. At night, you can set the brightness under 5 nits to avoid the painful glare of a bright screen.
Display test
100% brightness
Black, cd/m2
White, cd/m2
Contrast ratio
Sony Xperia XA
0.38
523
1376
Sony Xperia X
0.44
539
1219
Sony Xperia M5
0.63
527
839
HTC One A9
-
366
∞
Xiaomi Redmi 3
0.42
520
1238
Lenovo Vibe K5 Plus
0.44
441
998
Oppo F1
0.46
408
897
Image enhancements include Mobile Bravia Engine 2, which works for photos and videos. It enhances colors, sharpens the image all the while reducing noise. There's also Super-vivid mode, which gives you "surreal, vibrant and super-vivid images."
When viewed at an angle, the screen shows no contrast loss but you can definitely see hues shift and change (it looks as if the saturation changes).
Sunlight legibility is very good for the class - it's nearly the same as on the Xperia Z5 Compact and (surprisingly) better than the flagship HTC 10.
Sunlight contrast ratio
Samsung Galaxy S6 edge+
4.615
Samsung Galaxy S7 edge
4.439
Samsung Galaxy S7
4.376
HTC One A9
4.274
Samsung Galaxy A3
4.241
Samsung Galaxy S6 edge
4.124
Samsung Galaxy Note5
4.09
Huawei Nexus 6P
4.019
OnePlus X
3.983
Oppo R7s
3.964
Samsung Galaxy A7 (2016)
3.918
Samsung Galaxy A5
3.895
Samsung Galaxy J7 outdoor
3.879
Samsung Galaxy J2 outdoor
3.873
Samsung Galaxy A8
3.859
Apple iPhone 6
3.838
Samsung Galaxy A9 (2016)
3.817
Motorola Moto X (2014)
3.816
Samsung Galaxy J7 (2016) outdoor mode
3.802
Samsung Galaxy A5 (2016)
3.789
Apple iPhone 6s
3.783
Meizu Pro 5
3.781
Microsoft Lumia 650
3.772
Samsung Galaxy J7 (2016)
3.756
Oppo F1 Plus
3.709
Vivo X5Pro
3.706
Apple iPhone SE
3.681
Samsung Galaxy A7
3.679
Meizu PRO 6
3.659
BlackBerry Priv
3.645
Apple iPhone 6s Plus
3.53
Acer Jade Primo
3.521
Microsoft Lumia 950
3.512
Oppo R7 Plus
3.499
Samsung Galaxy J7
3.422
Meizu MX5
3.416
Oppo R7
3.32
Samsung Galaxy J2
3.235
Sony Xperia X Performance
3.234
Motorola Moto X Play
3.222
Huawei P9
3.195
Lenovo Vibe Shot
3.113
Motorola Moto X Force
3.105
LG Nexus 5X
3.092
Huawei Mate S
3.073
Microsoft Lumia 640 XL
3.065
Apple iPhone 6 Plus
3.023
Sony Xperia X
2.989
Samsung Galaxy Note
2.97
Huawei Mate 8
2.949
LG G5
2.905
HTC One S
2.901
Sony Xperia Z5
2.876
Microsoft Lumia 550
2.851
Sony Xperia Z5 compact
2.784
LG V10
2.744
Xiaomi Redmi 3
2.735
Sony Xperia M5
2.69
Vivo V3Max
2.659
Xiaomi Mi 4i
2.641
Sony Xperia XA
2.609
Xiaomi Mi 4c
2.574
LeEco Le Max 2
2.567
Microsoft Lumia 640
2.563
Oppo F1
2.528
Sony Xperia Z5 Premium
2.525
Sony Xperia M4 Aqua
2.503
Motorola Moto G
2.477
Lenovo Vibe K5 Plus
2.473
Huawei G8
2.471
Sony Xperia Z
2.462
Huawei Honor 7
2.406
ZUK Z1 by Lenovo
2.382
HTC 10
2.378
Samsung Galaxy J5 (2016)
2.378
HTC One E9+
2.305
Alcatel One Touch Hero
2.272
Lenovo Vibe K4 Note
2.254
Sony Xperia C5 Ultra
2.253
Xiaomi Redmi Note 3 (MediaTek)
2.249
Sony Xperia C4 Dual
2.235
Motorola Moto G (2014)
2.233
LG Nexus 5
2.228
Huawei P8
2.196
Xiaomi Redmi Note 2
2.166
OnePlus Two
2.165
HTC One X
2.158
LG Aka
2.145
Archos 50 Diamond
2.134
Xiaomi Redmi Note
2.119
Acer Liquid X2
2.084
Huawei P8lite
2.078
Moto G 3rd gen max manual
2.026
Xiaomi Mi Max
1.996
Sony Xperia E4g
1.972
OnePlus One
1.961
Meizu m3 note
1.923
Meizu m2 note
1.892
BlackBerry Leap
1.892
HTC Butterfly
1.873
ZTE Nubia Z9 mini
1.759
Sony Xperia U
1.758
Asus Zenfone Selfie
1.68
Motorola Moto E (2nd Gen)
1.675
ZTE Nubia Z9
1.659
Jolla Jolla
1.605
Motorola Moto E
1.545
Sony Xperia M
1.473
Xiaomi Redmi 2
1.311
Sony Xperia C
1.283
Meizu MX
1.221
Sony Xperia E
1.215
You can enable automatic brightness from the settings (but not from the quick toggles in the notification area). Smart backlight control keeps the lights on while you're looking at the screen, so you can set a short display sleep timeout, but still read long texts at your own pace.
Connectivity
The Sony Xperia XA comes in single and dual-SIM flavors. VoLTE is supported for higher quality audio in calls (assuming your carrier has enabled it).
The phones can drink Internet at up to 150Mbps speeds thanks to LTE Cat. 4 (50Mbps up) or Wi-Fi a/b/g/n (dual-band) if you prefer a local connection.
Bluetooth 4.1 with Low Energy and audio-focused aptX is on board as well. NFC is available too.
Wireless media connections include DLNA and Miracast. There's no wired TV out, but the USB port does support On The Go for hooking up external storage.
Sony Xperia XA battery life test
The Sony Xperia XA is thin and light, which doesn't leave much room for battery capacity. The XA is loaded with 2,300mAh in total, which is not much for a 5" phone, though some devices manage to pull off a decent endurance of similar units.
It does support a fast charging tech, MediaTek's PumpExpress 2.0 to be exact and Sony says you can get over 5 hours of battery life in just 10 minutes with its UCH12 charger.
In some regions you will need to provide your own charger, though, the one we got is a standard 1.5A. Also, note that the Quick Charge power bricks we tried didn't push more than 1.5A, so look for a charger specifically compatible with PumpExpress.
Sony's Stamina battery saving feature comes standard here. It has two modes: regular Stamina, and Ultra Stamina. The first disables non-essential features like GPS and vibration, and takes performance down a notch, but the Xperia does remain a smartphone.
Ultra Stamina is for absolutely dire occasions when you don't expect to be able to find a power outlet for a prolonged period of time. Enable that and it's back to basics where you get a single homescreen with access to the dialer and contacts, text messages, camera and clock.
Like its other X siblings, the Xperia XA battery uses Qnovo tech, which promises to prolong its usable life. As batteries age, they can hold less and less charge and that's just the problem Qnovo solves by intelligently monitoring the charge that goes into the battery.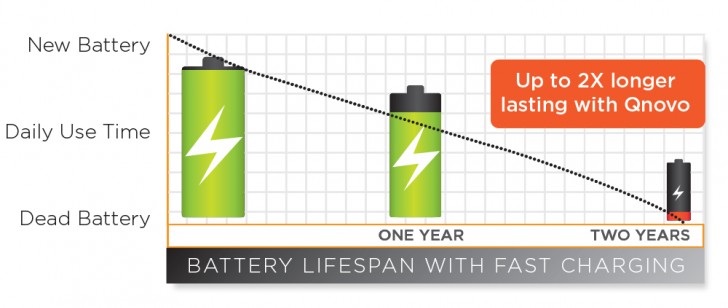 The actual battery performance isn't great - we only squeezed out 40 hours of Endurance rating. This means to reach Sony's promised 2-day battery life, you shouldn't push the Xperia XA too hard. Web browsing proved the biggest drain, you can get just over 5 hours. We've seen better from phones with smaller batteries. Even the Helio P10 chipset does okay in other phones. Still, video playback was surprisingly good and the 10 hour talk time (while not great) should be enough.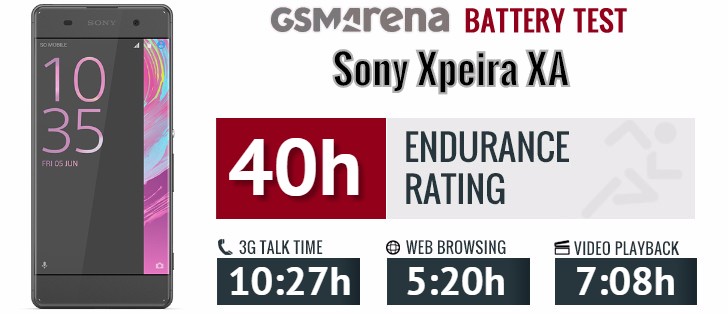 Update, August 23: We re-retested the Sony Xperia XA and the web browsing time improved significantly, which along with an improvement in standby time pushed the Endurance rating up to 54 hours.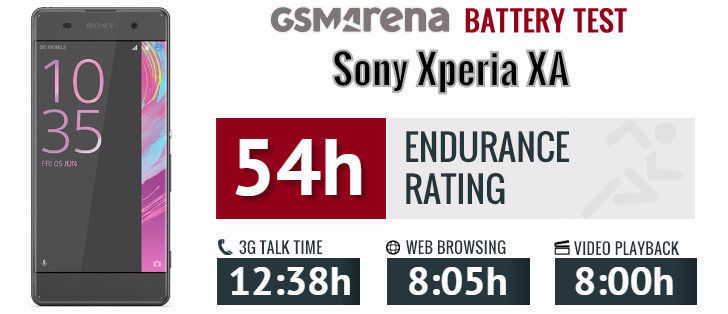 The battery testing procedure is described in detail in case you're interested in the nitty-gritties. You can also check out our complete battery test table, where you can see how all of the smartphones we've tested will compare under your own typical use.