Xperia Z1 runs on Android 4.2.2 out of the box
The Sony Xperia Z1 comes with Android 4.2.2 out of the box and Sony's proprietary Xperia launcher on top. The most recent Xperia phones are already running or will soon get Android 4.2.2 Jelly Bean, too.
Here is a demo video of the Sony Xperia Z1 to get you started.
The Xperia Z1 gives you the option to add or remove homescreen panes (you start with five) and set any of them as default. You can't have more than seven panes at any given time though, nor can you change the order they're in.
The background for the virtual on-screen buttons is black when you are running an app and completely transparent when you are browsing homescreen panes and menus.
Adding stuff to the homescreen is done with a tap-and-hold on a blank area or using the pinch-to-zoom gesture. A context menu appears, allowing you to perform various customizations on your phone - add widgets or shortcuts, change the wallpaper and the theme. You can also add shortcuts from the app drawer by holding your finger over an icon and dragging it across to the homescreen area.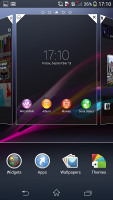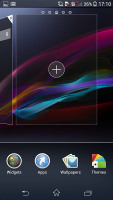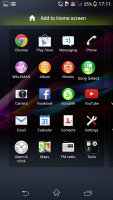 Adding widgets and app shortcuts to the homescreen
The Xperia Z1 has a few custom-made Sony widgets for various social services, connectivity toggles, the Walkman player, etc. The widgets in the Xperia Z1 do resize and re-arrange automatically when you're trying to place them.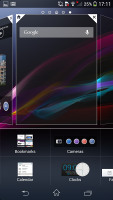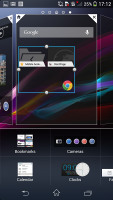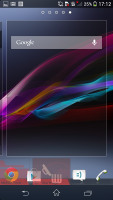 Adding and removing widgets is easy
The wallpaper menu offers both static and live wallpapers. As usual you can preview the live wallpapers before applying them.
Applying a new theme changes the lockscreen and homescreen wallpaper and the color of the system icons (toggles, menu icons, etc.).
Along the bottom, there are four docked shortcuts (two each side of the app drawer shortcut). These are visible across all homescreen panes and are user configurable: they can be either single icons or folders with multiple items, in which case you get smaller icons of the first four shortcuts in them.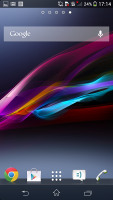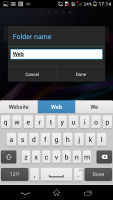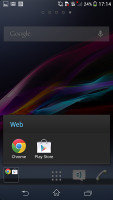 The docked shortcuts • Folders
The lockscreen has multiple panes, each containing one widget. The rightmost pane is special and fires up the camera.
The other panes can accommodate various widgets: Email, Gmail, Google Now, Calendar, Google+ posts, TrackID and Digital clock. You can download apps from the Play Store that add new widgets.
When the music player is on, the lockscreen will display the music controls by default, but they can be swiped out of the way. You can also enable Face, Pattern, PIN or Password unlock, in ascending order of security.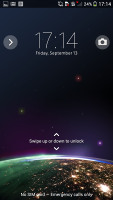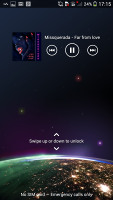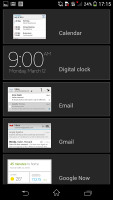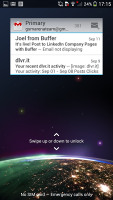 The lockscreen and its options
The notification area features a few toggles (Sound, Bluetooth, Wi-Fi and Brightness by default). There's also a quick shortcut to the settings menu. This time around, the toggles are customizable. You can choose between 16 different quick toggles and have up to 10 of them visible in the notification area across two rows of shortcuts. You can even opt out of having the Settings key.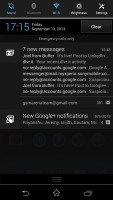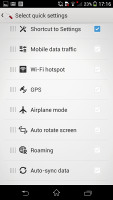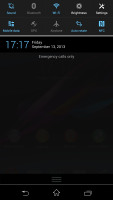 The notification area offers two customizable rows of quick toggles
The notifications themselves have not changed - they can be expanded to reveal more info and collapsed to save space or dismissed with a sideways swipe. Sometimes they also have helpful buttons on them, such as "Call back" or "Send SMS" on a missed call notification.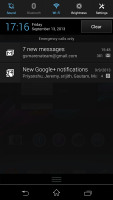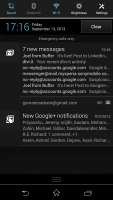 Notifications are still expandable
The app drawer is laid out across multiple pages and you can sort the apps manually, alphabetically, by the most used or most recently installed. The menu with those settings is accessible via a swipe from the left edge of the screen and you can also search and even uninstall apps from there. If you tap and hold on an app, a green Add to Homescreen field will appear on top of the app drawer. Just drag the icon and drop it there and you will go back to your homescreen and place a shortcut.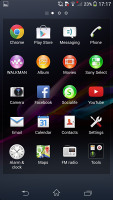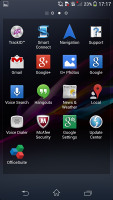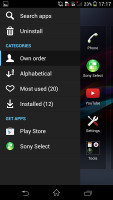 The app drawer and its swipe-able settings
The stock Android task manager is onboard. It lets you switch between recently opened apps, as well as terminate them with a side-swipe. The so-called "small apps" introduced with the Xperia T are enabled too.
They are similar to Samsung's Mini Apps, and pop up tiny widget-like applications on your homescreen, which you can move around and use without having to open the full-fledged app.
So far, there's a default set of nine: Active Clip, Chrome Bookmarks, Browser, Calculator, Calendar, Gmail, Timer, Notes, and Voice Recorder.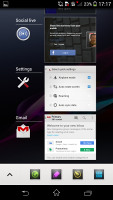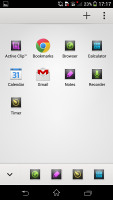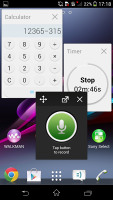 The task manager • the default Small Apps • Small Apps in action
You can download more Small Apps off the Play Store or you have the option to turn your favorite widgets into Small Apps. Just hit the Plus key at the top of the list and choose a widget.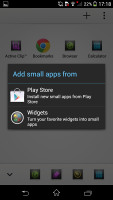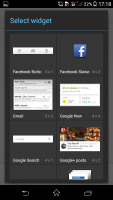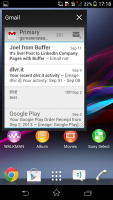 Turning a widget into a Small App
You can launch only one instance of a Small App, but you can open multiple Small Apps simultaneously.
Sony has added its own Backup & Reset feature for Android OS. It works for apps you've uninstalled and then reinstalled again, all of your multimedia content is saved too, and all system apps such as messaging, call logs, etc. get their data stored safely. Restoring is easy and if you lost something, you can easily bring it back.