ExpertiZe
Sony Xperia Z4 Tablet review: ExpertiZe
Stock browser and Google Chrome
The Sony Xperia Z4 Tablet comes with a pair of browsers, the stock Browser app and Google Chrome. They offer largely the same functionality and the choice comes down to personal preference. With Chrome's seamless integration with other devices it's typically our favorite, plus it has a Data Saver feature, that should cuts down on your cellular traffic.
Other apps
The Sony Xperia Z4 Tablet comes with the Microsoft Office for Android tablet including Word, Excel, PowerPoint, OneNote and OneDrive. The app suite provides as much functionality as you are ever likely to need.
The calendar is the same app, familiar from the Z2 Tablet and Z3 Tablet Compact. Entering a new event is quick and easy, and you can also set an alarm to act as a reminder. The Calendar also pulls info on upcoming events from your Facebook account. The calendar can also display the national holidays for a long list of countries and your contacts' birthdays too, and shows the weather forecast for each day.
The Alarm & clock app supports multiple alarms, each with its own sound and repeat pattern. You can also set whether the side buttons would snooze the alarm, dismiss it or do nothing. There's also a desk clock option and a world clock (which shows the weather forecast for each city, not just the time).
Sony's own Socialife News is a news reader that pulls headlines from web sites and RSS feeds. If you sign into Facebook, Twitter and YouTube, the app will include updates from those services as well. The app repackages the article in an easy to read format with selectable font sizes to make reading a breeze.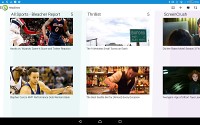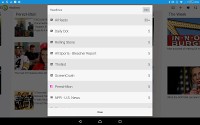 Socialife News combines a newsreader with a social networking app
Sketch is pretty simple to use - you can select the color of the note/sketch and just start typing or doodling. You can customize a wide variety of drawing modes, backgrounds, and stencils. You can use the app to draw a sketch to send with the Messaging app and there's even Evernote integration.
There is a nicely touch-optimized calculator aboard. The buttons are really big, too big, and it also offers advanced functions (trigonometry, logarithms), although a lot more could have been fitted.
The Power Saver helps you extend your battery life by toggling things like Wi-Fi, GPS, Bluetooth screen brightness, auto sync and background data on and off automatically when the battery charge falls below a certain user-defined threshold. You can also turn off the Wi-Fi if there is no saved Wi-Fi network in range or turn off mobile data when the screen is off, and more. What about Stamina mode?
The File Commander app is a capable file manager that features batch operations, ZIP file support and cloud storage (Google Drive, Dropbox, Box, SugarSync, OneDrive).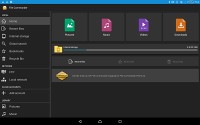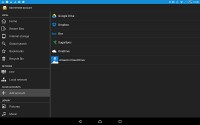 File Commander handles all the popular cloud storage services
There's a Backup & Restore feature on the Xperia Z4 Tablet, but it's limited to contacts, conversations, calendar entries, call log and bookmarks. The app can't backup multimedia content or documents, something which may be important, given the tablet's work aspirations.
Lifelog tracks a host of daily activities, including walking, running and sleeping, but also the music you listen and the photos you take. It then presents the info in a splitscreen view with a timeline on top and detailed numbers on the bottom.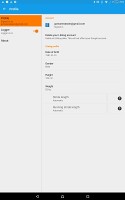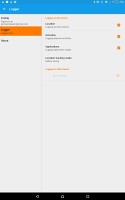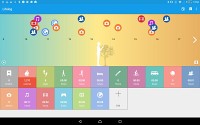 Lifelog is an all-round activity tracker
The Xperia Lounge app promises to deliver exclusive multimedia content (music, film and sports), promotions and games. It behaves differently in portrait, where you get a scrollable list of video stories, while in landscape the stories are screen-sized.