TUV certifies three batteries for Nokia phones, one with 5,050 mAh capacity (Nokia 7.3?)
Not in September, not in November, not in 2020. The Nokia 7.3 release date always seems to slide forward, but the phone does appear to be slowly working towards launch. The latest bit of info comes from TUV Rheinland Japan, which certified the batteries of two models.
One is possibly the 7.3 – or it could be renamed Nokia 7.4 by the time it launches (WT340). That one is rated at a 5,050 mAh typical capacity. The other device, presumably the Nokia 6.3 (or 6.4), has a slightly smaller 4,470 mAh power cell instead (CN110).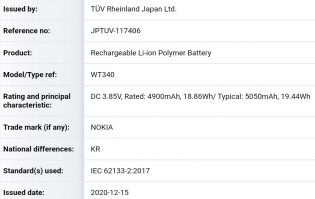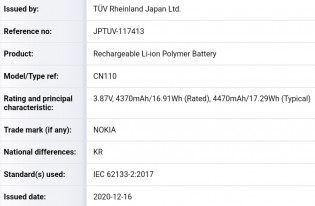 Nokia 7.3 battery with 5,050 mAh typical capacity (WT340) • Nokia 6.3 battery, 4,470 mAh typical (CN110)
Back when Qualcomm unveiled the Snapdragon 690, HMD Global CPO Juho Sarvikas tweeted his excitement to launch a phone with that chip. Current thinking in the rumor mill is that the Nokia 7.3 will use this chip to enable 5G connectivity while avoiding stepping on Nokia 8.3 5G's toes (that one uses the 765G chipset). Previously, the Nokia 6.3 was rumored to use the Snapdragon 730, a 4G chipset.
Connectivity may be one of the larger differences between the 7-series and 6-series phones and may explain the need for a slightly larger battery on the 7.3. Other than that, the two phones are expected to e fairly similar.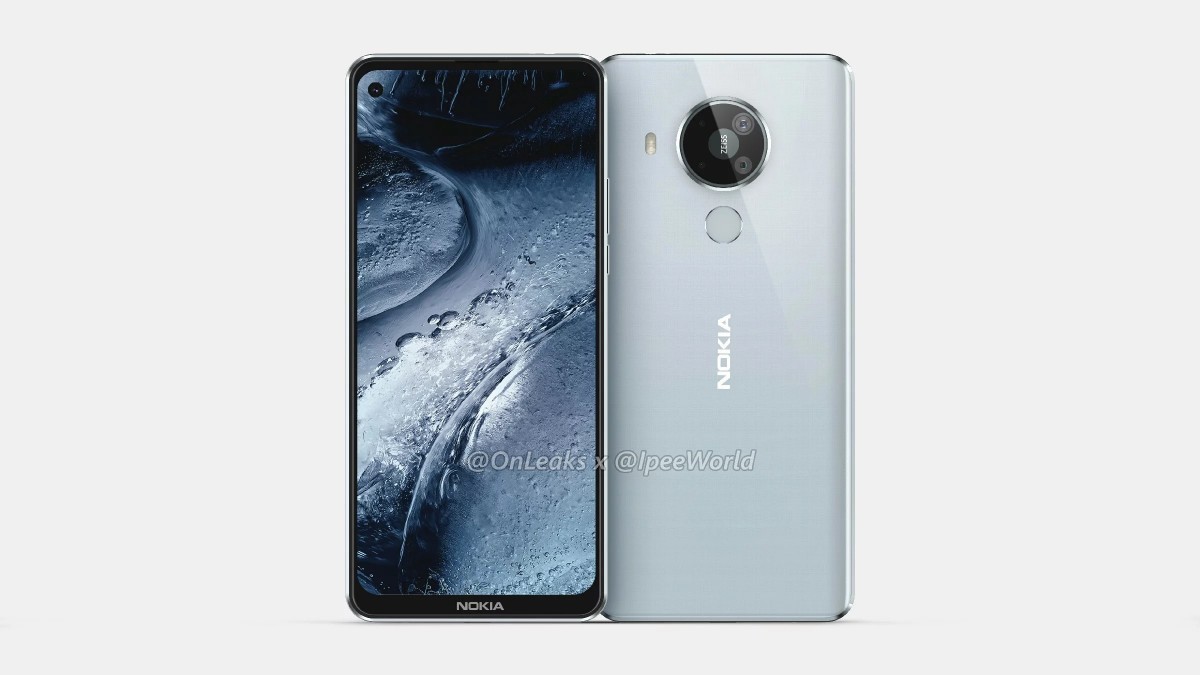 Nokia 7.3 render by @OnLeaks
Early rumors claimed that the Nokia 6.3 will have a 24MP main and 12MP ultrawide cameras (plus two more modules) while the 7.3 is expected to get an upgrade to a 48MP sensor. However, those rumors are now fairly old and it's not clear how relevant they are (HMD may have reworked the phones since the early prototypes).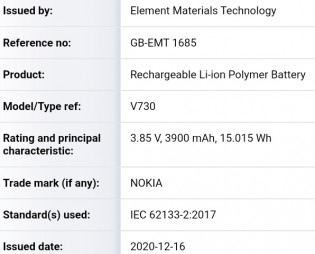 3,900 mAh battery for another Nokia phone (V730)
There's a third device, the V730, though its small 3,900mAh battery could indicate a lower-end model. Or this could be the actual Nokia 7.3 battery, the model name is certainly suggestive. Plus, the Nokia 7.2 had only a 3,500mAh battery, so it will still be an upgrade, if a small one.
then the budget would be increased to bud. and you know quality ain't cheap to make. like I said, they played it slowly and carefully. they need to play the right card which benefits them and the people who've bought it.
S
Look, the problem with HMD is, they don't target correct audience. Most of us buy mid-range smartphones. And after 2018, the only 6.2 and 7.2 have been released as mid-rangers, and 7.2 literally shared 7 Plus' SoC while 6.2 had same SoC as ...