Software
The vivo V7 runs on Android 7.1.2 Nougat OS skinned with vivo's custom Funtouch v3.2 overlay on top. That means a single-tiered interface with no app drawer and no option to have one.
As you'd expect, notifications are summoned with a swipe from the top, but the quick toggles reside in a separate drawer, which as with iOS you drag up from the bottom.
The interface is slick and there is a slew of extra features on top of the standard set for Android Nougat, making for an interesting Android skin. There is App Clone, Smart Split and even Face Unlock.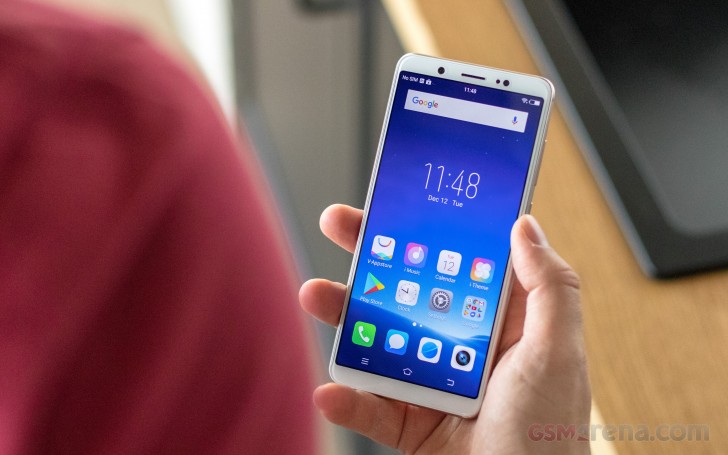 The fingerprint sensor is always-on, very fast and accurate. You can also set up face unlock in addition to fingerprint security, but you will need to wake up the screen in order for it to work.
The face recognition can be fast or regular. The fast option indeed recognizes your face faster, and we mean blazing-fast, but it can be fooled with a picture. The other one relies on a more in-depth facial recognition algorithm and vivo says it's more secure. It's not as secure as Apple's Face ID, but, apparently, this kind of authentication is now a thing and the Chinese makers are picking up the trend and their implementations are not bad at all.
The V7 has its own Themes app and you can choose from a very rich theme store. The theme-able elements are the wallpapers (lock and homescreen, dialer, messenger), and the system font.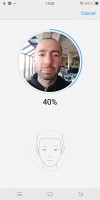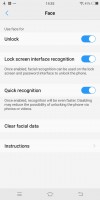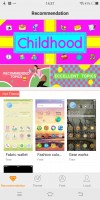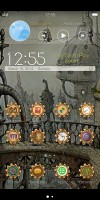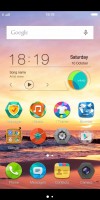 Face Unlock • Face Unlock • Theme Store • A theme • A theme
The vivo V7 comes with extensive gesture and motion functionality, found in settings under Smart motion. Smart wake works with the display off and lets you draw letters to launch specific apps, unlock with an upward swipe without lighting the screen beforehand, or launch the camera with a downward swipe. There are multiple settings for flashlight or camera launch with the volume keys, too.
There are the necessary multimedia apps on the V7, part of the custom Funtouch launcher. You get a simple gallery, a skilled iMusic player with Deep Space proprietary sound effects and equalizers, and a very basic Video app with pop-out play function.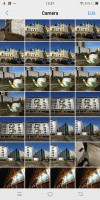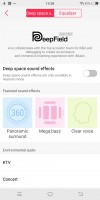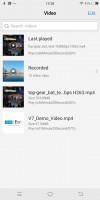 Gallery • Music • Sound Effects • Equalizers • Video
Performance
The vivo V7 is powered by the new Qualcomm Snapdragon 450 chip. Despite its 4-series branding, this one is more of a reworked Snapdragon 625 and comes to replace the Snapdragon 435.
The 450's processor has eight 1.8GHz Cortex-A53 cores and promises a 25% boost in processing speed over the incumbent S435 chip. It also comes with the Adreno 506 GPU, which should provide a 25% boost in gaming performance. Finally, vivo has granted the V7 with 4 gigs of RAM - great for games and multitasking.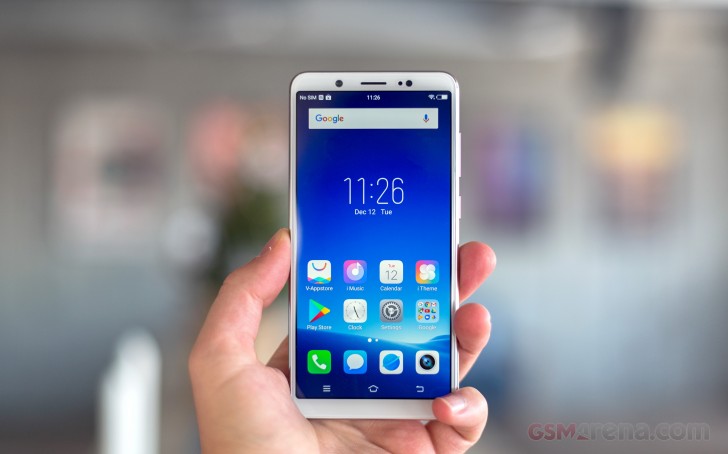 Of course, the highlight of this new chip is that it's built on a 14nm process - the first among the 4-series. Power draw when gaming will be reduced by up to 30% and Qualcomm expects batteries will offer up to 4 hours more of active use compared to the old chip.
And now - it's benchmark time. GeekBench is what we ran first, and the V7 did great. As expected, its 1.8GHz processor is faster than the 1.6GHz and will easily get the job done but it trails behind the 2.0 and 2.2GHz ones.
GeekBench 4.1 (multi-core)
Higher is better
Xiaomi Mi A1
4292
HTC U11 Life
4140
Motorola Moto X4
4136
vivo V7
3935
vivo V7+
3912
Samsung Galaxy J7 (2017)
3779
Sony Xperia XA1
3611
Nokia 6 (Global version)
2841
LG Q6
2244
We've already seen the Adreno 506GPU perform on the Snapdragon 625 (Mi A1, V5+, Moto G5S+), so this is a welcome upgrade for the 4xx generation. Just as expected, as far as raw power is concerned, the 450's Adreno 506 is on par with the one inside the 620. It is better than the old Adreno 505, of course, but not as fast as the Adreno 508 in Snapdragon 630 (HTC U11 Life).
GFX 3.1 Manhattan (1080p offscreen)
Higher is better
Motorola Moto X4
9.8
HTC U11 Life
9.6
Oppo F5
7.1
Xiaomi Mi A1
6.4
Sony Xperia XA1
6.2
vivo V7+
6.1
vivo V7
6.1
Nokia 6 (Global version)
4.6
LG Q6
3.8
Samsung Galaxy J7 (2017)
3.3
But the V7 isn't utilizing a 1080p screen, but a 720p one, which means less pixels and more processing power. And it blew the competition away at the actual onscreen tests.
GFX 3.1 Manhattan (onscreen)
Higher is better
Sony Xperia XA1
15
vivo V7+
13
vivo V7
13
Motorola Moto X4
11
HTC U11 Life
9.6
Oppo F5
6.8
Xiaomi Mi A1
6.3
Nokia 6 (Global version)
4.5
LG Q6
3.6
Samsung Galaxy J7 (2017)
3.3
Finally, we ran the all-round AnTuTu test and the V7 scored fine for the class.
AnTuTu 6
Higher is better
HTC U11 Life
72854
Motorola Moto X4
71224
Oppo F5
63889
Xiaomi Mi A1
61762
Sony Xperia XA1
60707
vivo V7+
57791
vivo V7
54970
Nokia 6 (Global version)
47495
Samsung Galaxy J7 (2017)
46822
LG Q6
40558
Qualcomm's latest addition to the basic 4xx series has turned out to be a capable silicon and you can tell by the scores. We ran quite a few 3D games, both arcades and shooters, and they were smooth and enjoyable. The wide-screen helps for an immersive experience, while the more than adequate chip boosts the enjoyment.
The Snapdragon 450 chip is built on a 14nm process, which meant low heat output and we can confirm the V7 doesn't get hot under use at all. We expect the adoption rate of the S450 to sky-rocket as this is one very capable chipset.