Funtouch has finally made the move to Lollipop
vivo hasn't been too quick to adopt Google's Lollipop, but the X5Pro finally comes with Android 5.0 out of the box. Naturally, there's the company's proprietary Funtouch overlay, and it's nigh identical to the 4.4 KitKat-based version on the recently reviewed vivo X5Max, so recurring vivo users will feel right at home. Previous iPhone owners will have an easy transition to Android too, as the inspiration for Funtouch is rather obvious.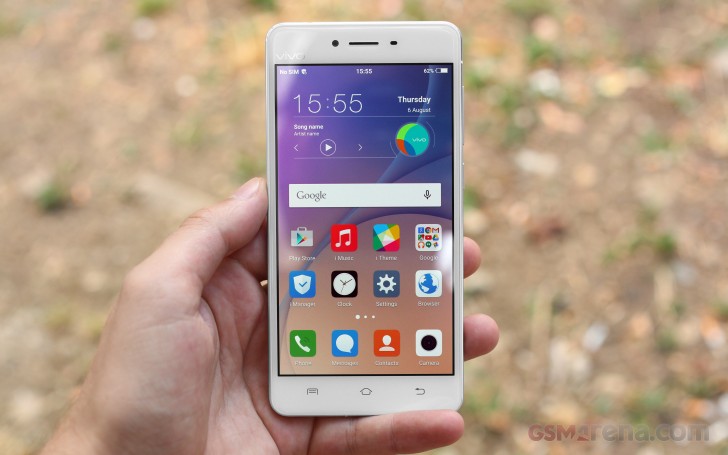 What we didn't like before, we'll have to reiterate. The stock Android menu arrangement is gone, and the one on the X5Pro requires some getting used to, before you learn where things are. vivo has tried to simplify things and make the most used settings readily available, but we're happier with Google's logical arrangement, even if requires an extra tap every now and then.
The smartphone has the entire Google suite preinstalled and there's few (if any) additional apps, though we're not sure if that's the case on all markets. Light on the bloatware, the smartphone doesn't omit basics like a proper calendar and calculator apps.
The lockscreen is largely similar to the one found on the X5Max. There's a standard issue clock widget on top, followed by a customizable signature, where you can set up an uplifting quote to start your day. In the bottom half there's an avatar box and you can assign a number of different animated ones or choose a photo from the gallery.
The new touches here come in the form of lockscreen notifications, a feature Google introduced with Lollipop, and it now makes its way to Funtouch. The other modifications come in the form of two shortcuts in the bottom corners - dialer and camera by default. However, you do get to assign any other app of your choice to either one - we like. Unlocking only works with an upward swipe, though.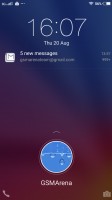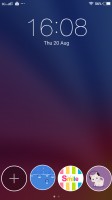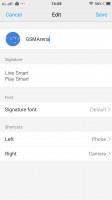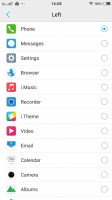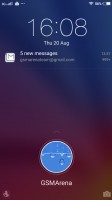 Lockscreen with notifications, avatar and motto • fully customizable shortcuts on the bottom
Past the lockscreen you get the same single-tier interface with no app drawer. The number of homescreen panes doesn't appear to be limited to a single page of thumbs (which holds 9) and we quickly concluded you won't be left without room for new apps. You can rearrange the homescreens any way you like and the one you place first is the default one that appears when you tap the Home button. The panes cannot be cycled, which can prove a problem if you have a large number of those.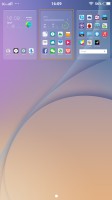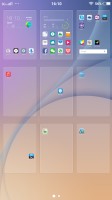 Practically unlimited homescreen panes
The homescreen is where all your apps will show after installation in a grid of 4x5 icons. You can group them in folders and tapping on a folder shows its contents in a nicely animated popup on a blurred background (wonder where we've seen that). There's a dock on the bottom of the homescreen, which takes up to 5 icons, folders included, and redistributes them evenly, depending on the number.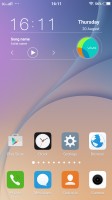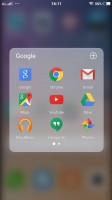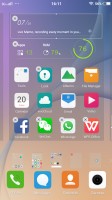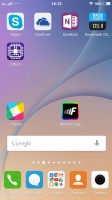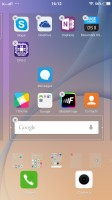 Homescreens with folder support and auto redistribution in the dock
The Menu button brings out the widget library, as well as the option to select a transition effect for the homescreen panes. You also get the option to hide apps you don't want displayed on the homescreen, and they can be password-protected.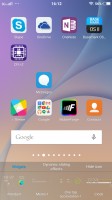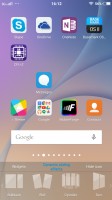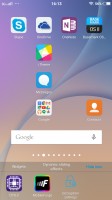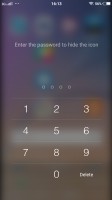 Menu button gives access to widgets and transition effects
A major difference to your average Android interface is vivo's separation of the notification shade and the quick toggles for changing settings. Swiping down from the top brings out the list of notifications where you also get the carrier's name and reminders for upcoming calendar events.
Meanwhile, swiping up from the bottom edge brings out a combined toggles/brightness/tasks drawer, reminiscent of the iOS Control center. Closing apps works with an upward flick, but there's no Kill all button.
The brightness slider doesn't take taps if you want to jump straight to a specific position, instead you need to grab it by the handle each time. There's an Auto switch too.
The toggles offer the expected functionality and aside from the simple on/off action work as shortcuts to the respective setting upon a long press. All of them are listed in a singled side-scrollable row, and you can rearrange them or hide unused ones.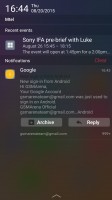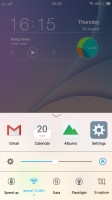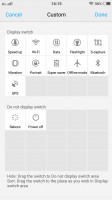 Notification area • task switcher and quick toggles from the bottom drawer
There's a theming engine that changes the entire look of the smartphone with lock and homescreen wallpapers and icon packs. There's only the default theme preinstalled, but there's plenty more online, available for free. As always, some work better than others with apps outside of the standard package.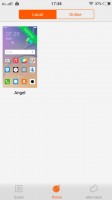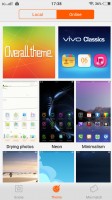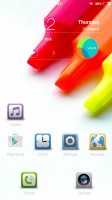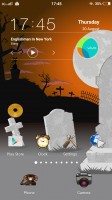 Notification area • task switcher and quick toggles from the bottom drawer
vivo has also devised a nifty and truly useful screen-grabbing utility called S-capture. Chief among its features is the ability to capture long screenshots, for example an entire webpage or a conversation in a messaging app. Alternatively, you could record a video of what's going on the screen, like gameplay or instructional videos. The Funny screenshot option lets you crop a part of the screen with a freeform or preset shape, of which there are a few.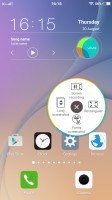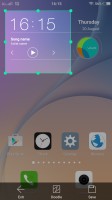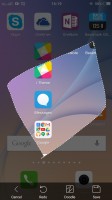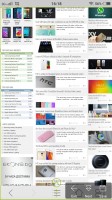 S-capture is a useful screen-grabbing utility
The vivo X5Pro comes with extensive gesture and motion functionality, found in settings under Smart motion. Smart wake works with the display off and lets you draw letters to launch specific apps, unlock with an upward swipe without lighting the screen beforehand or launch the camera with a downward swipe.
Air operation holds options for a quick status glance or air unlock, both triggered by a hand wave at the front camera.
Then there's smart light which covers three features. One claims to wake up the phone when you take it out of your pocket, next is the familiar double-tap-to-wake in a different wording, and Smart keep bright uses the front camera to detect you're looking at the phone so it doesn't go into standby while you're reading.
Smart call contains the gestures for picking up and muting calls, while Smart remind will vibrate when you pick the phone off the table to indicate you have pending notifications.
Multi window is similar to Sony's Smart apps and pop's up a tiny window where you can watch a video, create or view notes and access your messaging inbox.