Among murmurs of "where's the headphone jack", fans heaped praise on the Xiaomi Mi 6. With nearly 80% of the votes - that is 4 in 5 people in favor - the affordable flagship has what it takes to become a hit.
At its €400 or so price, the dual camera and Snapdragon 835 chipset (with memory to spare) are a huge plus. The curvy design is liked, though not quite cutting edge compared to some bezel-less offerings (which cost a good deal more).
As for the headphone jack, Xiaomi had the foresight to include a small adapter cable and that seems to be enough for many. The company did not include headphones in the retail box, but no one complained about that (Mi 6's price allows it to sidestep the demand for accessories).
Now, if only Xiaomi could do something about the global availability of the Mi 6 - Mi.com is still only showing the 5s generation.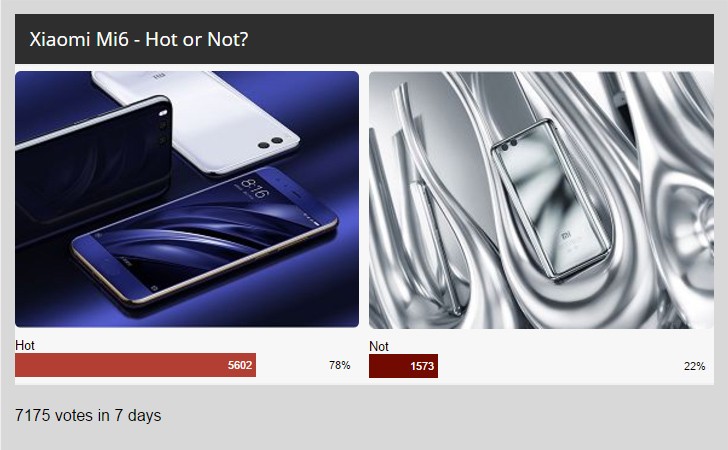 M
I never bought anything but iPhones and now I'm really happy with my phone it's one of the best feelings in the world it's 128gb so I don't really need sd card don't know what are you talking about and the only little thing that bothers me is the hea...
D
Xiaomi mi6: - no headphone jack - no sd card slot - no exchangeable battery these are missing in almost all upcoming flagship phones Buggy software: well it depends, I am using the redmi 3 for about an year, yes its performance is not spectacula...
D
Does Snapchat work on the Xiaomi Mi 6? (thinking on buying Mi6) :)