What if the future of bezel-less phones lies not with screen notches but with pop-up mechanisms that offer an alternative placement for the selfie camera (and other components)? It's not so much an "if" as far as Oppo is concerned – its new Find X is a reality. Similar to NEX S from sister company vivo, but with key differences.
For one, it goes all in on the pop-up trick – it's not just the selfie camera, but the rear cameras as well, not to mention the structured light 3D facial scanner. That's right, Oppo is the third company to use structured light for biometric authentication. It even offers a lower false positive rate - 1 in 1,000,000 instead of 1 in 50,000. There is no fingerprint reader on board, unlike the NEX duo.
Despite being roughly the same size as an iPhone 8 Plus, the Find X offers a huge 6.42" AMOLED screen. Its 19.5:9 aspect ratio makes it taller than even the iPhone's screen, but it offers a full 20% more surface area.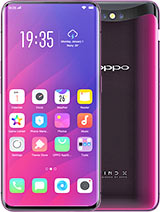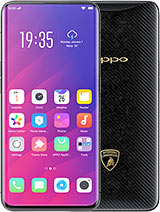 Oppo Find X • Oppo Find X Lamborghini Edition
The design of the phone is really something – the screen has curved edges and rounded corners, the back has curved sides as well. The glass exterior is backed by special coating that reflects light at different angles, which creates a shimmer reminiscent of a crystal or water.
And the mechanized sliding mechanism, which takes half a second to extend, sure is cool. Since the rear dual camera is attached to it, it gains extra protection – it's hidden away from hard, sharp objects when not in use and retracts automatically if you drop the phone.
The Find X comes with the VOOC fast charger, which is still one of the speediest, but even it pales in comparison to Super VOOC.
The first phone with Super VOOC is the Find X Lamborghini Edition and its 3,400 mAh battery can be charged from 0 to 100% in just 35 minutes. That's jaw-dropping fast. And while there's 512 GB of storage, it's difficult to justify the €1,700 price of this special edition. Not when the regular Find X is €1,000.
Time to vote for your favorite and to spice things up, we'll include the vivo NEX S (even though it already proved itself in last week's poll).
What do you think of the Oppo Find X?
I don't think so, this design is origin without copying but the back of the phone is inspiring from the China costume drama, very origin but I prefer Japanese design.
E
Still better than Samsung.
B
Nothing is completely waterproof, but unless there is some good water protection the phone is made for those who never leave their rooms. That's dumb even for a $300 phone, and a for a 1000 Euro phone that's ridiculous.