Performance
The Xiaomi Mi 5s runs on the latest Snapdragon 821 chipset with 3GB of RAM. There is a more powerful Mi 5s model with 4GB RAM and double the storage, too.
The Snapdragon 821 SoC improves on its predecessor with better power efficiency and higher performance. You can't have both at the same time though - the manufacturers can either opt for the slightly higher processor and GPU frequency for about 10% performance bump (as is the case with the Mi 5s Plus phablet), or keep the original clocks in order to gain better battery life.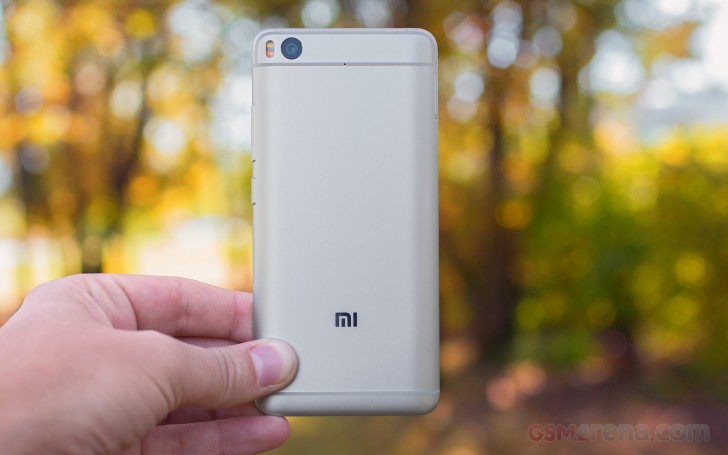 Xiaomi chose the latter for the Mi 5s and thus it offers the same quad-core Kryo processor with two cores ticking at 2.15GHz and two running at 1.6GHz as its 64GB Mi 5 sibling. The Adreno 530 GPU is also clocked at the same 624MHz frequency as the one inside the Snapdragon 820.
There is no doubt the Snapdragon 820, and now 821, are among the most popular choices for the flagship crop, so even without running benchmarks, you can rest assured the Mi 5s is a beast.
But we're not the kind of reviewers that work with assumptions, so we sure did run our fair share of benchmarks. Join us as we dig into those scores and framerates.
A single Kryo core shows a rather uninspiring result within the GeekBench 4 benchmark, but it's on par with the competition, except for the A10 processor in the iPhone 7. It also doubles the performance of the Cortex-A53 inside the Huawei nova.
You can also notice the 10% promised gap between the 2.1GHz Kryo inside the Xiaomi Mi 5s and the 2.4GHz Kryo CPU inside the Xiaomi Mi 5s Plus.
GeekBench 4 (single-core)
Higher is better
Apple iPhone 7
3488
Samsung Galaxy S7
1854
Xiaomi Mi 5s Plus
1815
Huawei Honor 8
1720
OnePlus 3
1719
Xiaomi Mi 5s
1682
Sony Xperia XZ
1578
Huawei nova
842
The four Kryo cores combined do great, as usual, but they can't compete with the combined power of the eight cores inside the Honor 8 (4xA53 + 4xA72), or the dual-core A10 Fusion CPU inside the iPhone 7.
The 10% bump on the Xiaomi Mi 5s Plus is once again clearly visible in the multi-core results, which means Qualcomm fully delivered on its 10% performance jump.
GeekBench 4 (multi-core)
Higher is better
Apple iPhone 7
5654
Huawei Honor 8
5447
Samsung Galaxy S7
5245
Xiaomi Mi 5s Plus
4333
OnePlus 3
4045
Xiaomi Mi 5s
3987
Sony Xperia XZ
3868
Huawei nova
3105
Moving on to Basemark OS II 2.0 to look at some numbers representing overall performance. Here the Mi 5s is in a group with its Mi 5 brother and the OnePlus 3, running on the same chips. It did a notch better compared to all other devices we've tested but the iPhone 7, which might be due to a faster storage or more efficient MIUI 8.
Basemark OS 2.0
Higher is better
Apple iPhone 7
3416
Xiaomi Mi 5s
2378
OnePlus 3
2365
Xiaomi Mi 5
2180
Sony Xperia XZ
2151
Samsung Galaxy S7
2128
Huawei Honor 8
2099
Huawei P9
2068
LG G5
2065
Sony Xperia X
1714
Huawei nova
1218
Samsung Galaxy A5 (2016)
833
Antutu is also showing the Mi 5s in a good light - it outs the same scores as all S820 devices we've tested so far, though the OnePlus 3 has some supremacy here.
AnTuTu 6
Higher is better
Apple iPhone 7
174532
OnePlus 3
141764
LG G5
134541
Samsung Galaxy S7
132084
Xiaomi Mi 5
131758
Xiaomi Mi 5s
131666
Sony Xperia XZ
124266
Huawei P9
98069
Huawei Honor 8
94892
Sony Xperia X
77537
Huawei nova
65021
Samsung Galaxy A5 (2016)
35689
On the graphics front, the Mi 5s does an excellent job with Basemark X scores, beating all smartphones we've put through it so far. The Adreno 530 is indeed a mighty performer.
Basemark X
Higher is better
Xiaomi Mi 5s
36240
Xiaomi Mi 5
33110
OnePlus 3
32715
Samsung Galaxy S7
32345
Sony Xperia XZ
29548
LG G5
29456
Huawei P9
16942
Huawei Honor 8
16592
Sony Xperia X
15087
Huawei nova
10511
Samsung Galaxy A5 (2016)
4947
The BaseMark ES 3.1 test is also available on the iPhones, where the iPhone 7 is ruling the chart by miles. The Mi 5s does about the same as the other Adreno 530-powered smartphones, but behind the Galaxy S7's Mali-T880MP12 GPU.
Basemark ES 3.1 / Metal
Higher is better
Apple iPhone 7
1547
Samsung Galaxy S7
732
OnePlus 3
625
Xiaomi Mi 5s
588
LG G5
587
Xiaomi Mi 5
580
Sony Xperia XZ
577
Huawei Honor 8
345
Huawei P9
341
Sony Xperia X
251
Huawei nova
138
The GFX tests reveal that the Mi 5s raw performance is on par with the other Snapdragon 820/821 devices, and can be bested only by Apple's A10 GPU.
GFX 3.1 Manhattan (1080p offscreen)
Higher is better
Apple iPhone 7
43
Sony Xperia XZ
31
OnePlus 3
31
LG G5
30
Xiaomi Mi 5
30
Samsung Galaxy S7
28
Xiaomi Mi 5s
26
Huawei P9
10
Huawei Honor 8
10
Sony Xperia X
9.2
Huawei nova
6.3
GFX 3.1 Car scene (offscreen)
Higher is better
Sony Xperia XZ
20
OnePlus 3
18
Xiaomi Mi 5
17
Xiaomi Mi 5s
16
LG G5
16
Samsung Galaxy S7
15
Huawei P9
6.5
Huawei Honor 8
6.3
Sony Xperia X
5.3
Huawei nova
3.5
The Mi 5s has an advantage over some of its competitors such as the Galaxy S7 and the LG G5, because of its lower screen resolution. The Adreno 530 is a monster when displaying 1080p resolution, though still not monster enough to beat the iPhone 7 Plus (also 1080p).
GFX 3.1 Manhattan (onscreen)
Higher is better
Apple iPhone 7
60
Apple iPhone 7 Plus
42
Sony Xperia XZ
32
OnePlus 3
30
Xiaomi Mi 5
29
Xiaomi Mi 5s
26
LG G5
15
Samsung Galaxy S7
15
Huawei Honor 8
11
Huawei P9
11
Sony Xperia X
10
Huawei nova
6.5
GFX 3.1 Car scene (onscreen)
Higher is better
Sony Xperia XZ
19
OnePlus 3
18
Xiaomi Mi 5
17
Xiaomi Mi 5s
16
LG G5
8.8
Samsung Galaxy S7
7.9
Huawei P9
7.1
Huawei Honor 8
6.9
Sony Xperia X
5.9
Huawei nova
3.7
Xiaomi Mi 5s delivers flagship-grade performance, there is no denying that. The phone runs cool at all times.
The thing is Xiaomi may have overstressed the importance of having the Snapdragon 821 chip, as the chipset used for the Mi 5s has literally the same performance as its 820 predecessor.