Retail box contents
The Xiaomi Mi Mix 2 ships on a very lavish package. Gone is the intricate cake-style design of the original Mix and instead we get a two-piece wider and shorter box. The material is quite similar, though. And even though, we still stand firm in our believes that wasting money on a box is quite impractical, the various trays and separate little boxes within boxes do carry across a premium and orderly vibe.
Particulars aside, we do appreciate the fact that Xiaomi still includes a case with its Mix devices. It is not made of leather, like the one on the original, but it is still made of hard and durable plastic.
Also in the box is a USB Type-C to 3.5mm audio dongle, a short USB cable and a wall adaptor. A pretty nice Quick Charge one at that, rated at 5V@3A, 9V@2A and 12V@1.5A. Oh, and you also get a couple of golden inscriptions and signatures on a leaflet and a box separator - for a little extra dash of premium, we guess.
Xiaomi Mi Mix 2 360-degree spin
Xiaomi has put a tremendous amount of effort into the refined Mi Mix 2 design, earning it plenty of bragging rights. In the company's own words, it is "at the cutting edge of material crafting". It's a plausible statement, considering the awe-inspiring ceramic unibody design.
Now, about that, Special edition Mix 2 has the unibody design. Besides carrying a bigger price tag, this version is also slightly different in size and weight than its sibling. It measures 150.5 x 74.6 x 7.7mm and weighs in at 187 grams. It is also only available in a single 8GB, plus 128GB tier.
As for the regular variant, its back is made of the same ultra-durable ceramic material, but the frame is metal. Not only does this save on actual ceramic material, but definitely requires a much cheaper and quicker manufacturing process. This one measures 151.8 x 75.5 x 7.7mm and tips the scale at 185 grams. Besides the physical differences, the regular Mi Mix 2 can only be picked up with 6GB of RAM and a choice among 64GB, 128GB or 256GB storage.
Despite this significant difference of frame-less, versus a frame-based design, both variants have nearly identical profiles. Xiaomi worked hard to not sacrifice any curves, while changing the bill of materials.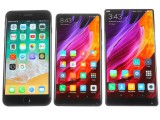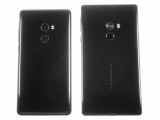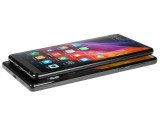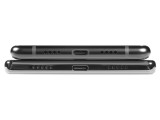 Mi Mix 2 next to the original Mix
One thing worth noting, before we get into the hardware tour is that the metal frame of the Mix 2 is quite slippery. However, surprisingly, the ceramic back is grippy in nature, so the phone won't slide out of your hand, but does require a hefty grip to pick up form a table.
Hardware overview
Just to be on the same page, our review unit is a basic 6GB/64GB one, so no ceramic unibody on this one. On the plus side, this is the variant most buyers are likely to opt for. It has a few more hardware elements to discuss as well.
We already covered the front design extensively, so, here are a few more shots for you to admire. It is worth noting that unlike its predecessor, the Mi Mix 2 does have an actual speaker and a slim hole for it above the display. Thanks to some clever design choices, which we will mention in more detail in the Display section, it doesn't really take up much space, still preserving the nearly bezel-less look.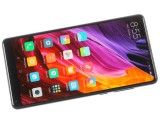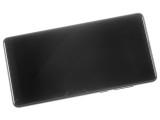 Xiaomi Mi Mix 2 from the front
Underneath the large display, there is a 12% thinner chin than the one on the original Mix. It is still just wide enough to house the panel controller and the front facing camera - with both shrinked down.
Flipping the phone around, we find a solid ceramic slab, polished to perfection. Not that you'll ever get to see it that way, since "finger magnet" doesn't even begin to describe how much grease it picks up. On the flip side, the material is pretty grippy to the touch - great, since it does tend to slide around most other services.
If you are brave enough, you could potentially carry the Mix 2 around without a case and enjoy its premium look and feel from all sides, all the time. The Ceramic should be perfectly fine with that, given its innate impressive scratch resistance. On the front, Xiaomi opted for a standardized Gorilla Glass 4 finish this time around. Hopefully, this will be enough to remedy the scratch-proneness the original Mi Mix has.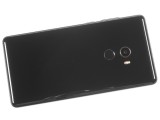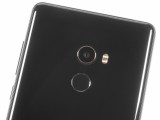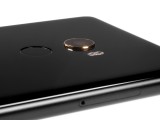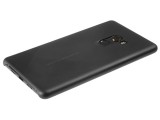 Xiaomi Mi Mix 2 from the back side
Just to finish up the overview of the ceramic back, the camera does protrude quite a bit - more than it did on the original Mix. As a small consolation, of sorts, Xiaomi has taken the liberty of plating said part with 18K gold on all tiers of the Mix 2. A treatment formerly reserved only for the Exclusive Mix edition.
The fingerprint reader is still just as conveniently placed as on the original and about as snappy and accurate. That is to say pretty dependable, but not the quickest we've seen. The reader itself appears to be coated with ceramic as well, or if not that, a really, really convincing stand-in.
If you do plan on carrying the Mi Mix 2 around without a case, the metal frame might actually be the weakest link. Don't get us wrong, it bodes well for a phone, when we consider metal to be its potential soft spot. Still, it is true that you are more likely to shave the paint off a corner at some point, rather than actually scratch ceramic.
The volume rocker and power button on the right-hand side are made of metal as well - just a part of Xiaomi's ceramic conservation plan in this generation. Still, both buttons feel great, have a pleasant tactile feedback and are positioned well.
On the other side, there is a lonely SIM card tray. It can hold two nanoSIM units, but sadly no microSD card.
Both the top and bottom bezels of the Mix 2 have a small pair of antenna lines embedded in the frame. Looking at the futuristic design of the phone as a whole, these small plastic segments do serve as a reminder of trivial issues, like signal strength. This does take at least a bit of the ultra progressive feeling away from the Mix 2, bringing it down to a more common 2017 denominator. However, this has got to be the ultimate nitpicking, since, in essence, it is just us complaining that the ultra-futuristic device we can actually buy today is just a little bit reminiscent of a regular phone, from a very particular angle.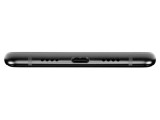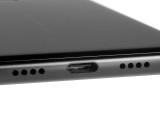 Bottom side, still no 3.5mm jack
One thing we can, arguably, be more legitimately mad about is the omission of a 3.5mm audio jack. It does seem like one would have fit. In its absence, you are stuck living the dongle lifestyle, making the most out of the USB Type-C port. Beside it, on the bottom, there are two grills. Only one of which actually holds a speaker. The other is for the main microphone.