Software
The Xiaomi Redmi 3S Prime runs on MIUI 7 on top of Android 6.0.1. There isn't a lot new to say about MIUI 7 at this point that we haven't extensively written about before since it debuted last year. Moreover, with MIUI 8 being released and the rollout being just around the corner, everything you read about MIUI 7 here will become outdated very soon.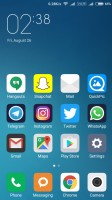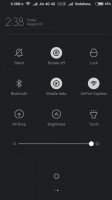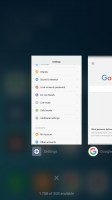 Homescreen • Quick toggles • App switcher
But just to go over it quickly, MIUI on the Redmi 3S Prime is pretty much identical to that on other recent Xiaomi devices. It is still subjectively one of the more feature-rick Android skins out there and MIUI 8 will build further upon it by introducing additional features such as dual apps, second space, enhanced caller ID, improved Gallery and scrolling screenshots. It also irons out some of the MIUI 7 idiosyncrasies such as the weird two pane notification, and brings a more standard UI design.
As far as Android Nougat is concerned, when the Redmi 3S Prime will get that (and if at all) is anyone's guess. Xiaomi does a lot of work on MIUI and updates it frequently but doesn't have the greatest track record of updating the underlying version of Android (the recently launched Redmi Note 3 is still on Android 5.1.1).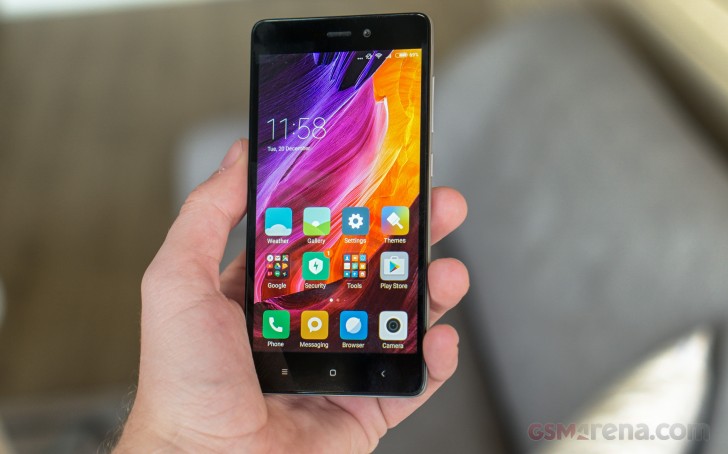 Choosing MIUI basically means forgoing having the latest version of Android. On the positive side Xiaomi tries and incorporate as many features of newly released versions of Android within MIUI itself so you don't feel like you're missing out on a lot. However, this often leaves out features intrinsic to the OS, such as the new emoji support or the Vulkan API.
Battery Life
The Redmi 3S Prime has a massive 4100mAh battery inside its compact body. With that and a chipset tuned for efficiency, we expected exception battery life and we got it. Xiaomi promises two day battery life with this phone, and that's mostly what you can expect to get.
We got screen-on time upwards of ten hours at times, with standby times reaching around two days max, or a day and a half with heavy use. Those who will buy this phone primarily for calling, checking emails, and sending messages might even see three days of battery life. It really is the highlight of the phone and by itself a good enough reason to consider it.
The Xiaomi Redmi 3s Prime running on Snapdragon 430 outed an 85h endurance rating and posted respectable scores across all tests.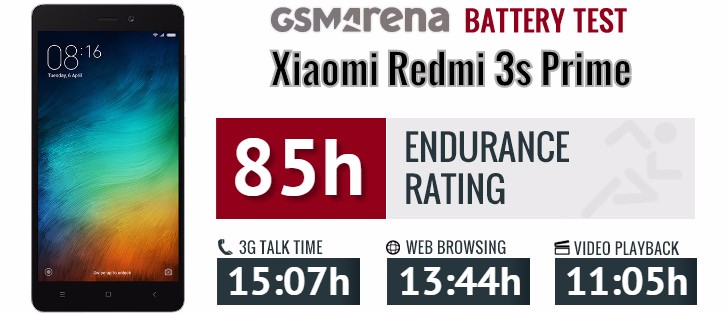 The phone supports regular charging over a 5V/2A adapter, which may not be as fast as the newer QuickCharge standards, but still do a good job.
Speaker and audio quality
The Redmi 3s Prime has a single loudspeaker and it scored Average across our loudness test board. The sound quality was above average with deep and crisp sound.
| | | | | |
| --- | --- | --- | --- | --- |
| Speakerphone test | Voice, dB | Pink noise/ Music, dB | Ringing phone, dB | Overall score |
| Xiaomi Redmi 4 Prime | 63.1 | 67.3 | 71.3 | Average |
| Xiaomi Redmi 3s Prime | 63.1 | 69.5 | 72.3 | Average |
The Xiaomi Redmi 3S Prime demonstrated perfectly clean output when hooked up to an active external amplifier.
Plugging in a pair of headphones does very minimal damage to the output of the mid-ranger, which is an impressive achievement on its own.
| | | | | | | |
| --- | --- | --- | --- | --- | --- | --- |
| Test | Frequency response | Noise level | Dynamic range | THD | IMD + Noise | Stereo crosstalk |
| Xiaomi Redmi 4 Prime | +0.02, -0.06 | -91.6 | 92.4 | 0.0016 | 0.0081 | -93.3 |
| Xiaomi Redmi 4 Prime (headphones) | +0.04, -0.04 | -91.4 | 92.2 | 0.0058 | 0.036 | -64.0 |
| Xiaomi Redmi 3s Prime | +0.09, -0.01 | -95.5 | 91.6 | 0.0043 | 0.010 | -93.4 |
| Xiaomi Redmi 3s Prime (headphones) | +0.01, -0.11 | -94.9 | 91.4 | 0.031 | 0.036 | -67.4 |