Two AMOLEDs - one for show-off, one for everything else
The nubia Z20 has not one but two AMOLED screens and neither of them is obstructed by cutouts or holes. The main display measures 6.42" in diagonal and features 1080 x 2340px resolution with 19.5:9 aspect ratio - pretty much standard these days. Not the thinnest bezels around but the lack of a notch or a punch-hole is much-appreciated.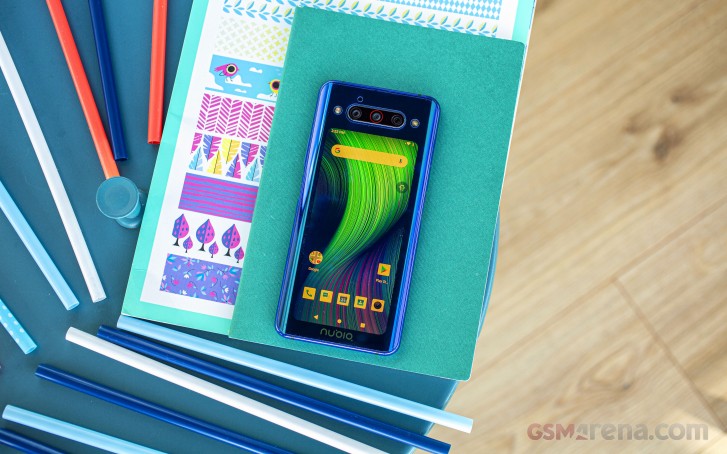 The back panel is considerably smaller - 5.1" with a lower 720 x 1520px resolution and due to its smaller size, it's perfect for one-handed use.
Unfortunately, since the glass is blue, colors are off, and it has a blue-ish yellow-ish tint so it would do for work, reading and showing off.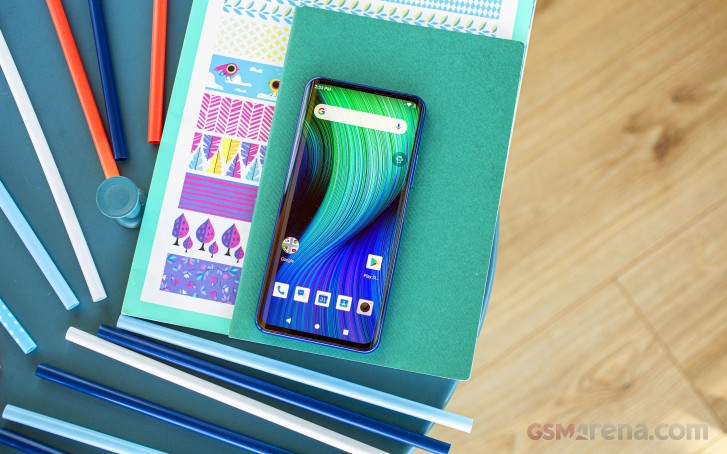 Anyway, at maximum brightness, the main display can go up to 430 nits but when in auto mode, it can boost the brightness to 616 nits. It's not chart-topping but it's enough to provide good sunlight legibility even on a bright sunny day.
Color accuracy, on the other hand, isn't impressive. The default color mode is called Colorful mode and average dE2000 is 6.1 while Natural color mode brought down the average dE2000 down to 4.7. However, neither of them fixed the rather blue-ish whites. If you are after the most accurate color reproduction possible on this device, you should stick to the Natural mode.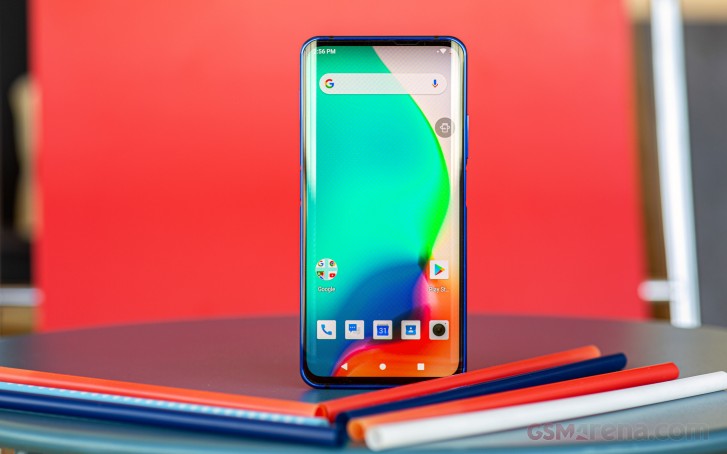 We also took the time to test out the secondary screen. It's significantly dimmer at 333 cd/m2 and doesn't have Max Auto so you might have some trouble with outdoor visibility. Also, as expected, the average dE2000 is 12.1 with yellow whites even with the Super Eye Care mode switched off.
Display test
100% brightness
Black, cd/m2
White, cd/m2
Contrast ratio
ZTE nubia Z20
0
430
∞
ZTE nubia Z20 (Max Auto)
0.045
616
13689
ZTE nuba Z20 (secondary screen)
0
333
∞
OnePlus 7T
0
525
∞
OnePlus 7T (Max Auto)
0
743
∞
Huawei P30 Pro
0
571
∞
Huawei P30 Pro (Max Auto)
0
605
∞
Asus Zenfone 6 ZS630KL
0.353
424
1201
Asus Zenfone 6 ZS630KL (Max Auto)
0.399
455
1140
Samsung Galaxy S10
0
396
∞
Samsung Galaxy S10 (Max Auto)
0
820
∞
Lenovo Z6 Pro
0
450
∞
Battery life
The nubia Z20 carries a big 4,000 mAh battery, but it has two displays to power up so battery life will largely vary from user to user. It all depends on which screen you use the most with the back one being more energy-efficient. It will also depend on whether you use the AlwaysOn display function. Keep in mind that both screens support always-on.
Anyway, we ran our tests the old-fashioned way using the front display only and the results show that the handset has more than satisfactory endurance. In fact, the battery provides plenty of screen-on-time while 3G talk time and standby scores are among the best in its class.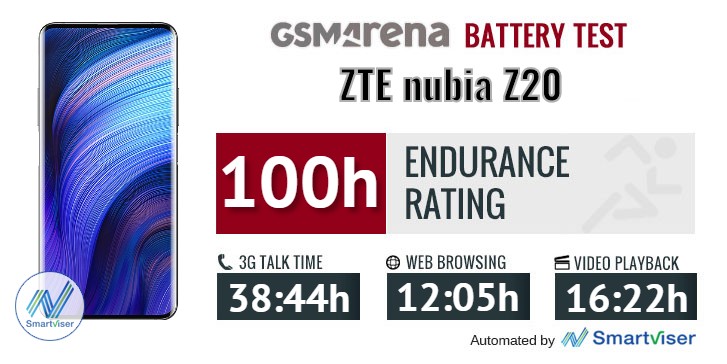 Our battery tests were automated thanks to SmartViser, using its viSerDevice app. The endurance rating above denotes how long a single battery charge will last you if you use the nubia Z20 for an hour each of telephony, web browsing, and video playback daily. We've established this usage pattern so that our battery results are comparable across devices in the most common day-to-day tasks. The battery testing procedure is described in detail in case you're interested in the nitty-gritty. You can check out our complete battery test table, where you can see how all of the smartphones we've tested will compare under your own typical use.
The phone also supports fast charging over the USB Power Delivery 2.0 protocol capable of delivering up to 27W of power. However, the provided charger is capped at 9V/2A (equaling 18W), and given that the cable in the box isn't USB-C to USB-C, we are pretty sure that it's not Power Delivery charger but a Qualcomm QuickCharge adapter.
Still, with the provided 18W charger, the phone's rather big 4,000 mAh battery charged from 0 to 46% in just 30 minutes. Surely, not the fastest one around but it's not too shabby either.
Loudspeaker
The handset has a single bottom-firing loudspeaker providing good clarity and overall good listening experience. We wished the phone had stereo speakers but we can't have it all given the price point. Loudness, on the other hand, could have been better, considering the smartphone's class. Here's how it stacks against the competition in terms of loudness.
| | | | | |
| --- | --- | --- | --- | --- |
| Speakerphone test | Voice, dB | Pink noise/ Music, dB | Ringing phone, dB | Overall score |
| ZTE nubia Z20 | 71.4 | 73.1 | 74.8 | Very Good |
| ZTE nubia Red Magic 3 | 66.8 | 73.2 | 86.0 | Very Good |
| Lenovo Z6 Pro | 66.4 | 74.3 | 90.8 | Excellent |
| Asus Zenfone 6 | 77.0 | 75.9 | 81.2 | Excellent |
| Huawei P30 Pro | 70.9 | 73.8 | 90.9 | Excellent |
| OnePlus 7T | 79.8 | 77.4 | 91.6 | Excellent |
Audio quality
The audio output via the headphones jack of the nubia Z20 is rather hard to evaluate as the phone comes with a permanently applied DTS effect that means it has basically no stereo separation and a rather uneven frequency response with dominating bass. We've seen the nubia Red Magic phones come with a bass-boosting equalizer that you can't really switch off, but this is taken to another level.
The rest of the readings were fine with an active external amplifier and loudness was nicely high, but these days even one issue is too many for this scenario, let alone two.
Headphones caused a big drop in loudness - to below average, making the overall performance even worse. Sure some might appreciate the extra bass in the output but the sensible thing to do is give users a toggle instead of forcing everybody to use what few might enjoy.
Test
Frequency response
Noise level
Dynamic range
THD
IMD + Noise
Stereo crosstalk
nubia Z20
+1.87, -1.15
-92.8
92.5
0.0017
0.011
-26.4
nubia Z20 (headphones)
+2.74, -1.13
-91.9
91.8
0.012
0.543
-27.0
nubia Red Magic 3s
+2.39, -0.12
-95.5
95.5
0.0009
0.0087
-92.4
nubia Red Magic 3s (headphones)
+2.40, -0.12
-95.4
94.3
0.0014
0.203
-81.7
Xiaomi Mi Note 10
+0.03, -0.01
-92.3
92.5
0.0018
0.0076
-89.7
Xiaomi Mi Note 10 (headphones)
+0.03, -0.07
-91.5
89.9
0.109
0.455
-74.4
OnePlus 7 Pro
+0.03, -0.01
-93.0
92.6
0.0023
0.021
-89.6
OnePlus 7 Pro (headphones)
+0.10, -0.05
-92.0
91.4
0.0034
0.106
-74.8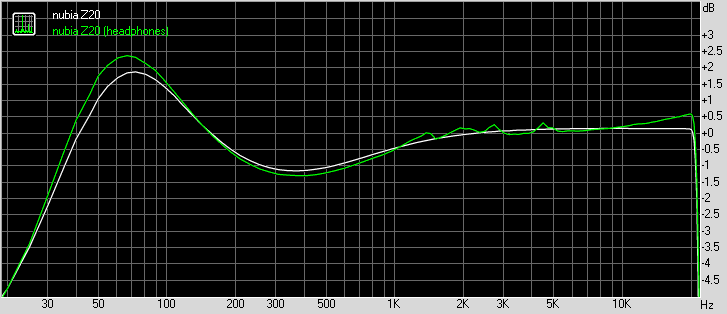 nubia Z20 frequency response
You can learn more about the tested parameters and the whole testing process here.