Nubia UI 7 based on Android 9.0 Pie
The nubia Z20 comes with a custom skin on top of Android 9 Pie, but in our book, it's more like a stock-ish looking OS with tons of extra features from nubia. Most of them involve the double-sided fingerprint readers and the two displays.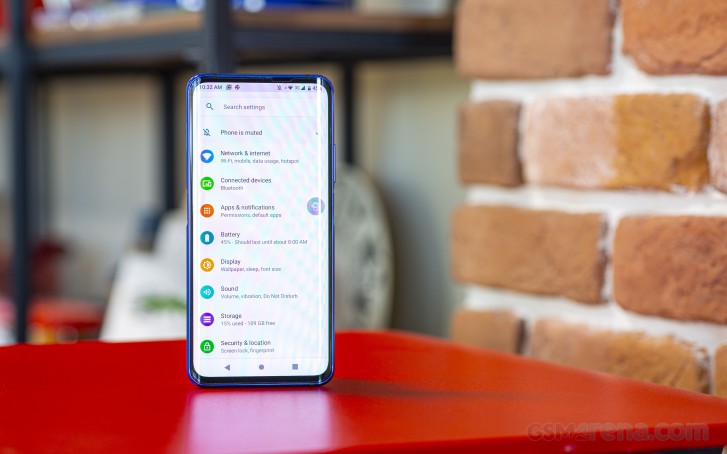 Other than that, the software looks a lot like vanilla Android. The home screen, lock screen, notification shade, and the recent apps menu are indistinguishable from the stock Android. Looking deeper into the Settings menu reveals the changes that nubia made.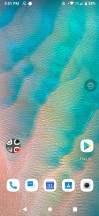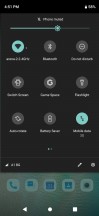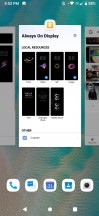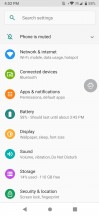 Home screen, recent apps, notification shade, general settings menu
The Display menu gives you control over the color settings, the Night Light feature for after-hours reading, and you can also set up Dark theme. Unfortunately, though, switching over to Dark theme didn't do much for us - only the notification shade went black, whereas the system UI and menus remained white. We suspect that this is a software bug that needs to be fixed when the retail units arrive since we were offered a review unit with pre-production software.
Speaking of the display, the handset has an always-on feature that works on both panels. It can be turned on for both sides or just one of them. You can choose between numerous presets and styles or slap a short 10-second clip of your own. Images and gifs work too.
Under the Secondary screen space menu, you can set the back screen to act as a mirror or as an extended display for multitasking. For example, a three-finger horizontal swipe will send the foreground app to the other screen, but we didn't find it as seamless as we would expect. After sending it to the other screen, you have to switch off the display you are currently using, flip the phone and unlock the other one. You will find your opened app there.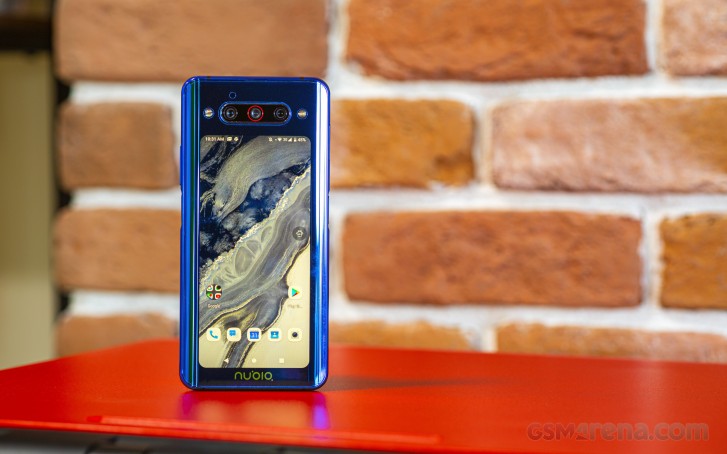 There's also a floating semi-transparent button that allows you to switch to the other screen on the fly. You can move the button around or remove it completely. You can also use the quick toggle in the notification shade, as well. And if you are bothered by the automatic screen unlock depending on how you hold the phone, you can always set it to turn on the main screen and then switch over to the other one manually. We found that the automatic wakeup works pretty well, but it gets confused from time to time when holding it in landscape ready to take a picture. Sometimes it will turn on the back screen instead of the main one.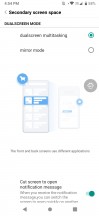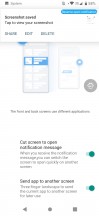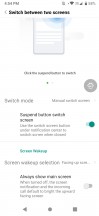 Secondary screen customizations and options
But wait, there are more screen-related features. Prettier than functional, though. For incoming calls, during gaming and when listening to music, the back panel can light up with various cool animations. You can also assign custom ones. However, interactive animations during gaming are limited to two games for now - Glory of Kings and Peace elite. We also weren't able to make the animation work during music playback so it must be due to the pre-release software.
A Super Eye Care feature is available for the secondary screen allowing you to choose between three color temperature modes - light, medium, and super. Perhaps for late-night reading, the secondary display would provide the best viewing experience in this regard.
Enough about the screens, though. There's another nifty feature the nubia Z20 has, and that's pressure-sensitive side frame. Nubia has made the frame right below the fingerprint readers pressure-sensitive, just like the Pixels and some of HTC's phones. You can assign different tasks or shortcut to apps to the available gestures - short and long squeeze. Adjusting the pressure is also possible and goes from 1 to 10, so it's pretty granular. The Pressure border function works flawlessly, and it's pretty flexible, so we are sure you will find a use for it.
As far as the fingerprint readers' usability goes, we have a couple of small complaints. The haptic feedback followed by a successful and unsuccessful unlock is identical, so we were often confused whether the phone has been unlocked or not. This leads us to our next complaint. The fingerprint readers are indeed pretty fast, but it takes some time for the screen actually to unlock. A brief press of the button is all it takes for the scanner to get your fingertip, but the screen takes too much time to light up.
Following the footsteps of its gaming-centric sibling, the nubia Red Magic 3, the nubia Z20 also has some gaming-related features and optimizations. The so-called Gamespace lets you add games to your library for a quick launch and offers some built-in features like CPU, GPU, or combined boost of performance, message blocking, and the Touch handle feature. The latter lets you use the back screen as a touch controller eliminating the need for some of the controls on the main screen. A pretty nifty feature for gamers.
The rest of the settings are pretty much standard to stock Android along with the appearance. However, we found one thing missing from the OS, and that's the gesture-based navigation. Nubia could very well bring the gestures with a future update, but for now, you won't be able to use them.
We didn't have any major issues except for the occasional less-than-smooth transition animations that need to be ironed out with a future patch. Also, the English translation of the menus left us confused at times, and nubia needs to do a better job if it wants to draw international users. Otherwise, the OS felt snappy as it should on a flagship phone with the latest Snapdragon SoC. Which brings us to our next chapter.
Performance
Despite its rather low price, the nubia Z20 packs a powerhouse of an SoC - Qualcomm's latest and greatest Snapdragon 855+ chipset. It incorporates one big, powerful Kryo 485 core clocked at 2.96GHz, three more Kryo 485 cores clocked at 2.42GHz, and four energy-efficient Kryo 485 cores running at 1.78GHz. The Adreno 640 takes care of the graphically-intensive tasks, and it's clocked at 700MHz, which is higher than the Adreno 640 in the standard Snapdragon 855.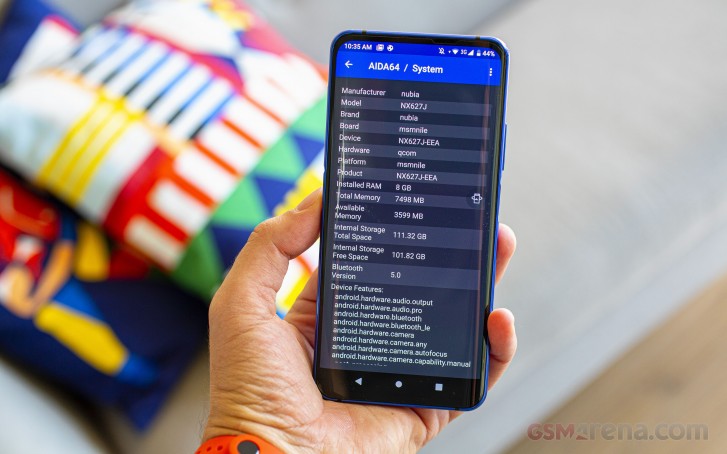 Memory configurations are three - 6GB/128GB, 8GB/128GB and the 8GB/512GB. We are in possession of the second variant with 8GB of RAM and 128GB of internal storage, which by the way, isn't expandable.
Without further ado, let's dive into the synthetic benchmarks although, we've tested other phones with this SoC, so we know what to expect.
GeekBench 4.1 (multi-core)
Higher is better
Apple iPhone 11
13882
Apple iPhone XR
11437
ZTE nubia Red Magic 3
11226
Lenovo Z6 Pro
11155
Asus Zenfone 6 (Zen Power Boost)
10800
Asus Zenfone 6
10721
Samsung Galaxy S10
10174
ZTE nubia Z20
10101
Huawei P30 Pro (perf. mode)
10014
Huawei P30 Pro
9649
ASUS ROG Phone X mode
9375
GeekBench 4.1 (single-core)
Higher is better
Apple iPhone 11
5477
Apple iPhone XR
4818
Samsung Galaxy S10
4543
Asus Zenfone 6
3505
Asus Zenfone 6 (Zen Power Boost)
3499
ZTE nubia Red Magic 3
3493
ZTE nubia Z20
3491
Lenovo Z6 Pro
3479
Huawei P30 Pro (perf. mode)
3323
Huawei P30 Pro
3270
ASUS ROG Phone X mode
2573
GeekBench 5 (multi-core)
Higher is better
Apple iPhone 11
3462
OnePlus 7T
2932
ZTE nubia Z20
2452
GeekBench 5 (single-core)
Higher is better
Apple iPhone 11
1333
OnePlus 7T
788
ZTE nubia Z20
734
In CPU benchmarks, the Snapdragon 855+ is faster than most of its direct rivals, including Samsung's Exynos 9820 and Huawei's Kirin 980 while falling short to Apple's last year and this year's chips. In single-threaded tasks, however, the Exynos 9820 and Apple's Bionic processors are considerably faster.
AnTuTu 7
Higher is better
Apple iPhone 11
419453
Asus Zenfone 6 (Zen Power Boost)
377024
ZTE nubia Z20
371150
Asus Zenfone 6
361679
Lenovo Z6 Pro
357672
Apple iPhone XR
341196
Samsung Galaxy S10
328366
Huawei P30 Pro (perf. mode)
316156
ZTE nubia Red Magic 3
314975
Huawei P30 Pro
290189
ASUS ROG Phone X mode
288176
GFX 3.1 Manhattan (1080p offscreen)
Higher is better
Apple iPhone 11
121
Apple iPhone XR
97
OnePlus 7T
79
ZTE nubia Z20
73
Asus Zenfone 6
71
Asus Zenfone 6 (Zen Power Boost)
71
ZTE nubia Red Magic 3
71
Lenovo Z6 Pro
71
Samsung Galaxy S10
68
ASUS ROG Phone X mode
60
Huawei P30 Pro (perf. mode)
56
Huawei P30 Pro
54
GFX 3.1 Manhattan (onscreen)
Higher is better
ZTE nubia Red Magic 3
62
Apple iPhone XR
60
Apple iPhone 11
60
OnePlus 7T
59
ZTE nubia Z20
58
Asus Zenfone 6
57
Asus Zenfone 6 (Zen Power Boost)
57
Lenovo Z6 Pro
57
ASUS ROG Phone X mode
54
Huawei P30 Pro
50
Huawei P30 Pro (perf. mode)
50
Samsung Galaxy S10
37
GFX 3.1 Car scene (1080p offscreen)
Higher is better
Apple iPhone 11
76
Apple iPhone XR
60
OnePlus 7T
48
ZTE nubia Z20
45
Samsung Galaxy S10
43
Asus Zenfone 6
42
Asus Zenfone 6 (Zen Power Boost)
42
ZTE nubia Red Magic 3
42
Lenovo Z6 Pro
42
ASUS ROG Phone X mode
35
Huawei P30 Pro (perf. mode)
33
Huawei P30 Pro
29
GFX 3.1 Car scene (onscreen)
Higher is better
Apple iPhone 11
60
Apple iPhone XR
58
OnePlus 7T
41
ZTE nubia Z20
37
ZTE nubia Red Magic 3
37
Asus Zenfone 6
36
Asus Zenfone 6 (Zen Power Boost)
36
Lenovo Z6 Pro
36
ASUS ROG Phone X mode
31
Huawei P30 Pro (perf. mode)
29
Huawei P30 Pro
27
Samsung Galaxy S10
23
3DMark SSE 3.1 Unlimited
Higher is better
ZTE nubia Red Magic 3
6360
Lenovo Z6 Pro
6351
ZTE nubia Z20
6294
Asus Zenfone 6 (Zen Power Boost)
6282
Asus Zenfone 6
6263
Apple iPhone 11
6162
Samsung Galaxy S10
4550
Huawei P30 Pro (perf. mode)
4315
Huawei P30 Pro
3522
When it comes to GPU performance, the Adren 640 blows almost everyone out of the water with the exception of Apple's A13 and A12 chips.