Dual-SIM phonebook
The phonebook on the Idol X+ looks pretty basic - a list of all contacts complete with photos. An alphabetical list on the right can help you jump to a specific letter or you can just use the search function.
Anyway, if a contact comes from one of the two SIM cards rather than an online service (Google, Facebook, etc.), a SIM icon showing which card it's from will appear on its contact photo.
As on most Android launchers, you can assign a plethora of contact information including custom ringtones and images.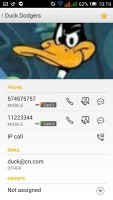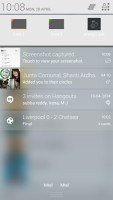 Indicators show which SIM a contact came from • switching SIMs from the notification area
Telephony
The Alcatel Idol X+ has support for two SIM cards, both of which are hot-swappable, which is a great feature to have if you switch SIMs out a lot. Another neat feature is the ability to tie a particular contact to always get dialed from a particular card, letting you set a number on a particular network and not worry about it again.
This works great if someone has multiple numbers too - say two phones on two different carriers. This feature is invaluable and will save you a lot of manual switching between SIMs and wondering which one you should be using.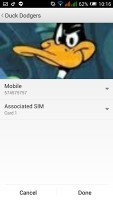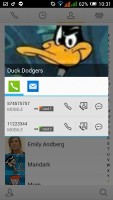 You can assign each phone number to a SIM card
The nice-looking dialer is also functional, including smart searching, video calling, and even IP dial by default. The latter feature lets you place calls directly over the voice over IP protocol.
The SIM management tool is accessed from the Settings menu, and allows you to toggle a SIM on or off individually (good if you need the second line only part-time). Assigning the individual SIMs to specific tasks (one for calls and one for data, for example), assigning numbers, and customizing SIM names and colors are all done from here.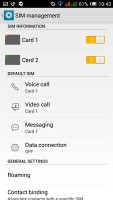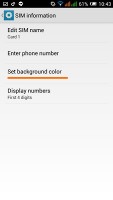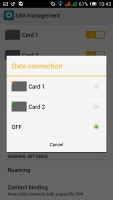 Choosing which SIM does what with the SIM manager
The Idol X+ loudspeaker markedly fails to impress in our loudness test, and posts a score of Below Average. Here's how it stacks up to some of its competitors.
| | | | | |
| --- | --- | --- | --- | --- |
| Speakerphone test | Voice, dB | Pink noise/ Music, dB | Ringing phone, dB | Overal score |
| Apple iPhone 5 | 66.8 | 66.1 | 67.7 | Below Average |
| HTC Desire X | 63.6 | 61.6 | 69.6 | Below Average |
| Samsung Galaxy S II Plus | 65.7 | 61.5 | 66.6 | Below Average |
| Samsung Galaxy S III mini | 66.5 | 63.0 | 76.0 | Average |
| Sony Xperia V | 65.5 | 61.1 | 66.2 | Average |
| Alcatel Idol X+ | 64.8 | 62.7 | 69.7 | Below Average |
| Sony Xperia go | 66.5 | 66.1 | 77.9 | Good |
| Samsung Galaxy Grand | 74.1 | 66.2 | 76.0 | Good |
| LG Optimus L7 | 66.7 | 66.6 | 75.6 | Good |
| Motorola RAZR XT910 | 74.7 | 66.6 | 82.1 | Very Good |
| HTC Desire | 76.6 | 75.7 | 84.6 | Excellent |
Messaging
The Messaging app holds no surprises - messages are organized into threads, each thread showing the contact photo and two lines of text from the latest message. A small logo on the bottom of each bubble shows which SIM card sent/received the message.
You can switch to an MMS by pressing the plus sign to the left of the text field. Attaching a photo, video, audio recording or the like generates a more elaborate message editor.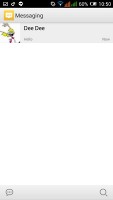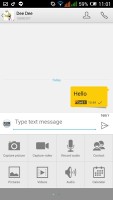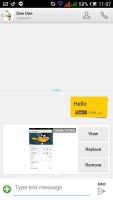 Adding an attachment to a SMS turns it into an MMS
The Alcatel Idol X+ also comes with Hangouts, which is another way to handle texts. It's not multi-SIM aware though, so you lose some of the finer controls of the Alcatel app but you can still rely on the bindings between contacts and SIMs.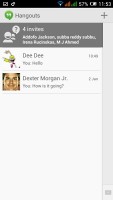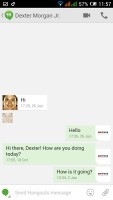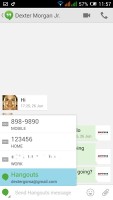 Hangouts is an alternative but is not dual-SIM aware
For email, the Gmail app includes the four inbox options (Primary, Social, Promotions, Updates) that Google recently introduced in their online interface. The default Email app is similar to GMail, except that it can handle multiple POP or IMAP inboxes, which is useful for when you want to keep track of multiple accounts from one place.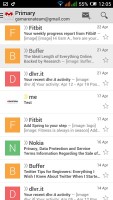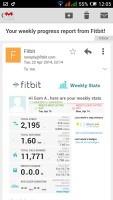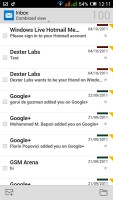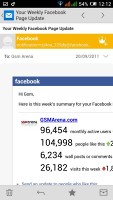 You can choose from the generic or Google-branded email apps
The minimal screen gap on the Idol X+ means that touch input is a breeze, and the SwiftKey integration gives you a lot of ways to do it. You get undocked, split, or one-handed keyboard types, as well as the ability to resize the keys to your liking and even customize with current keys. Of course, SwiftKey also provides swipe input for quicker typing, and Google's voice dictation with offline language packs is also here.