Good connectivity set
The Alcatel Idol X+ has quad-band GSM and dual-band 3G connectivity for both SIM cards. There's no LTE antenna onboard, as it's not supported by the MT6592 chipset. Its 3G is DC-HSPA+ enabled and will do up to 42Mbps down and 11Mbps up, while the dual-band Wi-Fi supports the a/b/g/n standards as well as Wi-Fi Direct.
The good news is that either SIM can be used for data connectivity (most devices limit data connectivity to SIM1), so you can mix and match your carrier plans for maximum bang for the buck. If the carrier supports it, the smartphone will use HD Voice too, which offers higher-quality in-call audio than the old standard, and there's also the IP Dial option for VOIP calls.
Wi-Fi is also used to wirelessly mirror the display on a Miracast-enabled TV. Other connectivity options include Bluetooth 4.0 and A-GPS. The dedicated Media Share app can take care of this functionality, or you can cast directly from within the video player.
You can also use the Wi-Fi transfer app to send images, videos and other files quickly via Wi-Fi Direct, and allows for the other phone to quickly transfer the app from the Idol X+ over Bluetooth if they don't have it.
Stock Android web browser
The Alcatel Idol X+ has both the stock Android browser and Google Chrome. Both are very similar in terms of functionality.
The browsers support both double tap and pinch zooming along with the two-finger tilt zoom. There are niceties such as multiple tabs, text reflow, find on page and so on. A neat trick is to pinch zoom out beyond the minimum - that opens up the tabs view.
Chrome has the added benefit of cross-platform sync capabilities that allow you to retrieve open tabs from desktop sessions, for instance, but doesn't have Labs support for test features.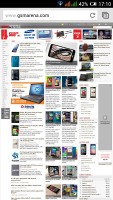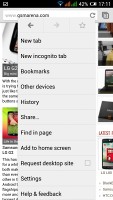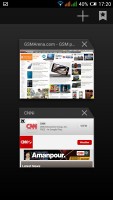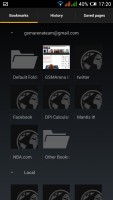 Both browsers offer similar functionality
One additional advantage of the stock browser on Android 4.2 is Flash support. You'll have to grab an archived version (available on Adobe's web site) but we tried a Flash game and it worked. Less demanding Flash-based sites (there are still a few of those around) work as well.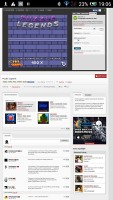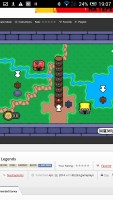 Flash is still alive thanks to the stock Android browser
Apps and more
The calendar is skinned but mostly unchanged. It features four views: Daily, Weekly, Monthly and Agenda. The Monthly view shows the days of the month in the top half of the screen and a list of events on the selected day in the bottom half.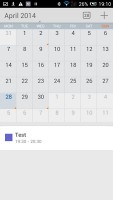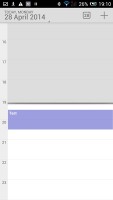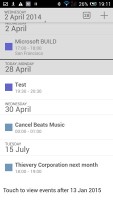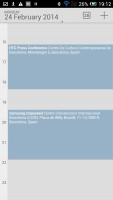 Different views for the calendar
The pre-installed File manager will handle files and folders on the built-in memory. It can copy, rename, delete files and folders, one by one or in bulk. You can sort the file list by type, name, size and age, which is great for finding old unused files that are taking up precious storage.
A great tool to have out of the box is the One Touch Cloud Backup app. Despite the name, the app can handle local backups too and you can even schedule them. The app will backup anything from apps through messages to system settings. Dropbox and Box can be used to move the backups to the cloud for safekeeping.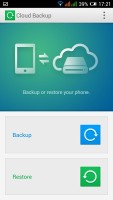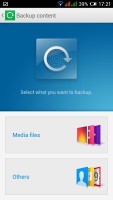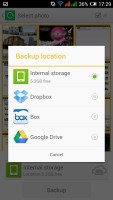 Backing up to local and cloud storage
The ToDo app will help with simpler organizational tasks. For something more powerful, Evernote also comes preloaded on the X+.
Finally, Alcatel's new BoomBand fitness tracker gets its own dedicated tracking application. If you purchase a BoomBand, the app will quickly pair with it and provide info on your daily activities and sleeping habits.
There's also a number of small helpful tools. Weather pulls info from AccuWeather (it supports multiple locations). Then there's a voice recorder, compass, flashlight, a barcode scanner and a few more.
When it comes to getting around, the Idol X+ comes with Google Maps and Navigation. The app offers much of the same functionality as its web-based counterpart, although you will need a data connection to take full advantage of the navigation features. Street view mode with digital compass enabled is an especially cool trick.
The best part of owning a smartphone is getting new apps, and when it comes to Android, Google Play Store is the best source for getting your fill. From recommendations to top apps, it features a plethora of ways you can find new apps, and installing an app usually only takes a couple of taps.
The Idol X+ comes with a boatload of preloaded apps, and could be seen as too many by some users' tastes, especially when many of them are available as free downloads from Google Play Store. Fortunately, many of this latter type can be uninstalled easily.
There are a number of paid Gameloft games that come with the Idol X+, which Alcatel is kind enough to provide support for through the Smart Live manager. Smart Live will notify you when there are updates available, and also let you download from a small selection of additional games and applications.