Alleged 2018 iPhone spotted running Geekbench with iOS 12 and 4GB of RAM
September isn't that far off, so it's not implausible to see the next iPhone giving a go at popular cross-platform benchmark Geekbench.
The device in question identifies itself as iPhone 11,2 and runs iOS 12 on 4GB of RAM (1GB more than the iPhone X) and a newer SoC - D321AP which suggests a newer model than the iPhone X' D22AP.
Both the single-core and multi-core results show the same ballpark performance as the iPhone X, but benchmarks are decided many times through optimization and not brute strength.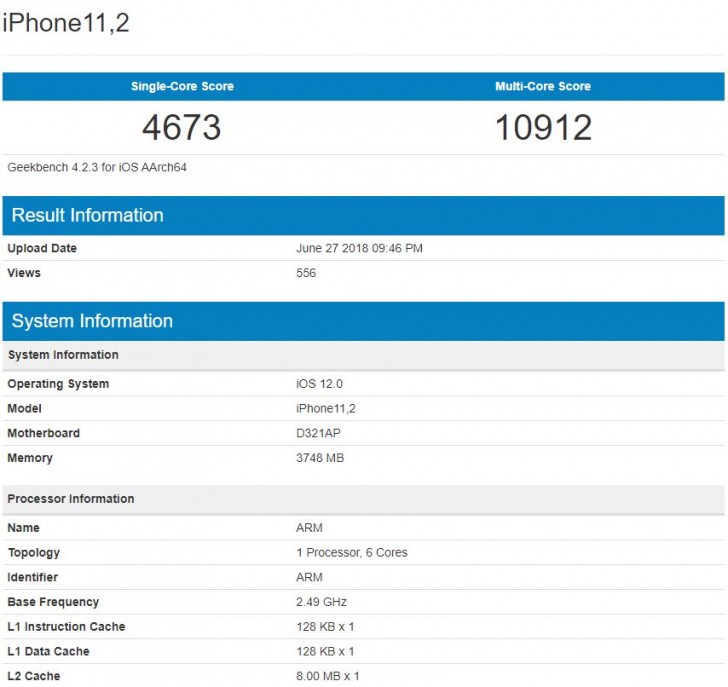 To rehash, Apple is expected to launch three iPhones in 2018 - the entry-level iPhone with a 6.1-inch screen and single camera, a continuation of the 5.8-inch iPhone X and a 6.5-inch iPhone Plus that will be the same size as the iPhone 8 Plus and possibly have three cameras.
Thanks for the tip!
It's dead since 2017 man, there's no headphone jack on iPhone since iPhone 7
LG G7 ThinQ may answer your needs then
?
And some thought iPhones are that optimized, they do not need a high amount of RAM to run smoothly; that its OS is clean, light, and all. Now their devices are catching up to Android in the RAM department. Its OS is no different than others; it's get...
ADVERTISEMENTS