This article is outdated. We have already published a full review.
Phonebook gets a new look, blacklist
The phonebook has been updated with the new iOS borderless look and simple color scheme. The logic behind the phonebook app is completely the same though, there is just one new feature - Blacklist.
You can either add contacts to the blacklist from the Settings menu, or you can simply go to a contact and hit Block this Caller key at the bottom. Once blocked you will no longer receive calls, FaceTime and messages (SMS, MMS, iMessages, emails) from this contact. You can of course unblock at any time.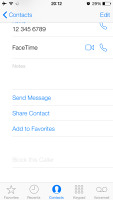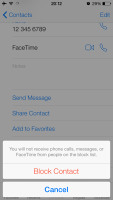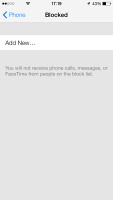 Blocking a contact • The Blacklist is in Settings -> Phone
Telephony, FaceTime audio calls
The incoming call and in-call screens have gone flat too.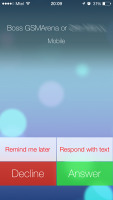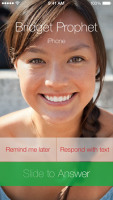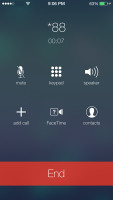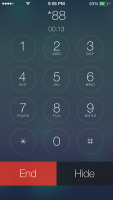 The incoming call screen • the in-call screen
FaceTime comes as a system app in iOS 7 and looks just like the Phone app. The service now offers voice calls too, in addition to video conference. With FaceTime audio calls and iMessages, iOS users won't need Viber as much to connect with other iOS users free of charge.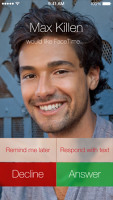 An incoming FaceTime audio call
Messages and Mail got only new looks
The Messages app also gets the new iOS skin. It adds a new option in the conversation view - Contact. If you tap on this key, you'll get options to Call and FaceTime that user, or go to their phonebook profile.
The default Mail client has the new looks but the functionality is unchanged.