This article is outdated. We have already published a full review.
Organizer and apps
The Calendar app has been revamped as well and has a very useful new feature. You can now drag and drop events if you want to move them to different days. Just tap and hold on an event and you can move it to a different day and hour.
The Reminders interface has been changed as well. It comes with three default lists - Scheduled, Calendar and Reminders, but you can create your own lists as well.
Setting up a reminder is easy. The available options are time, place, repeat, priority and notes.
The calculator has the new look but no new functionlaity.
Here is the refreshed Note app. You can share, copy and print notes.
The Clock app has got the new skin as well.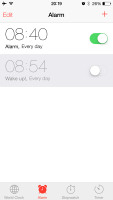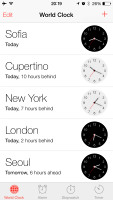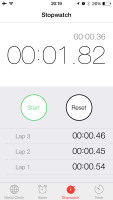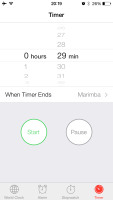 The clock app with alarms, world clock, stopwatch and timer
The Weather app has had a major update. It now offers live weather animations, a lot more weather information plus the time of sunrise and sunset.
You can pinch to zoom out and get to the cities view or use the i key in the bottom right corner. Live animations are also available in the city preview. Night animations are available as well.
The compass app, besides the new interface, got some new functionality too. If you swipe to left you'll get an inclinometer. Unfortunately, the inclinometer only measure one of the angles of inclination, rather than both, so it's probably too early to retire your dedicated app. The Stocks app has new color scheme and UI.