Assembly line
Asus Memo Pad 7 ME176C review: Assembly line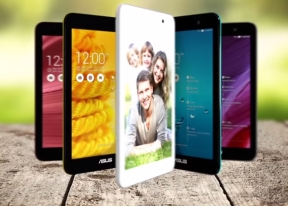 Retail package features just the basics
The Asus Memo Pad 7 features a standard retail package which contains the traditional standalone A/C adapter and microUSB cable. There are no heapdhones to be found, but those aren't a frequent occurrence in tablet boxes, let alone affordable ones.
Design and handling
The Asus Memo Pad 7 ME176C model doesn't deviate wildly from the design aesthetics of previous Memo Pad models. It comes in at 189.3 x 113.7 x 9.6mm and 295g, however, which is more compact and thinner in all of its measurable dimensions compared to its Asus Memo Pad HD7 predecessor released mid-2013.
The non-removable back panel wraps halfway around the sides of the device and is very rounded along its edges. While this is pleasing to the touch, Asus may have taken this rounding a bit too far though as the volume rocker and power/lock buttons aren't easily press-able with one hand. The buttons themselves also aren't of the highest quality, but are what you'd expect at this price point.





The Memo Pad 7 design strategy
The very reflective screen features no special protection and is fairly prone to fingerprints and smudges. The Android navigation buttons are part of the display rather than under it. We'll have more specific details on the display on the next page.
Handling the Memo Pad 7 is more difficult than it should be due to the overly-rounded rear panel edges - especially when trying to grip the device in one hand. Pressing the power/lock button or volume rocker on the right is tricky unless you stabilize the tablet with your other hand.



One-handed operation is not optimal
Otherwise, using the tablet in landscape mode with two hands is easy thanks to the compact screen diagonal.
Controls
The only two physical buttons on the Memo Pad 7 are the aforementioned volume rocker and power/lock button on the right side. A microSD card slot is across the way on the left edge.
The top of the Asus tablet has a centrally-placed 3.5mm headphone jack and microUSB port, alongside a microphone pinhole for audio recording. The bottom is bare.
The back of the Memo Pad 7 has the 5MP camera, a centered Asus logo, and a speakerphone grille along the bottom edge. The large speakerphone grille is strategically placed right where the back panel starts to curve, which means it's not muffled when placing the tablet on a flat surface.