Design
There is A LOT that does into designing a modern smartphone, both inside and out. Even more so a flagship, especially one packed full of optional features. Connectivity in particular takes up a huge amount of space and antenna positioning is a real challenge. So a lot of thought has went in that department to provide the best possible connectivity.
As for the exterior, Asus didn't simply curve a couple of Gorilla Glass pieces, slap them on to a metal frame and call it a day either. Whether you personally like the aesthetic or not, there is no denying that the particular "gaming" look of the ROG Phone II takes a lot of meticulous crafting to do just right. So, all and all, the engineers and designers all deserve plenty of praise for this one.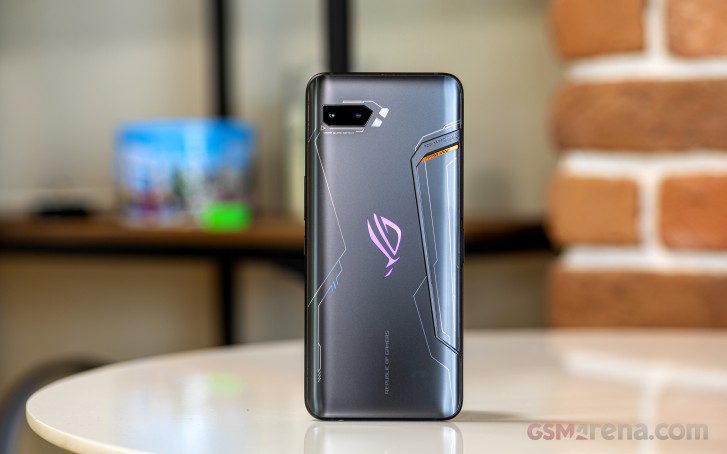 Speaking of the proverbial "gaming look", there are definitely some things worth mentioning about the direction ROG has taken is second generation smartphone. Compromising on looks in a personal "gaming" laptop for the sake of better performance and at the cost of a few weird glances in public is one thing, but having to endure the same every time you whip out your phone just takes things to the next level. Asus appears to be arriving at this realization as well, or at least taking it to heart, since the ROG Phone II is definitely more subdued in the "gamersness" of its design. In fact, we would even go as far as to call its take on the gaming aesthetic tame and "stealth".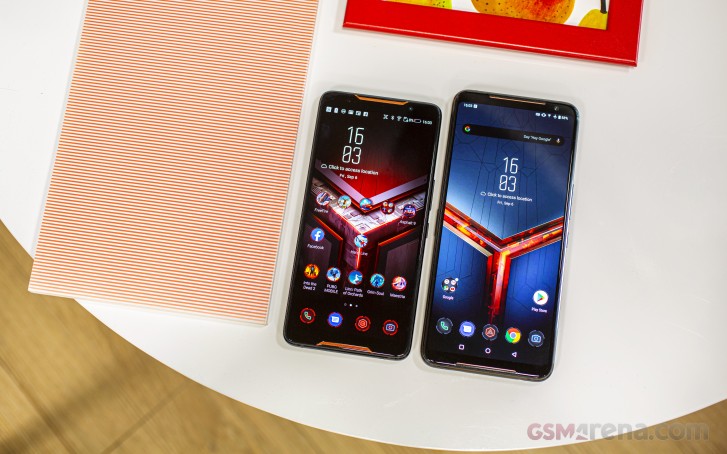 To be fair, the original ROG Phone also tried to moderate its gamer's looks quite a bit. The general shape and silhouette hasn't really changed much from the previous generation. You still get some aggressive "strong" and sharp lines, like the "alien" diagonal patterns on the back. However, all of these accents end up fitted in a surprisingly rounded and ergonomically comfy body at the same time. Asus has really managed to strike a great balance in more ways than one in our opinion.
Since we are already talking generational comparison, is is definitely worth noting that the ROG Phone has grown bigger in pretty much every single way. It stands taller at 171mm (compared to 158.8mm) and thicker at 9.5mm (up from 8.3mm). It is also 40 grams heavier, tipping the scale at a hefty 240 grams. To be honest this might just be a bit too much weight for many to carry around and use one-handed.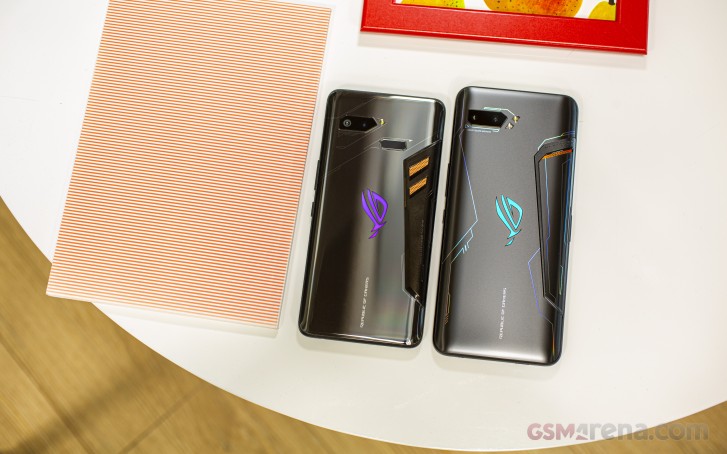 On the flip side, to Asus' credit, the growth spurt was clearly not unsupervised. Quite the contrary, the ROG Phone II has the huge 6,000 mAh to show for some of its extra volume and weight. Also the noticeably bigger 6.59-inch display. This is the part where designers took extra case not to go overboard. It is worth noting that the extra real estate comes mostly at no added width to the phone - 77.6mm (compared to 76.2mm on the original). This was a conscious and actively sought-after design feature, since Asus wanted users to still be able to comfortably reach the edges of the display with one finger.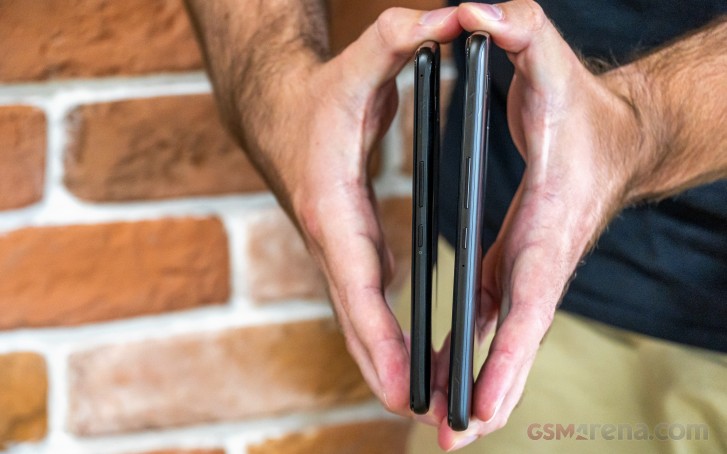 Still, the ROG Phone II is a "big beast", no two ways about it. Asus also worked actively to, get this, PRESERVE a lot of the bezels around the display! Wouldn't you know it, as it turns out, having the extra room is a great way to accommodate great powered speakers, of which the ROG Phone II has two, also all the front-facing sensors you might need and a decent selfie camera. Then there are the ergonomic aspects of having space to let your fingers idle. Or rather the issues that arise from having to constantly touch the display on a phone that has it curving all over the place in a bid to look cool. Turns out that gamers really don't benefit from or particularly enjoy the accidental touch inputs. Who would have thought? Well, we may be taking this joke too far but we're sure there are many power users out there who are disgruntled by the sea of all-display flagship devices. And thankfully Asus and ROG as well.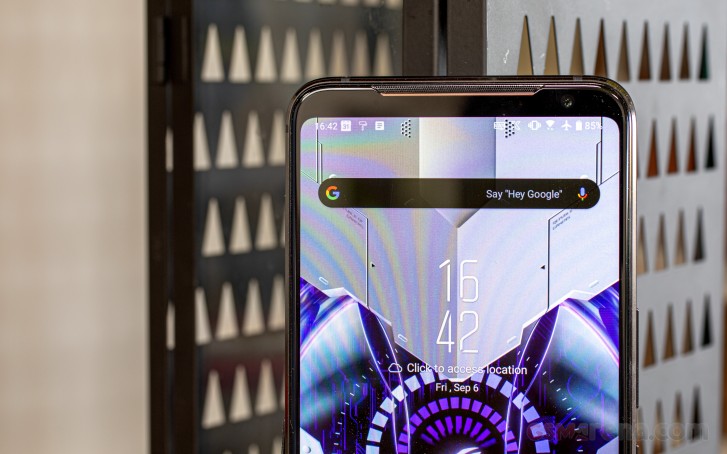 Pretty sensible decision all around. And like we already mentioned, all done with one singular purpose in mind - to provide the best possible gaming experience. In fact, since we are already on the topic, Asus has another explanation still for going with a 19.5:9 aspect ratio instead of something even taller. Most android games aren't really optimised for every exotic and boundary-pushing aspect ratio out there. And the company's research deemed 19.5:9 the best possible option to go with to ensure maximum compatibility. This kind of sound mentality and clear work towards a singular goal simply puts a smile on our faces.
Also, after spending some time with the ROG Phone II we can safely say that it does not feel "chunky", if that makes any sense.
The weight takes some getting used to, but the overall body shape combined with the solid in-hand feel and good weight distribution make the ROG Phone II a surprisingly easy to handle phone.
Another benefit from the extra girth of the unit, besides the beefy battery, is that Asus has managed to hide the complex internal cooling solution a lot better this time around. Where the back of the original ROG Phone protruded quite a bit, the area around the copper heat pipe on the ROG Phone II is barely raised and almost sits flush with the rest of the Gorilla Glass 6 back. Asus calls its new refined cooling GameCool II. It is still a very complicated layered vapour chamber affair, incorporating copper and graphite pads, a 3D vapour chamber and actually extending on both sides of the main phone PCB effectively sandwiching it in.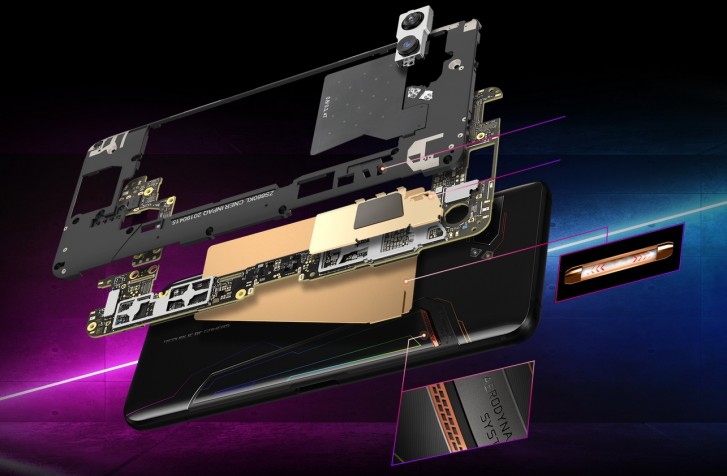 We'll be looking in more detail at the performance of the new thermal solution and validating Asus' claims that it can keep the beefed-up Snapdragon 855+ perfectly thermal-throttling free for prolonged periods in the performance section. Our first impressions are that it's not the coolest phone out there.
The ROG Phone II can get quite toasty under load. Especially certain areas of the metal central frame. To be fair though, this is expected and happens with most gaming phones.
The general idea is that when you are after top performance on what is essentially a passively cooled system, the only natural sacrifice to allow for higher than usual surface temperatures so that you take away more of the heat generated inside without throttling the processor performance. Also worth noting is that Asus offers an unprecedented level of control over the behaviour of the internals via their Armoury Crate app, including their power and relative heat output. So you could easily set it up for a perfectly comfortable in-hand temperature at the expense of some performance, if that is what you want. More on that in the software section.
What you really can't get around though, no matter how much clever software Asus puts on the ROG Phone II is the fact that it is extremely slippery. Using a case is highly advisable. This phone skids around even on level surfaces. It might have something to do with the particular curvature of the back or the finish. Although it is worth noting that we have the Ultimate Edition ROG Phone II for review, which comes with a Matte Black finish, instead of the glossy one on the lesser Elite version. If nothing else, this definitely contributes to the "stealth" gaming look we mentioned earlier.
Of course, if you are into the gamer's look, the ROG Phone is more than happy to oblige with its pretty big RGB Logo on the back. It seems to be pretty much unchanged compared to the original ROG Phone and still leaves little to be desired as far as RGB implementations go. It can shine really bright if that is your thing and offers a full-color spectrum to choose from. Light modes include Static, Breathing, Strobing and Color Cycle. The logo is also Aura sync compatible and offers quite a few tweaks through software.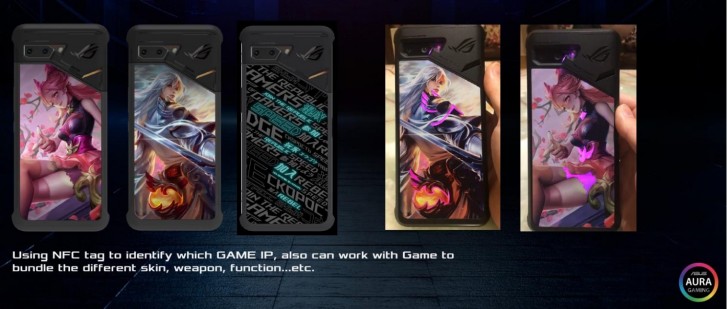 Besides the RGB Logo, the ROG Phone II also has a full-featured RGB status LED on the front. Also, we were surprised to discover that there is still more RGB baked right into the phone. If you look at the back side of the phone, you can clearly see two LED modules next to the camera. The natural thing to assume is that they make up a dual LED flash setup. Well, turns out on of these is actually meant to shine through a ingenious light guides built inside the optional Lighting Armour Case.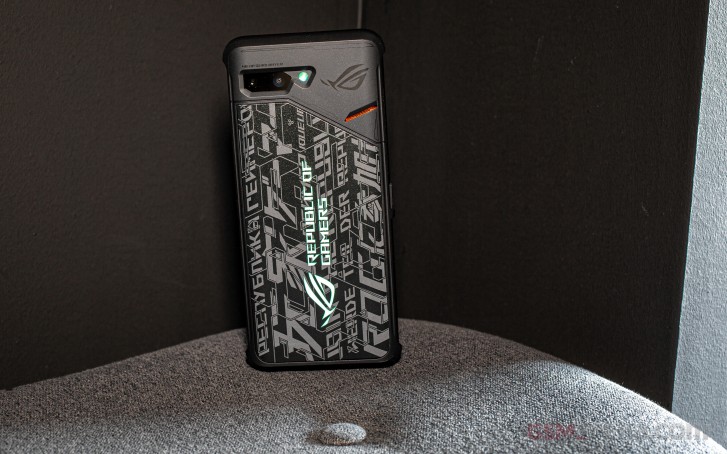 This allows for various designs, likely to be provided by third-party partners, which can offer custom lit-up decals or logos. That way you can have a cool case and not sacrifice any of the RGB goodness. The attention to detail is just mind-boggling. And clearly yet another example of Asus having its priorities squarely aimed at the hardcore gamer crowd.
Controls
The set of controls you get on the ROG Phone II is pretty much identical to that on the original ROG Phone. No courageous omissions or moving forward to new horizons or anything of the sort. Everything is present and in a proper place. That being said, what has effectively become standard now for an ROG Phone is hardly a common sight, if at all found on any other device.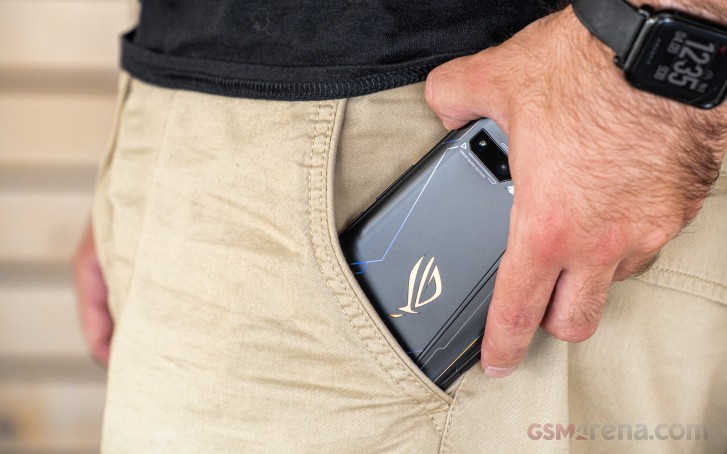 Let's start with the basics - the buttons. The ROG Phone II has a total of three physical ones - a power button and volume rockers, all on the right-hand side. Positioning works great and we are happy to say that compared to the original ROG Phone, the buttons are no longer a mushy mess! On the contrary, they feel great, tactile and responsive.
Also on the same right frame of the phone are the rest of the phone's "buttons" or rather air triggers. Carried over from the original phone, these apparently use the same ultrasonic sensor. However, they've also been massively improved enough for Asus to brand them a second generation - AirTrigger II. Now the touch areas recognise both taps and swipes. Also, it is now possible to press the triggers continuously without the need to remove the finger from the sensor between every press. The sensors themselves are apparently more precise and their haptic vibration feedback is three times faster - from 63ms down to just 20ms - to avoid any subjective lag or delay in the feedback.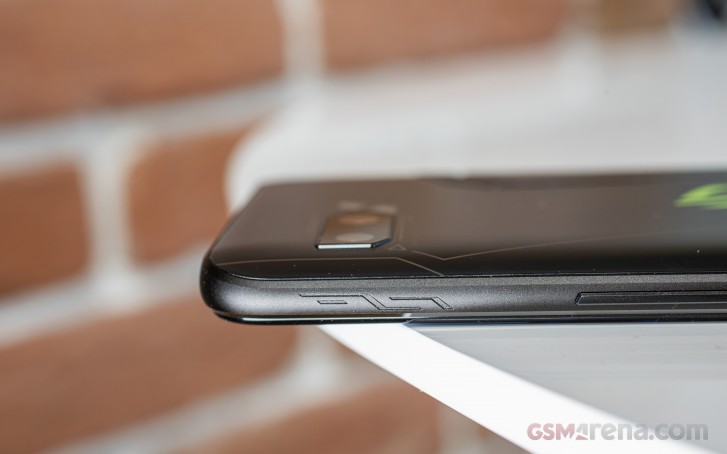 The vibration feedback comes from a pair of powerful haptic actuators that provide 3D feedback. These can be engaged individually and offer up to six times faster and three times more powerful operation than an average phone. And the end results are really impressive. Pressing the air triggers is eerily similar to pushing actual buttons. Other than that, the premise behind the extra control layer is the same - you can map two extra on-screen buttons in any game to the air triggers for added convenience. The system is really versatile and can easily be tweaked, in terms of sensitivity.
This functionality is actually just one bit of a potent input mapping system, as implemented on a system level within the ROG Game Genie platform. We will get into more detail when we discuss the ROG Kunai Gamepad, as well as docking the phone and using it with a mouse and keyboard, where the system really comes into its own and shows its potential.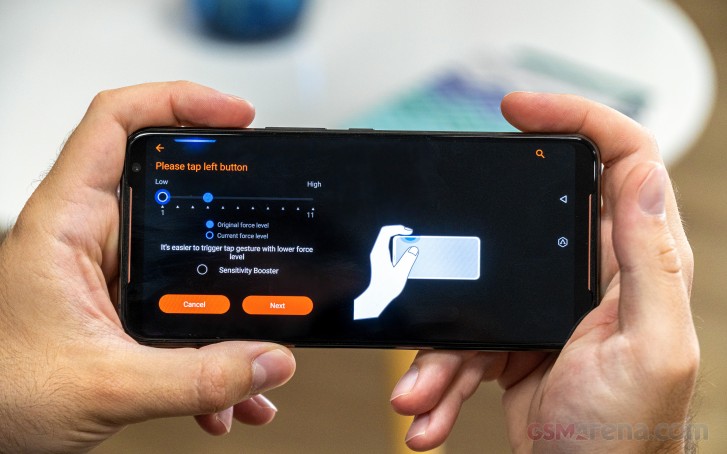 The whole setup works amazingly well. In fact, so much so that we frankly consider it cheating for the most part, as far as competitive mobile gaming is concerned. Even if you don't spring for any of the other available ROG Phone accessories that enable broader remapping functionality, the pair of AirTriggers alone offers an enormous edge in online games where everyone esle is playing on a touchscreen.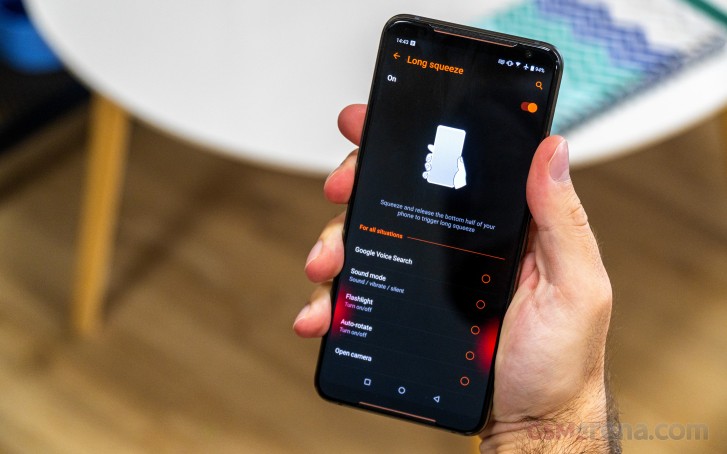 The AirTriggers also enables the phone to be long- or short- "squeezed" in portrait mode for different quick-actions depending on the phones state.
While most aspects of the ROG Phone II's display are pretty traditional and intentionally so, Asus did decide to jump on the under display fingerprint reader wagon. The module in question is a pretty conventional optical one. Nothing too fancy. When it works, the reader is pretty snappy. However, we did experience some issues with accuracy and reliability. Pretty odd, in fact. Right after a finger is set up it seems to work splendidly. But give it a day or two and recognition rate drops rapidly. Hopefully this is a mere software issue Asus can address.
For audio on the ROG Phone II you get a dual speaker setup. Both of these front-firing units uses a 5-magnet design for better clarity and louder distortion-free output and are powered by a dedicated NXP amplifier. There is also DTS:X Ultra virtual surround sound technology, if you have the video content to make use of that. Asus also did its best to position the speakers in such a way that they can't really be easily covered up by your hands.
The company also tried to do the same for the microphones on the ROG Phone II. But since that is significantly harder to pull off, they just fitted a Quad-Mic Noise Cancelling Array instead. So no matter how you hold your device or what attachment you have on, you voice will always come out background-noise free while streaming your favourite game with a face cam.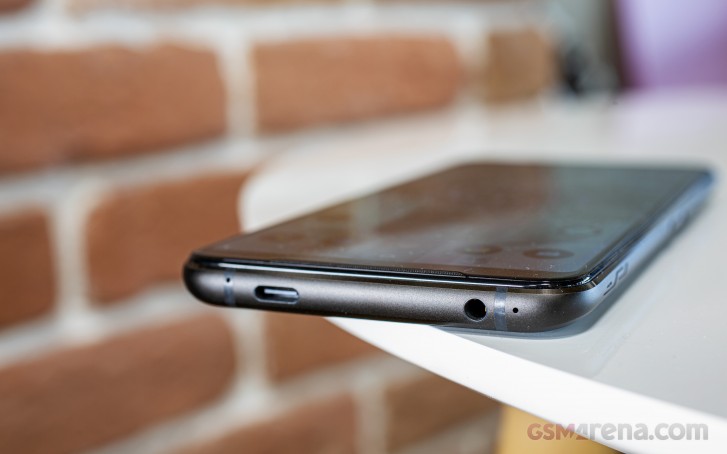 Since we are already on the subject of audio, we are happy to see that the 3.5mm audio jack is alive and well. Not only this, but Asus also has it hooked up to an impressive 192kHz/24-bit DAC capable of playing back Hi-Res Audio. DTS Headphone:X is also part of the mix.
And if you have moved on to an entirely Bluetooth setup already, you will be happy to leans that aptX HD, adaptive, LDAC and AAC are all supported.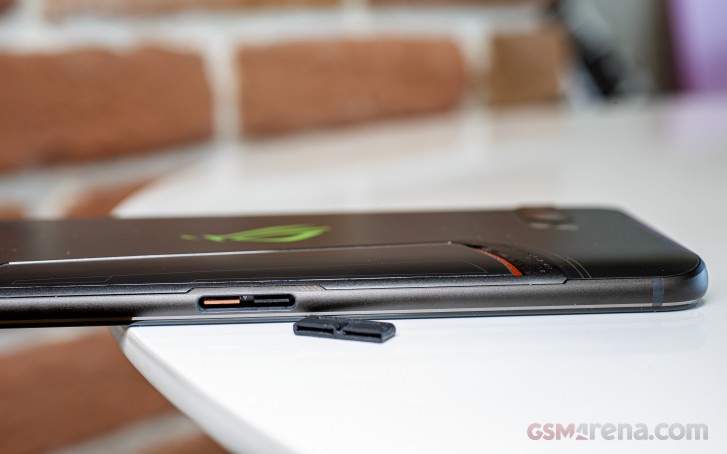 Finally, the most unusual part about the ROG Phone II design is the set of Type-C ports. Or rather one standard Type-C at the bottom and one proprietary 48-pin Side-mount connector. The latter is primarily intended for use with accessories like the dock or fan. However, it still has a regular Type-C port as part of its design. The other bit just seems to be a shrunken-down Type-C as well to prevent any accidental insertions. Probably for the better since Asus is likely way outside the USB specification on that side of the Side-mount connector.
Connectivity
This is actually a perfect segue into connectivity on the ROG Phone II in general since the two normal USB Type-C ports are actually different in terms of the controllers they are housing. The Side-mount one is actually more advanced, offering a USB 3.1 gen.2 connection, as well as Display Port 1.4 output. The bottom one, on the other hand, is limited to USB 2.0 data transfer. Charging capabilities differ as well, even if slightly. Both ports apparently support Asus' 25W direct charge implementation and both can do Quick Charge 3.0 and Power Delivery 3.0/. Only the Side-mount USB is, however, listed as having Quick Charge 4.0 capabilities. Frankly, this doesn't really make a ton of sense, considering both apparently do Power Delivery 3.0 identically. Still, if you ever find yourself trying to charge the ROG Phone II with a Quick Charge charger, you might just want to use the side port.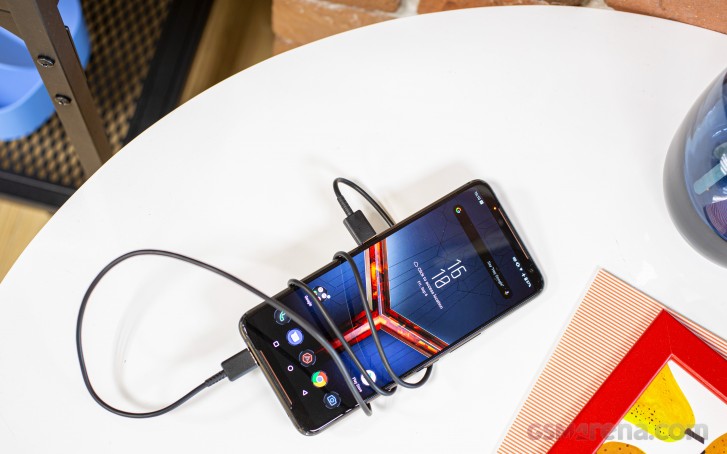 As a side note, yes, of course we tried plugging the ROG Phone II into itself. And just like the original ROG Phone, nothing happened. We also tried other ambiguous setups, so you don't really have to, like hooking up to separate power sources to the two USB-C ports as well as two other smartphones. Also a combination of the two. We even threw in a PC conection, to see just how the whole Type-C host/client negotiation works while having to manage two ports at once. Long story short - nothing bad happened. Asus clearly anticipated such mucking about. Generally speaking, the side Type-C port tends to take precedence over the bottom one when both are in use and whatever it say, goes.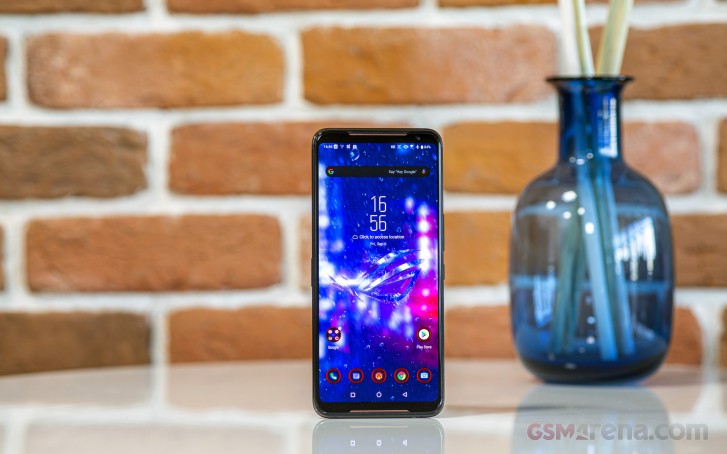 That's enough cable plugging fun for one day. On to wireless. The ROG Phone II has a total of four Wi-Fi antennas for its regular 2.4GHz/5GHz dual-band networking. The idea behind this was the exact same one that motivated four microphones - maintaining perfect operational efficiency no matter how you hold the phone or what you have attached to it.
Then there is WLAN 802.11ad, also known as 60GHz or WiGig. It is great for short-distance ultra fast and low-latency connections, which its wireless display accessory actually leverages masterfully.
For network connectivity, the ROG Phone II has two nanoSIM cards, each going up to 4G (4x4 MIMO and CA) and with dual-SIM standby. As for speeds, there is a slight note worth making here, namely that the higher-tier Ultimate edition ROG Phone II, the one with 1TB storage comes with Cat.20 LTE, capable of speeds up to 2Gbps.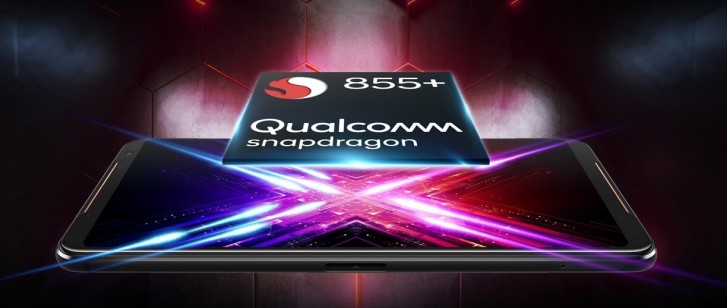 Not all chips are made equal and the layers of the LTE modem are just one of the ways two chips that bear the same marketing name, in this case Snapdragon 855+, can actually incorporate different features. The regular Elite Edition ROG Phone II "only" gets a Cat.18 theoretical speed maximum for its LTE. In other words, not the full 20 layers. This is a point Asus has brought up in its promotional material and which comes to basically illustrate that the SD855+ inside the Ultimate Edition is the very best Qualcomm currently has - overclocked, speed-binned, unlocked and with the best LTE speeds. The message here being - "we are not saving money by cutting any corners". A no-compromise gaming experience simply demands no-compromise hardware.
Just to finish up the supported connectivity section, in no particular order we have: CDMA Less, VoLTE/VoWiFi, Bluetooth 5.0 (aptX HD, aptX adaptive, LDAC and AAC), Wi-Fi direct, GPS (L1+L5), GLO, BDS, GAL (E1+E5a), QZSS (L1+L5), NFC and, of course, the all-important FM radio receiver. In all seriousness though, it really seems like the only notable omission in terms of I/O remains the lack of a microSD card slot. But with up to 1TB of fast on-board storage, we feel like we should kind of let this one slide. Not to mention the built-in UFS 3.0 storage is much faster than a microSD card.