ROG Phone II accessories and attachments
Just like it was with the original, a big part of the allure of the ROG Phone II lies with its extensive accessory package. That is especially the case when the review unit arrives in an actual briefcase complete with each exciting gadget. But even looking past that, there is still no doubt in our mind that a whole year later Asus ROG Phone is still unrivalled in terms of its ecosystem.
For the ROG Phone II all the same bases are covered with more than a few of the accessories tangibly improved. Others were deemed good enough to simply be carried over.
Naturally, some of the gadgets are going to be better and more useful than others. Seeing how there is a lot to cover here, let's just jump into it.
AeroActive Cooler II
Since this is a default accessory - one you are actually getting in the retail box of the ROG Phone II and do not have to purchase separately it only makes sense to talk about it first. Plus, if you've been going through this review page by page then you should already be familiar with its benefits to performance and comfort. The AeroActive Cooler II is arguably the most useful of all accessories.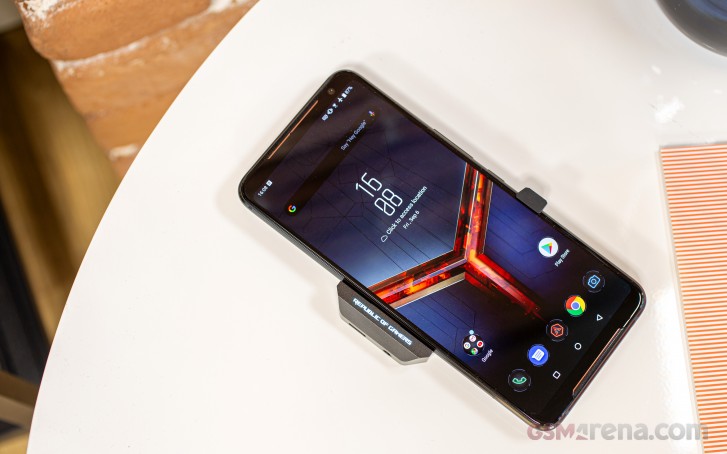 The differences between the new, redesigned fan and the original one are pretty subtle on the surface. In fact, so much so that our first thought was to try the AeroActive Cooler II on the original ROG Phone and vice versa. While they fit both ways, that was a no go resulting in an error messsage to use the proper cooler. We appreciate that Asus was perfectly aware we were going to do this sort of thing already.
Anyway, design-wise the AeroActive Cooler II is a bit bulkier, but interestingly enough feels a bit lighter. The new design also works together with the Aero Case. That would be the default slim, cooling-friendly bumper you also get in the base product package. Meaning that you don't need to take the case off to pop the fan on. Well, not the Aero Case, at least. Neat!
The fan inside the AeroActive Cooler II is definitely more visible than on the original and appears to be bigger. That means better cooling performance at the cost of less noise. And indeed we can confirm Asus' claims of about 5 degree difference to surface temperature with the fan on full blast and noticeably lower noise levels compared to the original AeroActive Cooler. The advertised four time reduction in noise might be a bit of a stretch though. If you plan on making the most out of the cooling solution, be prepared to hear the fan working in a quiet environment.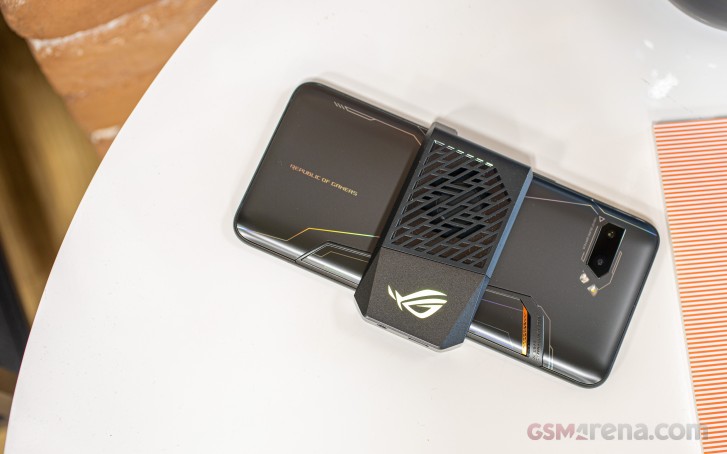 On a more positive note, you still get the same simple slide-up mechanism on the fan and the nicely positioned pass-through Type-C port and the 3.5mm audio jack. That's probably the only convenient place to have dangling cables while gaming. Also, the sizeable RGB Aura Sync logo on the back is still present. It acts as a substitute for the phone's logo since it gets covered up by the fan. And with this new redesign you also get RGB on the front Republic of Gamers letters as well. A bit distracting, but then again that kind of comes par for the course with RGB.
Finally, there is one more amazing little touch added to the AeroActive Cooler II, which we simply love - an optional small rubber attachment that you can put at the bottom. That allows the fan to pull double duty as a surprisingly stable desk stand for the phone.
Our Verdict: If you do end up getting the ROG Phone II, you will definitely want to keep the AeroActive Cooler II close at hand pretty much always. It is great.
Lighting Armour Case
Since we already mentioned the nifty Aero Case bundled with every ROG Phone II, we might as well get the other official Lighting Armour case variant out of the way just to avoid any mix-up between the two, since they are definitely different.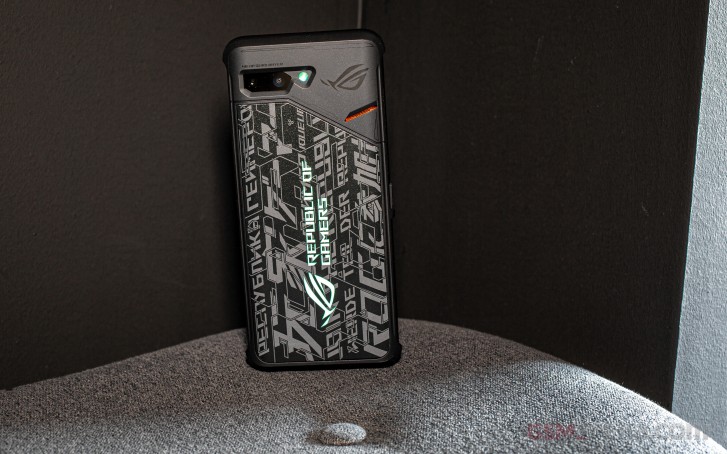 The Lighting Armour Case is a lot more constrictive and covers pretty much the entire back of the phone. Not ideal for cooling, but definitely better for protection. That being said, though, the metal sides of the phone are still exposed due to its design so it's not exactly overly protective. Unlike the Aure Case, you do have to take this one off to use the AeroActive Cooler II.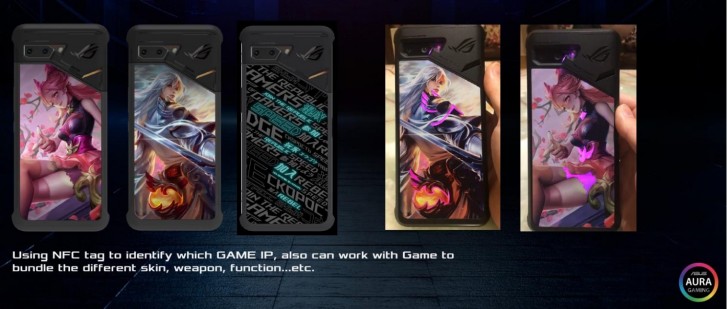 The main party trick for the Lighting Armour Case has a built-in LED light guides and a reflector window, which aligns with the second LED near the main camera of the phone. Like we already mentioned in the hardware section, that is not a second camera flash, but an RGB LED that lets your AuraSync effect of choice shine through the Lighting Armour Case. The one we got in the box is covered with ROG branding, but apparently other designs may exist as well. The Lighting Armour case also uses an NFC chip to talk to the phone and unlock an exclusive theme to match its style.
Our Verdict: This has gamer swag written all over it which probably means you can expect to see Lighting Armour cases of big Android game titles in the near future. The premium on that should be pretty hefty. If you are just in it for the case side of things, there should definitely be more practical case options out there.
ROG Kunai Gamepad
We've said it a few times already, but it's still worth repeating - the true allure of the ROG Phone II lies in its incredible accessory ecosystem. To be even more precise, most real benefits stem from its versatile, well-though out nature with one mission alone - gaming.
If there is one common theme for the second generation of ROG Phone gadgets it has to be refinement. The entire lineup is noticeably more flushed-out. Even small things like redesigned packages for certain familiar accessories make a big difference as far as a unified experience goes.
And there is no better example of this refinement process than the new ROG Kunai Gamepad.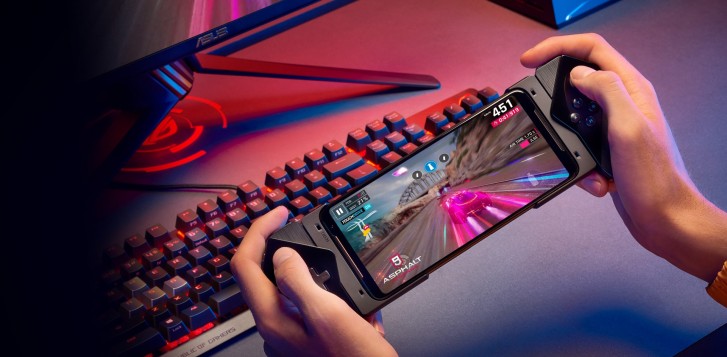 It comes as a direct replacement for last year's GAMEVICE controller, which, for all of its great features, never quite managed to fit snugly (both literally and metaphorically) with the ROG Phone. Well, this time around, instead of adopting a third-party product, Asus has designed a controller of its own and, boy, it is better in every perceivable way.

On the surface the ROG Kunai Gamepad seems unassuming enough until you realise just how versatile of a controller Asus has managed to craft. The device actually consists of three distinct parts. The most obvious way of using it is with the ROG Kunai bumper. That slips on the ROG Phone II pretty securely while also breaking out the phone's bottom Type-C connection into special connection pads for one or both Kunai grips.
That's right, it's a direct USB low-latency connection and you can opt to just use the left controller, if that just happens to be all the extra input you need. And frankly, that might very well be the case since the left controller alone has a fluid analogue stick, complete with press-down action, d-pad, two bumpers on the back and even a small button near the bottom of the grip. That makes eight discreet inputs that can be freely mapped using the versatile Asus Keymapping V2.0 software.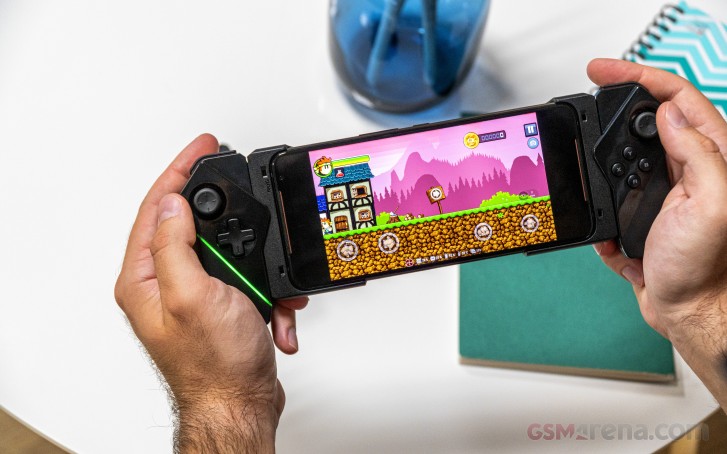 That is the other bit of magic going on behind the scenes. The entire mapping platform is very simple and straight-forward and it simply works. Not to mention it is baked right into the OS and even comes pre-loaded with professional key maps for many major game titles. It is honestly kind of magical and the advantages this sort of mapping provides are frankly bordering on cheating, especially if you decide to use on of the Asus docks and a mouse and keyboard. But we digress.
Back to the Kunai Gamepad. Just like its left sibling, the right controller brings another eight buttons into the mix. No AuraSync RGB strip on this side or a Type-C port on the bottom, but other than that, literally double the control options for a total of 16.

Then there is the Kunai holder which really shakes things up. It features two more shoulder buttons. Better still, these two are actually analogue inputs! Also two more surprisingly convenient triggers on the back side of the grip handles. And on the front - five function buttons. That makes a total of 25. Crazy stuff. But is somehow gets better.
In this configuration you can obviously use the ROG Kunai Gamepad as a wireless Bluetooth controller for the ROG Phone II or pretty much any other Bluetooth device, for that matter. However, there is also a small switch on the back of the unit, which you can use it to switch over to a wired low-latency Type-C cable connection. And the cherry on top of the controller cake is the 2.4GHz RF receiver that has its USB dongle hidden in a little groove on the back as well. You can simply pop that into any PC USB Type-A port.
Our Verdict: If if are considering picking up an extra accessory for the ROG Phone II, then definitely start with the ROG Kunai Gamepad. It is a surprisingly comfortable and extremely versatile piece of kit that brings a lot of value. We like using it so much that we kind of wish Asus would start making Kunai bumpers for other devices as well.
Twinview Dock II
Another familiar concept from the original ROG Phone that has been vastly improved or in this particular case, entirely redesigned. The core idea is still the same - provide the player with a second display, identical to the first one - so you are getting a 6.59-inch AMOLED with a 120Hz refresh rate. Unlike the original Twinview dock and the ROG Phone, this time around you can actually run both panels at 120Hz at the same time. Some restrictions do still apply though, like the fact that once the phone is inserted into the Twinview Dock II you can co longer adjust refresh rates. Nitpicking aside, you are getting literally twice the screen real estate.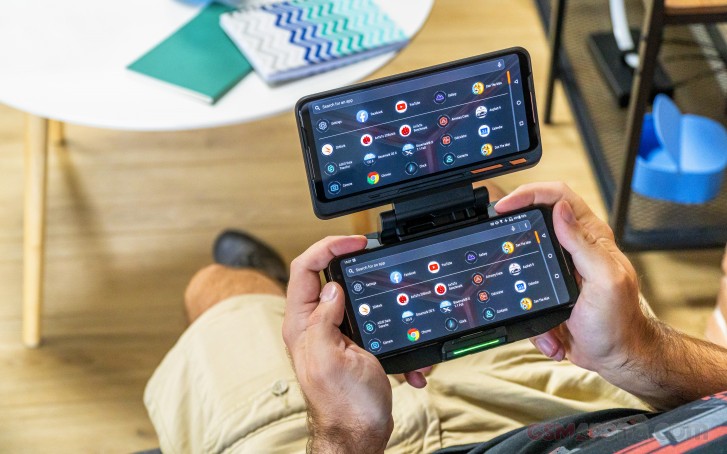 Of course, you can't really expect instant dual-screen gaming experiences to just appear out of thin air. The ROG UI itself is pretty well optimised for the second display. Well, kind of. The two displays appear to behave entirely independently. All you can do is launch a second app on the other display. On the flip side, this independent behaviour does mean that you can pretty much launch and use any app on the second display with no issues.
The only real tweaks available as to how the TwinView Dock has a settings item in the battery menu of the phone that lets you chose whether to use the dock's 5,000mAh battery as a power bank and deplete it first, while keeping the phone's battery full or have the two batteries discharge in tandem.
The standard charger bundled with the ROG Phone II actually has enough overhead in its 30W output to charge both at the same time. If you remember, the phone would charge with up to 25W of power and the other 5W are meant for any attached peripherals.
As far as actual usability is concerned, things haven't really changed or improved that much since the original Twinview Dock. The main use cases still seem a bit far-retched, like looking for info or chatting on one screen and playing on the other. Keeping an eye on your live stream does seem kind of cool. But that's about it. Notable annoyances, or rather missed opportunities include the fact that you can't spawn your keyboard for the top screen on the bottom one. Each display gets its own standard keyboard placement taking up half the screen. Also, there is no dedicated virtual joystick app that can be opened on the bottom side and mapped to inputs on the top display. Both are things we have actually already seen done by LG and its recent dual-display accessories.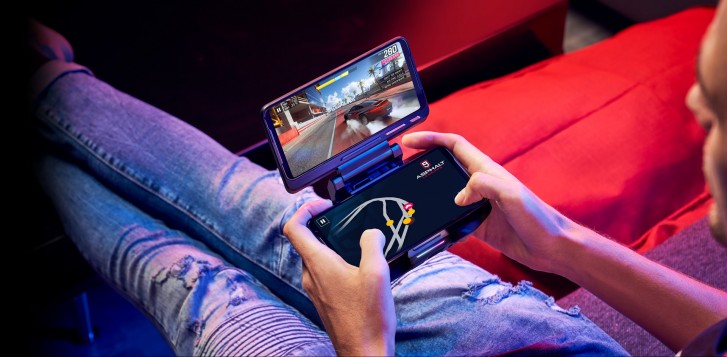 Design-wise, however, the second generation Twinview Dock is vastly superior, successfully addressing pretty much every beef we had with its predecessor. Like the weight. The second generation actually feels manageable with the phone docked inside. This did come at the price of 1,000 mAh less additional battery capacity and the loss of the two shoulder buttons. However, there is still an internal fan and both a 3.5mm audio jack and Type-C port conveniently relocated near the top and bottom.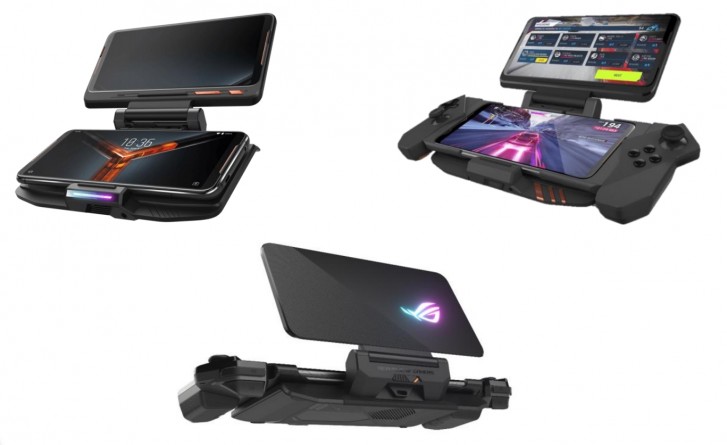 But the more observant among you might wonder why exactly Asus went through the trouble of re-routing said ports when the new Twinview Dock II has both the top and bottom of the ROG Phone II exposed. That's another nifty bit and entirely intentional. You can actually use the ROG Kunai Gamepad and the Twinview Dock II together. Granted, it might take you 15 minutes or so to set everything up, but that's about as baller of a portable smartphone gaming setup as we can imagine.
Our Verdict: Still a great hardware idea now made even better thanks to the re-design. However, software support remains lacking (Asphalt 9 and Shadowgun Legends currently stand out for having a dual-display mode) and the actual practicality is pretty low. Plus, even the new slimmed-down version remains chunky and cumbersome. Unless you really have a valid use case ready and lined up for it, we would skip the Twinview Dock II.
Mobile Desktop Dock
The Mobile Desktop Dock is actually making a transition from the original ROG Phone to its successor without any change at all. Well, aside from a new box design. Frankly, it hardly needs any tweaking or modifying as far as we are concerned. Unlike the TwinView Dock II, which looks really flashy and cool, but doesn't quite hold up in terms of usability, the Mobile Desktop Dock finds itself on the polar opposite of that spectrum.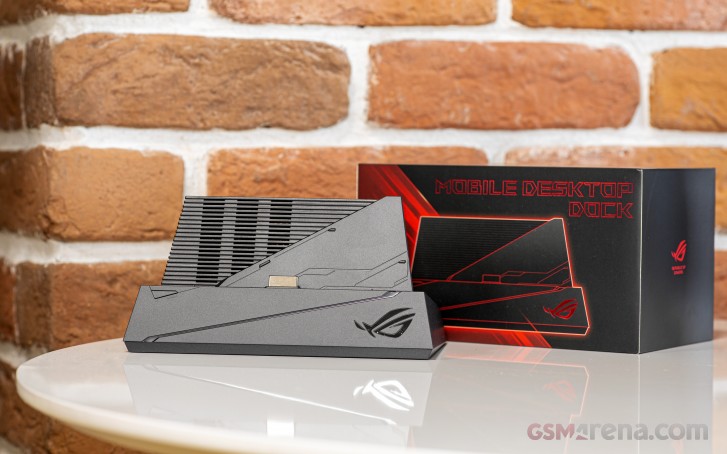 It is an impressive piece of kit that works on more than one level. First, there is the obvious - hooking the ROG Phone up to a monitor, along with a mouse and keyboard. That opens up space for a bit of productivity work. Unlike Huawei or Samsung, with their dedicated desktop environments, the ROG Phone doesn't really have any fancy window manager when docked. It does, however, offer a choice between two display modes - mirroring or extending the display.
Extending the display is probably the mode you want to be using most of the time, except for a few gaming scenarios when certain titles simply don't want to cooperate with the extended mode.
In TwinView mode, the output matches the native resolution of your monitor and since the Mobile Desktop Dock is equipped with both an HDMI 2.0 port and a Display Port 1.3, you don't have to limit yourself to FullHD, like some of the competing mobile docking solutions. 4K is easily attainable.
While using TwinView mode, you also end up with a slightly tweaked version of the app launcher on the monitor and a fully functional UI on the phone display. This means you can multitask or simply fire up Game Center on the phone while gaming on the monitor to keep an eye out on performance stats.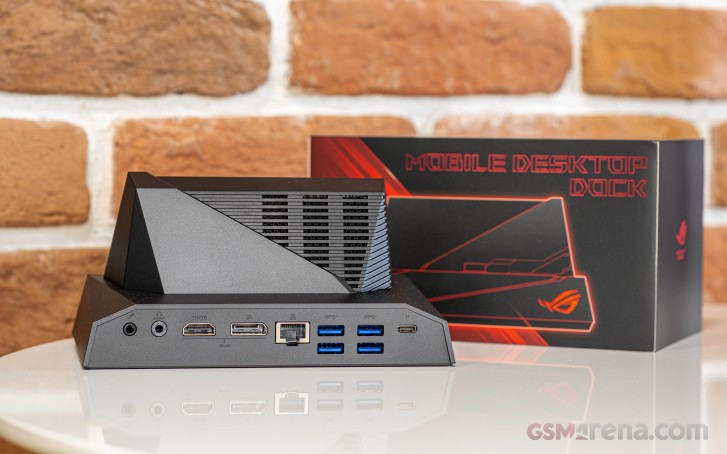 And since we are on the topic of gaming, this is probably the single game-changing functionality (see what we did there) the Mobile Desktop Dock has to offer since the Asus Key Mapping not only works with gamepads but also with a mouse and keyboard as well. Once you pair those, you get to enjoy the massive advantage of looking around and aiming in any game with unreal precision. Again, the practice has been banned in certain titles like PUBG.
We have to say, we were very surprised at just how well the Key Mapping layer manages to translate mouse movement to presses on a directional pad on-screen. Plus, just like with gamepad mapping, you can get pre-made control maps automatically for many games, so you don't have to fiddle about making those yourself.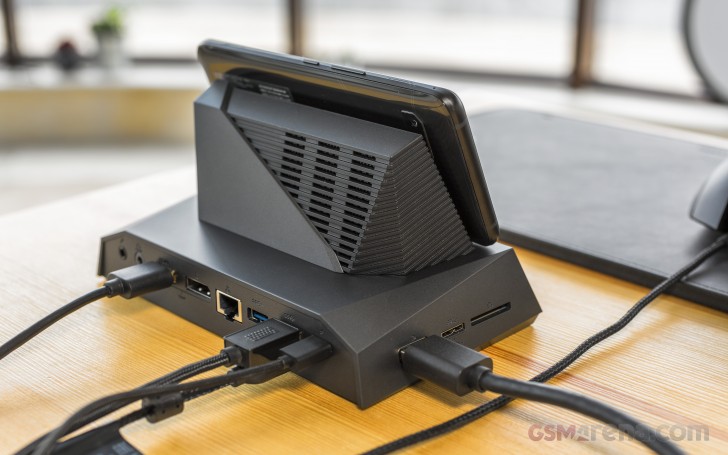 But, as impressive as this is, we actually think that the Mobile Desktop Dock has a more impressive feature, still. The Mobile Desktop Dock is actually a potent and extensible KVM. Yes, a 4K KVM! Well, one of the devices needs to be the phone, but still, anybody familiar with a KVM will know just how much a good 4K one costs and here it is, sitting dormant as part of a mobile phone accessory. Crazy!
If you are wondering what all this means, basically, you can use the dock to "implant" the ROG Phone into your existing PC setup without interrupting it one bit or having to re-wire things every time you want to dock the phone. This works by unplugging all your things from the PC and then plugging them into the back of the Mobile Desktop Dock.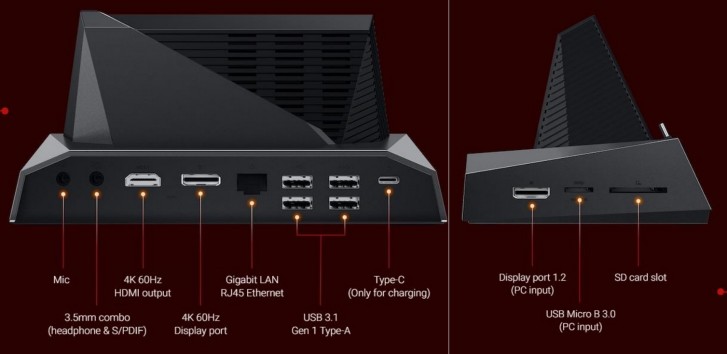 You simply need to route a display cable from it to the side DP of the dock (presumably a gaming PC's existing display connection), along with a USB-A to micro USB 3.0. Yes, that's what that is. Unfortunately, Asus decided to stick with this old connector on the receiving end of the USB connection instead of something newer like Type-C. The Type-C on the rear side is only for powering the dock. And you can either use the bundled 30W brick from the ROG Phone II or another similarly capable Power Delivery source.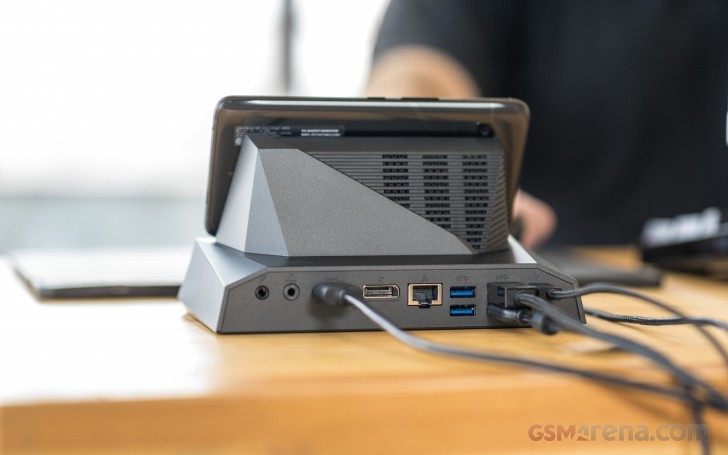 So, with all that done, you can now simply use your phone and PC interchangeably by pressing the small button on the front of the Mobile Desktop Dock. And that, in a nutshell, is KVM functionality right there and incredibly convenient. When the ROG Phone is docked and you are in PC mode, the phone actually reacts and mounts as an external storage device, which is just an amazing small touch.
Our Verdict: Getting the Mobile Desktop Dock is a no-brainer if you have the cash and know what you are getting and intend to make full use of it. The Mobile Desktop Dock simply dwarfs all competing mobile dock solutions in sheer hardware capabilities and functionality. Plus, you can really wreak havoc in many competitive games with a mouse and keyboard setup.
ASUS Professional Dock
The ASUS Professional Dock is another absolutely unchanged accessory transitioning over from the original ROG Phone. In fact, this time it wasn't part of the review kit we received, but it is still on the list of official accessories for the ROG Phone II nonetheless. In order to make the ASUS Mobile Desktop Dock a justifiable purchase, you probably have to make proper use of its PC-switching KVM functionality. If that's not the case, then you can definitely save a few bucks and pick up the ASUS Professional Dock instead.
Anybody already forced to live the "dongle life" due to limited I/O electronics will be familiar with the concept - plug the ASUS Professional Dock into one of the two Type-C ports on the ROG Phone and you get a couple of USB 3.1 Type-A ports, Gigabit Ethernet and an HDMI out, capable of up to 4K resolutions.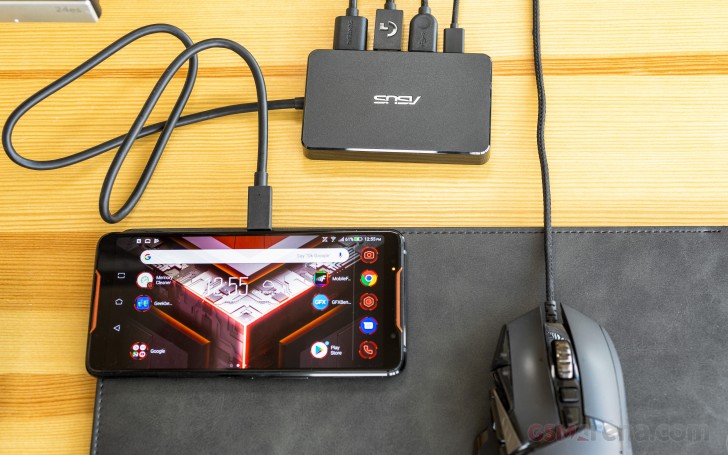 It is definitely a much simpler and limited device than the Mobile Desktop Dock, but it does still provide most of its docking capabilities. That includes Key Mapping support, which was not the case with a couple of third-party Type-C docks we tried on the ROG Phone. Despite having all the same ports, the option never popped-up in Game Genie, so Asus might be protecting their accessory ecosystem a bit here.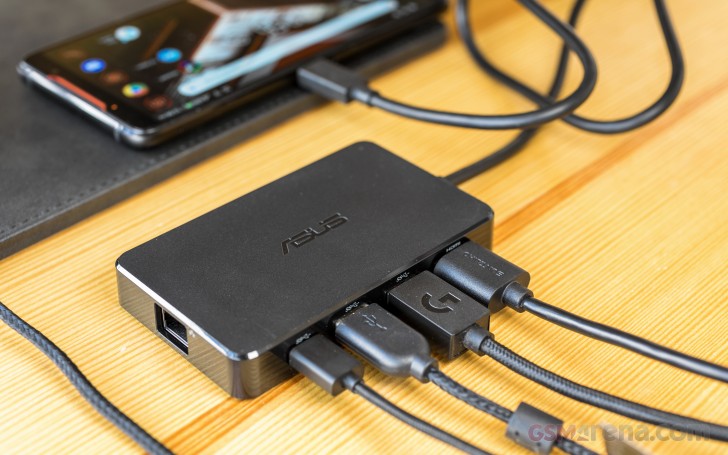 Our Verdict: Pick one up only if you intend on using the Key Mapping functionality, which currently seems to be a prerogative of Asus official accessories. If you simply want video out and USB in, there are cheaper third-party options out there.
WiGig Display Dock Plus and USB 3.0 to RJ45 dongle
Last, but not least, we have yet another familiar piece of kit - the WiGig Display Dock - a wireless display solution with a lot of promise and a focus on interesting tech - the 60GHz WiGig Wi-Fi. This is a wireless data transfer standard that uses a very high spectrum to achieve impressive transfer speeds and even more impressively low latency. Both perfect for playing a game on a bigger display, like a TV or projector from a distance, without ruining the experience with lag.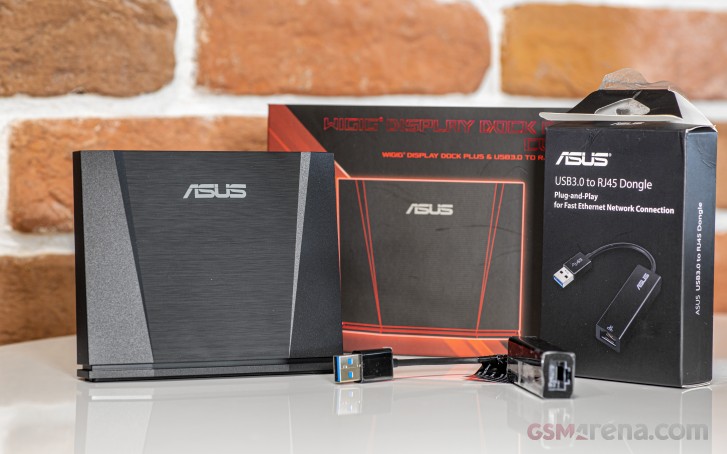 We are talking latency under 20ms here, compared to Miracast and other similar wireless display solutions that have delays in the order of 500ms.
The WiGig Display Dock is definitely meant for gaming. The tech does have some serious limitations, though. In order for it to work properly and get a decent connection, the sender has to reside within a 120-degree cone in front of the receiver and no more than 5 meters of distance away from it. So, being in a clear line of sight is definitely required.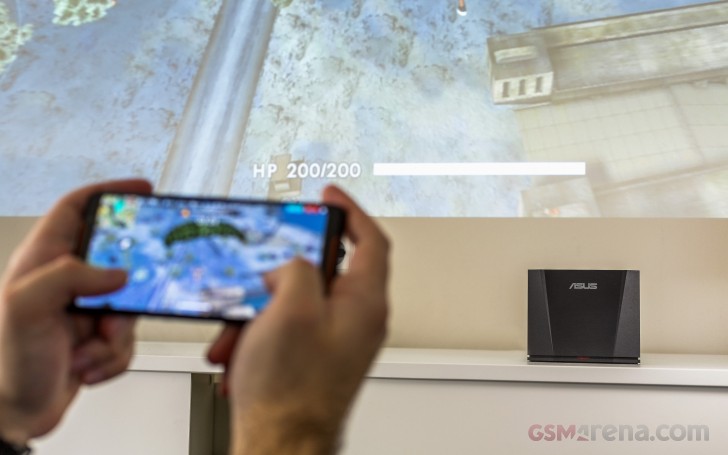 In fact, in our testing, the shorter the distance to the dock, the noticeably better the experience got in terms of lag and connection stability. Still, if you position yourself just the right distance and angle from the receiver, the end result is pretty impressive. Well, not exactly HDMI connection impressive, but impressive nonetheless.
We also experienced a few connection drops, so there is work to be done on the connection quality. We also noticed that the ROG Phone got really hot while gaming this way. Probably the 60GHz radio inside the phone is making things quite toasty.
All that being said, we have to say that the whole setup seems to work a lot better than the first time we tested it on the original ROG Phone. So, some updates and perhaps upgrades have been applied. Honestly, we couldn't quite decipher which one of the two it is. On the surface the WiGig Display Dock seems to be absolutely identical to the one we got with the ROG Phone. Even down to the "ADSA001" model number. However, reading the specs carefully did reveal that the old dock was limited to 1920 x 1080 input resolution from the Android side, while the new one bumps that up to 2560 x 1080 pixels. Could it be that the "Plus" moniker actually denotes some internal hardware changes?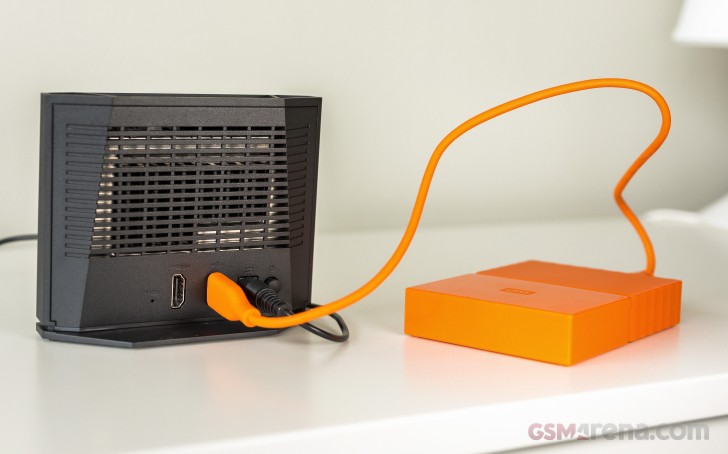 We can't really say for sure, but what we did try is using the new ROG Phone II and the ROG Phone with the new dock. Not at the same time, of course. And some limitations that were previously a thing are in fact no longer there. Most notably, neither phone locked its display to 60Hz. Plus the output from the dock's HDMI is no longer limited to 720p. FullHD is definitely attainable. Whatever the case may be, we are pretty sure that if you buy a WiGig Display Dock today you are probably going to receive the newer one.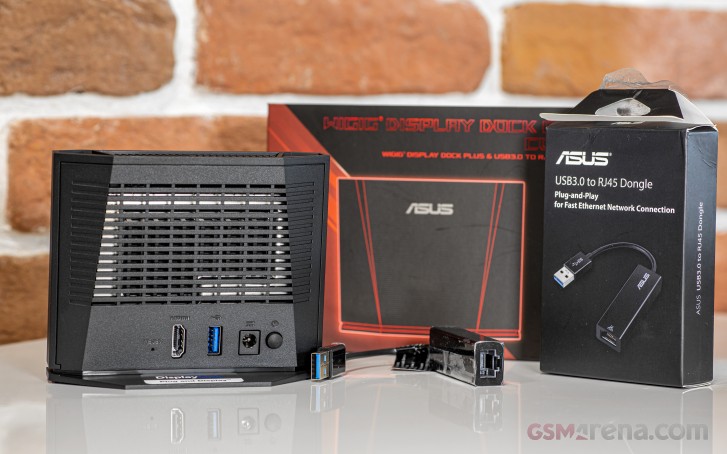 Another thing you will get bundled is a USB Type-A to RJ45 dongle for a wired network connection. That is meant to go inside the back of the WiGig Display Dock. When the ROG Phone II connects to the dock that port actually gets mounted to the phone as if it were local. Yes, we are talking wireless USB 3.0! That's still pretty cool and we have to admit that it never occurred to us to plug a network dongle in there when we reviewed the ROG Phone. Just an external HDD. Even so, we stay behind our opinion that this whatever kind of data you decide to transfer from the WiGig Display Dock to the phone and back for that USB 3.0 connection it is going to be less than ideal for a number of reasons. Still, it does make for a rather clean TV/Projector setup.
Our Verdict: The WiGig Display Dock is definitely in a better state than we originally found it back with the old ROG Phone. And is still makes for a really cool, clean and futuristic bid screen setup. The most annoying resolution and refresh rate limitations of the past seem to be dealt with alongside the noticeable improvement in connection stability. If you can actually see yourself playing Android games in such a setup and really insist on just having one Android device to do that, then the WiGig Display Dock kind of makes sense. However, there are still better and more versatile solutions for both multimedia consumption (media centre style) and playing games, even Android ones. Consider a console or perhaps Android Box/Nvidia Shield TV instead.