BlackBerry Lite
BlackBerry Curve 8520 review: BlackBerry Lite

2 megapixel camera is only good for MMS
The BlackBerry Curve 8520 comes with a 2 megapixel fixed-focus camera with a maximum image resolution of 1600 x 1200 pixels. It's one of those cases where your expectations have already hit rock bottom and yet the handset still somehow manages to disappoint you.
From camera key ergonomics through camera interface to image quality it just goes from bad to worse for the Curve 8520. For one it has the same problem as the other landscape screen handsets where you have to hold it vertically to shoot but in this case the shutter key position is totally wrong. You can use the trackpad to shoot but we have to admit it is located a bit too high to be comfortable in single hand use.
Next comes the viewfinder, which has the status bar appearing at all times at its bottom end, hiding a good portion of what actually ends up in the picture. So yeah, you will have quite some trouble properly framing with this one.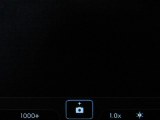 Getting proper framing isn't the easiest thing to do on the Curve 8520
The camera UI itself is the same inconvenient piece of software, with no shortcuts on the screen. You have to dig in the menu for changing any of the (admittedly very few) available customizable options.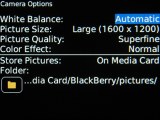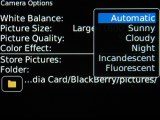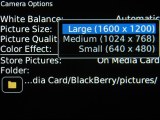 The number of customizable settings is quite small
Those would include: white balance, color effects and image stabilization. There is also the obligatory picture size and quality.
And then came the image quality and all our previous gripes just paled into insignificance. Yes, the weather hasn't been exactly favorable around the office recently but it shouldn't excuse this kind of output.
The 2 MP league isn't really Premiership, so when you are battling to avoid relegation in that division then that is really saying something. Saying something from the beginning of the decade that is, where handsets with that kind of price tags gave similar image quality. Of course it was considered high-end back then so it was a bit more excusable.
The amount of resolved detail falls seriously short of impressive. Probably part of the explanation is the extremely aggressive noise reduction applied, which eradicates all fine detail and gives the photos a distinct oil-painting look.
Strangely enough, the only thing it doesn't seem to affect is the actual noise which is available in spades in the Curve 8520 shots. The color balance is generally a miss rather than a hit, although the phone manages to get them right on some of the photos.
Here go the sample photos so you can see for yourselves. Don't say we didn't warn you.





BlackBerry Curve 8520 camera sample photos
Normally we say that underperforming cameras are only good for taking contact images. With the Curve 8520 we aren't actually sure it's even good for that. You will be better off using those for MMS only.
QVGA videos leave us speechless
Well what did you expect really? With a still camera like that, the video recording was probably put there because it would be more of an effort to remove it from the firmware.
The Curve offers QVGA videos that are recorded in the 3GP format. They can have color effects applied and that's about as good as it gets here.
BlackBerry Curve 8520 camera sample video
Little consolation here comes from the fact that QVGA is still better than the 240 x 180 pixels resolution that the Curve 8900 offers. Yupee!
Flawed connectivity
Smartphones can get away with lots of things but poor connectivity isn't one of them. And the lack of 3G support really deals a major blow to the ambitions of the Curve 8520.
At least the Curve 8520 offers Wi-Fi but when you are forced to have a BlackBerry internet plan in the first place we feel that it doesn't make up for the missing fast network data. EDGE isn't our first choice in 2009.
Leaving the wireless connectivity aside, the BlackBerry Curve 8520 is equipped with a standard microUSB port that is used both for connecting to a computer and for charging.
Finally, the Curve 8520 comes with Bluetooth v2.0 that also sports A2DP and a microSD memory card slot. The memory card slot will usually give you the fastest data transfer rates if you have a card reader handy.