A more thumbable phonebook
Contact management is usually considered one of the strongest points of Windows Mobile. You have an unlimited contact list, unlimited info fields for each contact and brilliant synchronization options. Shame it's so damn ugly. Even in 6.5, Contacts remained virtually unchanged.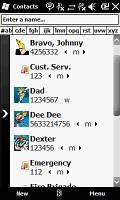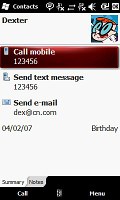 The WinMo phonebook is still here
What we like about the GSmart S1205 phonebook is the improved contact search. Apart from the tiny letters on top of the screen you get some large way more thumbable on-screen buttons with letters on them. And quite conveniently – these are only the letters you have contacts starting with. Those allow quick gradual typing which really helps finding the contact you need pretty easy. Again, it doesn't look good but usability is OK.
If you don't like to see the quick search letter boxes, you can swipe the Contact list sideways, as indicated by an arrow. If you do, you'll only get the actual list of contacts fill the screen. Selecting a contact reveals a call screen with two virtual buttons at the bottom: Call and Menu. Pressing Call will initiate a call on the primary SIM card – you don't get to choose.
Pressing "Menu" however will bring a pop-up list of options such as delete, edit, save to card 1 or 2, assign speed dial, send text, etc. Alternatively, the same menu can be evoked by tapping and holding on a contact. The best thing though is you'll get the options Call From SIM1 and Call From SIM2.
Dual SIM telephony
Making calls is always a priority for any cellphone – the Dual SIM ability certainly holds the Gigabyte GSmart S1205 to a higher standard.
The Phone application offers Smart dialing, so you hardly ever need to go to the Contact list to dial a number. Once you've dialed the number or found the contact you're about to call, you only have to choose the SIM card to place the phone call on. On the dialpad, there are two virtual buttons: Talk1 and Talk2.
The Phone application also offers a tiny screen above the numpad with a list of recent calls. Alternatively, you can hit the History button and enter the actual Call log.
During a phone call on either of the SIM cards, the other one is not active. So people calling you will hear an out-of-coverage or phone-switched-off message.
The Call log does reasonably well to accommodate the dual SIM functionality. It displays the type of call (incoming, outgoing, etc.), the SIM card used, the caller number/name and the number of calls. When you select a log entry, you can see the entire call history, including the time and date, as well as the call duration.
When a Call log entry is selected, pressing the call key will start a call on the primary SIM card – even if the call was made or received on the secondary SIM. There's a way around that though – tapping and holding on a Call log item, opens a contextual pop-up menu with relevant options. Among them are Save to Contacts, Delete, Send text and – best of all – Call on 1 and Call on 2.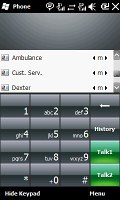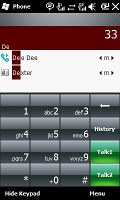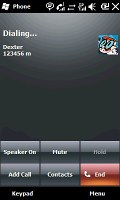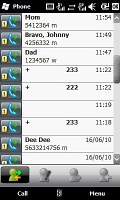 Smart dialing • Dialing a contact • Call log
The Gigabyte S1205 scored a Good mark in our loudspeaker performance test. And here is how the S1205 stacks up against some other handsets we've tested. More info on our test can be found here.
| | | | | |
| --- | --- | --- | --- | --- |
| Speakerphone test | Voice, dB | Pink noise/ Music, dB | Ringing phone, dB | Overall score |
| Apple iPhone 3G | 66.1 | 62.1 | 71.7 | Below Average |
| LG KC910 Renoir | 69.7 | 64.7 | 70.9 | Average |
| Gigabyte GSmart S1205 | 67.6 | 75.7 | 66.6 | Good |
| Samsung i900 Omnia | 70.2 | 64.8 | 75.2 | Good |
| Sony Ericsson XPERIA X1 | 75.5 | 66.6 | 82.7 | Very Good |
| HTC Touch2 | 75.7 | 75.7 | 82.7 | Excellent |
Messaging the WinMo way
The Gigabyte S1205 supports SMS, MMS and email. SMS and MMS share an inbox and a message editor and, thanks to Windows Mobile 6.5, you can enjoy thumb scrolling in the inboxes and through longer messages.
Still the message interface is the stock Windows Mobile 6.5, where the only upgrade is the slightly touch-optimized menu.
Threaded SMS is also available on the S1205, just as it is across Windows 6.5.
The email editor will hold no surprises for experienced WinMo users as it has not changed at all.
Setting up your email is easy as it is on most of the latest mid or high range phones. You type your email and password and all the other fiddly options are configured automatically.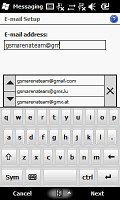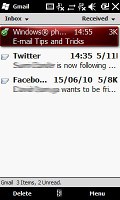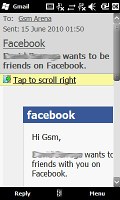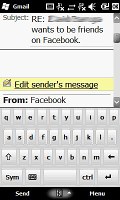 Email set up • browsing the email inbox • reading an email • replying an email
Perhaps now is a good time to mention input options on the S1205. Gigabyte have equipped the device with two pretty thumbable SPB virtual keyboards. It's a commendable feature since the default Windows Mobile keyboards are fit for stylus use only.
The first keyboard is a full portrait touch optimized QWERTY and the second one is the same QWERTY in landscape mode. The regular WinMo QWERTY for use with a stylus is as usual onboard.
Handwriting recognition is also available and works just fine.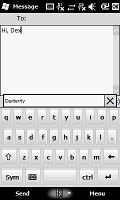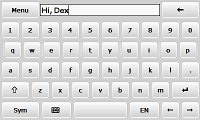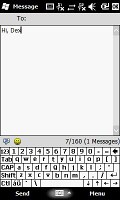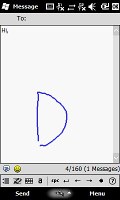 The keyboards on the Gigabyte GSmart S1205 • handwriting recognition