Inadequate camera
The Gigabyte GSmart S1205 has a 3 megapixel fixed-focus camera producing photos with a maximum resolution of 2048 x 1536 pixels. The camera offers an intuitive user interface and shoots in landscape mode. However it doesn't have a flash.
The S1205 camera viewfinder is nicely touch-optimized and has all controls you may need placed on the two vertical taskbars on both sides of the viewfinder. There you can change the shooting mode, scene, timer settings, effects, adjust brightness or go to the Photo Album. To go to the advanced settings hit the arrow at the bottom of the screen.
Speaking of the advanced settings, they include image resolution and default storage, white balance, ISO and other image properties (saturation, contrast and sharpness). Although the S1205 has an inbuilt GPS receiver its camera lacks geotagging support.
The 3 megapixel shooter is nothing special in terms of image quality. Images are oversharpened (even when sharpness is set to 0), but with good contrast and acceptable color rendering.
Noise levels are normally quite high and the aggressive noise reduction that kicks in takes its toll on resolved detail. At 100% magnification there's easily visible watercolor effect on most surface textures.
Generally, the lack of detail in images is a major weakness along with the limited dynamic range, which easily leads to underdeveloped shadows or blown highlights.
Synthetic resolution
We also snapped our resolution chart with the Gigabyte GSmart S1205. You can check out what that test is all about here.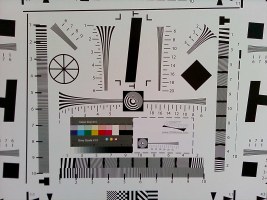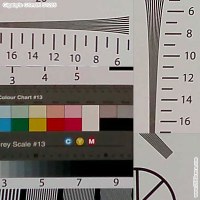 Gigabyte GSmart S1205 resolution chart photo • 100% crops
Video recording
As far as video recording is concerned, the Gigabyte GSmart S1205 can offer VGA resolution at 30fps.
The camcorder interface is identical to the one of the still camera. Unfortunately, there is no image stabilization of any kind.
The videos shot with the S1205 turned out pretty nice. While we would've been happier to see more detail and less compression artifacts, the contrast and the actual frame rate are quite good.
Here is a video sample for you to check out.
Connectivity: no 3G
When it comes to connectivity, the Gugabyte GSmart S1205 is struggling to match most midrange PocketPC's. While it packs quad-band GSM support for both SIM cards, it lacks 3G support so the best you get is EDGE.
At least, there is Wi-Fi so if there is a hotspot nearby you could take advantage of it. Bluetooth with EDR and A2DP is also on board.
The S1205 comes with a microUSB port and USB 2.0 support. When connected to a computer, the GSmart S1205 prompts you to select among ActiveSync or Mass Storage mode.
In Mass Storage mode, the memory card is treated as a removable drive. The only downside is in this mode you have no access to the memory card from the handset itself – the card becomes invisible to the file manager.
Browser: not enough processing power and no accelerometer
Now, this is the really interesting part – the preloaded version of the Internet Explorer Mobile web browser packs a nice touch-optimized interface and a cool skin. It sports kinetic scrolling and full Flash support, and looks set to give you the browsing experience that it fails to deliver on competing devices.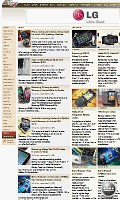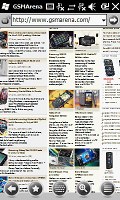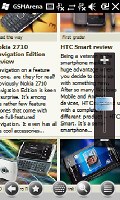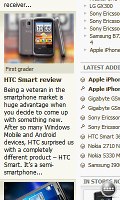 Browsing GSMArena.com with Internet Explorer Mobile
Zooming is easiest with double tapping on-screen. Double taps are certainly more comfortable than the alternative zoom bar.
There is no built-in accelerometer so don't expect the screen to rotate automatically.
Unfortunately page load times are awful even on Wi-Fi. Scrolling speed is passable though.
Opera Mobile web browser is still the best among the Windows Mobile browsers and is available for free download. Even optimized, Internet Explorer still has a lot of catching up to do.