Organizer and apps
Gigabyte GSmart S1205 features the standard time PIM features as any other WinMo-powered device and a full office package with editing. As far as the apps are concerned, there is only one worth mentioning - the Pocket Backup.
It allows you to save your data before you upgrade the phone's software and restore it when the system upgrade is ready. You can choose which items to be covered by the backup but what is far more interesting, you can schedule the next backup.
The Gigabyte GSmart S1205 comes with a built-in GPS receiver. Unfortunately, the S1205 has no SatNav software preinstalled - not even Google Maps. Anyway, it takes only a few clicks to get the Google Maps up and running on the GSmart S1205 and the handset got satellite lock reasonably fast.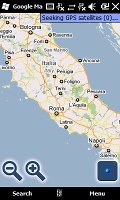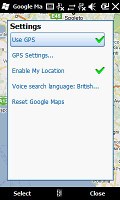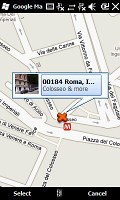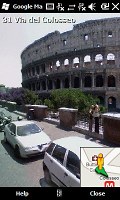 Google Maps on the GSmart S1205
Final words
The Gigabyte GSmart 1205 isn't a phone you'll instantly like. The cheap finish and the poor screen are no match for most other PocketPC's out there, not even some pretty old ones.
But then, it's not this phone's job to lure and seduce. It's simply waiting to be discovered by the practical buyer. It may take a while before you know it's a PocketPC, and Dual SIM isn't inscribed in gilded letters. But that's what it is – a dual SIM PocketPC. Now, good luck trying to beat that, HTC, Sony Ericsson and the like.
Now, not only is the Gigabyte GSmart 1205 a dual SIM PocketPC – it's one of the cheapest PocketPCs ever. Seems the right thing to do really when you know you can't compete with HDs and XPERIAs. A bargain is welcome – no doubt about that, but the GSmart 1205 is cheap and it means it.
And we think it's up to every user to make up their mind about all the implied compromises.
| | |
| --- | --- |
| Good's | Bad's |
| Cheap | And it looks it |
| Dual SIM | No 3G |
| Fair dual SIM management | Poor screen, bad graphics |
| GPS | Choppy performance |
| Wi-Fi | Limited video codec support |
| Smart Pack UI with nice customization options | Dated OS version |
| Full Office Package | Not quite thumbable, stylus often a must |
| Reasonable video, VGA @ 30 fps | Poor application package |
| Good battery life | Poor still imaging |
There isn't much going on in the dual SIM market, and the GSmart S1205 is virtually competition-free considering it's a smartphone too. Potential shoppers should have that in mind too.
The year-old Acer DX900 is in fact the only real rival. It has a smaller but higher-res display, faster processor and 3G connectivity with HSDPA support. The Acer runs the older Windows Mobile 6.1 though. Available for only about 30 euro more than Gigabyte's phone, the Acer DX900 is worth checking out.
The LG GX500 and Samsung B5722 are feature phones with dual SIM support. The LG handset comes with Wi-Fi and a similar screen, while the Samsung's B5722 has no premium features and a smaller QVGA display. The LG GX500 is priced about the same as the GSmart S1205, so the smartphone is perhaps the better choice. Samsung B5722 on the other hand is some 70 euro cheaper and budget-conscious users might want to consider.
Finally, there's plenty of decent smartphones on offer in this price range. If dual-SIM isn't a must, you'll do well to check out the equally priced HTC Tattoo and Nokia 5800 XpressMusic.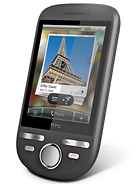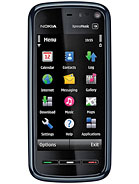 HTC Tattoo • Nokia 5800 XpressMusic
The Gigabyte GSmart S1205 is an easy phone to bash. There're so many things about it that are not up to scratch. But in the same time it is as good as bullet-proof thanks to a single unique feature. It always takes something extra to keep a phone afloat – be it looks, imaging, you name it. Dual-SIM is the insurance policy of the Gigabyte Gsmart S1205. The gentle price tag gives it a good start. It isn't going anywhere further than its narrow market niche. But it's a niche it can call its won.