Phonebook does well
The Nexus One phonebook can store quite a lot of information. It lets you input numbers for work and home, and you can even create custom labels. There is of course an email field and you can assign a custom ringtone.
The quick contacts available since Android 2.0 let you use the contact photo in the phonebook and to call, text, or email the person with a single click.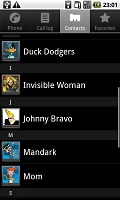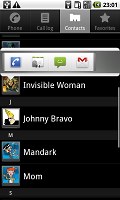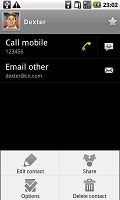 The quick contacts can save you a click or two
Another upgrade brought by the new version is the support for multiple accounts for email and contact synchronization, including Exchange accounts.
You can assign an IM nickname to contacts, as well as a postal address, company and job title, several notes, you name it. Quite interesting is the option to redirect calls directly to voicemail.
There are many info fields that you can assign to each contact, but it still remains perfectly organized. You have all the types listed (numbers, email addresses, etc) and there's a plus sign on the right - clicking it adds another item of that type. Pressing the minus sign under it deletes the unneeded field.
When viewing a contact, the various details are displayed in sections. There is a Dial number and a Send SMS/MMS tab with the numbers for the contact listed. Each number fills an entire horizontal row so that it's more thumbable.
Email also has a dedicated tab that works just like the one for numbers. The rest of the information (if any) is displayed underneath.
You can "star" a contact, which puts it in the Favorites tab. Also, in each Gmail account there's a special group called "Starred in Android" where these contacts go automatically.
Adding a photo to a contact is quite easy: when you select a photo, a cropping tool comes up allowing you to use any part of the image you want. Adding a photo has another pleasing "side effect" - if you put a dialing shortcut for the contact on the screen, it uses the photo as an icon.
Searching for a contact in the phonebook is quite easy - just hit the search key and a search box pops up.
Telephony doing good
The Google Nexus One had no issues with reception and in-call quality. The sound is loud enough so you don't need to always set the volume to maximum.
Unfortunately, the Nexus One, just like the rest of the Android crowd (except for the HTC Hero) doesn't feature smart dialing (or voice dialing for that matter).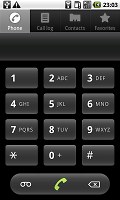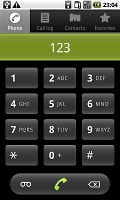 Unfortunately there's no smart dialing
In Android, the phonebook, call log and dialer are all part of the same application. You can easily search them by flick scrolling.
Thanks to the proximity sensor the Google Nexus One automatically switches off its touchscreen when you hold in next to your ear for a call. There is no chance of ever hitting an on-screen button with your cheek on this one.
The call log shows all the dialed, received and missed calls all in one list.
We also ran our traditional loudspeaker test on the Google Nexus One. We weren't overwhelmed but the Nexus One still snatched a good score, meaning missed calls are only likely in noisier environments. More info on our loudspeaker test as well as other results can be found here.
| | | | | |
| --- | --- | --- | --- | --- |
| Speakerphone test | Voice, dB | Pink noise/ Music, dB | Ringing phone, dB | Overall score |
| Apple iPhone 3G | 66.1 | 62.1 | 71.7 | Below Average |
| Motorola MILESTONE | 69.7 | 78.0 | 66.2 | Good |
| Google Nexus One | 69.9 | 66.6 | 79.1 | Good |
| HTC Hero | 76.7 | 71.9 | 77.7 | Very Good |
| HTC HD2 | 75.7 | 72.8 | 78.0 | Very Good |
| LG KF900 Prada | 77.1 | 75.7 | 82.0 | Excellent |
Messaging monster with no (QWERTY) teeth
The Android SMS and MMS departments are quite straightforward and simple - there are no folders here, just a new message button. Under that button is a list of all your messages organized into threads.
When viewing a thread, the newest message is placed at the bottom, just like on the iPhone. At the bottom of the display is the tap-to-compose box and the send key.
There is a counter on the right which is displayed once you have 16 or fewer characters remaining of the 160 limit. It also shows the number of parts the message will be split into for sending.
A nice feature of the Nexus One allows you to preset the number of messages recorded in each thread. Once that number is exceeded the oldest message gets deleted.
Another cool extra available since Android version numbering went past 2 is the search functionality that allows you to quickly find a specific message among all your saved SMS and MMS.
Composing a message is a little frustrating since the text box with the message still occupies a very small part of the screen giving you quite a small part of the text to work with.
Converting an SMS to MMS is logical and easy. When you add multimedia content to the message, it is automatically turned into an MMS. You can just add a photo or an audio file to go with the text or you can choose to go into a full-blown MMS editor, depending on your needs.
Moving onto email, the Gmail app supports batch operations, which allow multiple emails to be archived, labeled or deleted.
There is also a standard email app for all your other email accounts and it can handle multiple POP or IMAP inboxes. You have access to the messages in the original folders that are created online, side by side with the standard local ones such as inbox, drafts and sent items.
Google Talk handles the Instant Messaging department. The GTalk network is compatible with a variety of popular clients like Pidgin, Kopete, iChat and Ovi Contacts.
As far as text input options are concerned the Google Nexus One offers a couple of onscreen full QWERTY keyboards. The portrait one is usable only for short text entries as its keys are too tiny for decent speed or accuracy.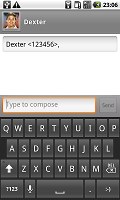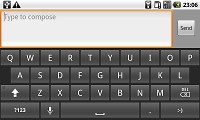 The two text input options on the Nexus One
Flipping the phone to landscape however tells a whole new story. The large on-screen keyboard takes more than half the screen and gives you large, easy to press buttons. The Nexus One is probably as good as you will ever need. For proper typing you should check out the Motorola Milestone.