Gallery: image zooming flawed by design
The Google Nexus One gallery automatically locates the images and videos, no matter where they are stored. Images and videos placed in different folders appear in different sub-galleries that automatically get the name of the folder, which is very convenient - just like a file manager.
The Google Nexus One gallery packs cool 3D effects and transitions, which we find rather attractive. The different albums appear as piles of photos which reorganize in neat grids once selected.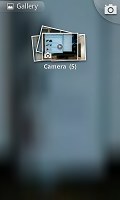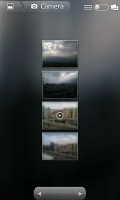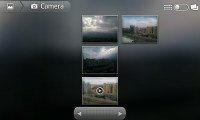 The gallery certainly is a looker
The gallery supports finger scrolling or panning so you can skip images without having to return to the default view. Just swipe to the left ot to the right when looking at a photo in fullscreen mode and the previous/next image will appear.
The pinch-zooming is also available here thanks to the Nexus One multi-touch support.
Strangely, you can't zoom images up to 100% of their resolution. Obviously the gallery displays only downsized versions of your shots and you need to transfer them to a computer if you're into pixel-peeping.
You might have also noticed some of the threads over the Internet discussing the Nexus One banding issues and suggesting that it only has a 65K-color screen. The truth is that images in the gallery are also compressed (for better performance we guess), which results in nasty banding and color patches.
On the positive side, there are two important upgrades brought by the new OS version. You have the multiple marking that allows mass cut/copy/delete and Bluetooth file transfers from the gallery. None of those is groundbreaking but they are both huge improvements for Android.
Video player refuses to walk the extra mile
For some unknown reason, video playback has been one of the hardest things to do on an Android handset. First, there was no video player at all and then things started to get worse. No, we are kidding – the video player app found on the contemporary Android phones isn't terribly bad it's just that the supported formats a pretty limited.
Okay, looks and functionality aren't great either but all the basics are covered. You get a list of all videos available on the phone and play/pause, skip controls, as well as a draggable progress bar.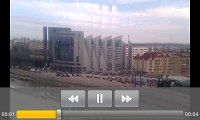 Watching a video on the Nexus One
The codec support is also pretty limited with DivX and XviD nowhere to be seen. H.264 mpegs is as good as you are gonna get, but at least those ran okay with no hiccups. Still, if you are willing to spend some time converting your videos you might actually find the Nexus One AMOLED display pretty great for watching videos on the go.
Music player needs taking care of
Sadly, the music player saw no updates on the Nexus One either. Nexus One is not too bad at managing your audio files but there's definitely room for improvement.
The first screen of the music player has four large buttons, which offer the four main ways to search your music collection - by artist, album, song or the playlists you've created.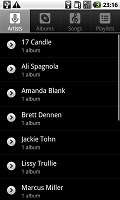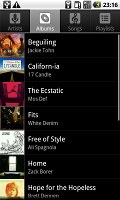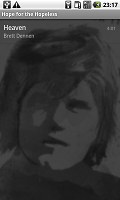 The music player saw no changes
The functionality of the music player hasn't changed much. It has that great feature that allows you to quickly look up a song on YouTube or via Google search by holding down a finger on a song. What's even better, the YouTube search results are loaded Straight into the YouTube client.
Besides gradual typing for searching a specific song, there is an alphabetical scroller, which appears on the right side of the track list.
There are still some shortcomings of the music player that need addressing, though. There are still no equalizer presets, nor any alternative visualizations.
Pretty good audio quality
The audio quality of Google Nexus One is pretty impressive, the handset faring excellently in all parts of our test.
The frequency response is good for the entire range, remaining within 0.55 dB of the perfect straight line.
The rest of the readings are also pretty great, comparable to the best in class. Here go the results so you can compare it to some of the other handsets we have tested.
| | | | | | | |
| --- | --- | --- | --- | --- | --- | --- |
| Test | Frequency response | Noise level | Dynamic range | THD | IMD + Noise | Stereo crosstalk |
| Google Nexus One | +0.19, -0.55 | -86.1 | 85.8 | 0.023 | 0.088 | -85.2 |
| HTC HD2 | +0.39, -2.99 | -89.0 | 89.1 | 0.057 | 0.960 | -87.5 |
| HTC Hero | +1.04 -2.13 | -91.3 | 92.3 | 0.458 | 0.902 | -95.8 |
| HTC Magic | +0.21 -2.20 | -85.6 | 88.8 | 0.025 | 0.220 | -86.0 |
| Samsung i8910 Omnia HD | +1.29 -2.74 | -87.6 | 86.6 | 0.0023 | 0.255 | -85.2 |
| Apple iPhone 3GS | +0.01, -0.05 | -92.1 | 92.1 | 0.0035 | 0.011 | -95.0 |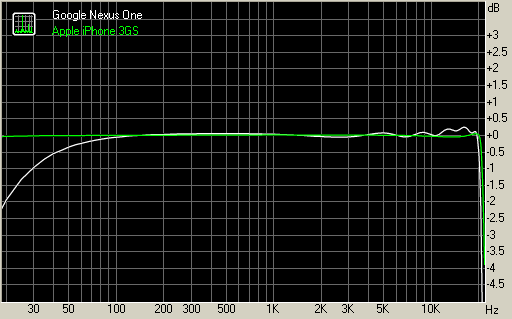 Google Nexus One vs Apple iPhone 3GS frequency response graph
You can find more information about our audio quality test here.