5 megapixel camera is nothing to rave about
On the hardware side of things Google Nexus One has a 5 megapixel camera module for a maximum image resolution of 2592 x 1936 pixels and a LED flash. It also packs a few extra features and settings not to be found on its Android predecessors.
The new stuff includes built-in flash support (apparently the Samsung Galaxy made use of some home-brewed drivers to get around that OS limitation), digital zoom, scene mode, white balance, color effects and macro focus mode.
And if you think that all this sounds so 2004 you are right. Android still has a lot of catching up to do but the good thing is they are actually doing something about it.
The user interface is pretty decent, although not exactly perfect. You have all the options on a retractable tray at the left side of the viewfinder which can either be dragged out by a finger sweep or by pressing the menu key. With so few options at hand we don't see why most of them aren't available as on screen shortcuts to begin with.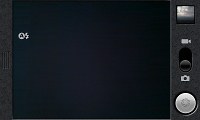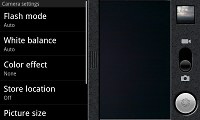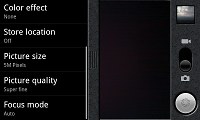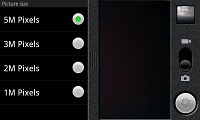 The Nexus One camera interface
Instead, the only things that are accessible all the time on screen is a switch to toggle the camcorder and the still camera, a virtual shutter key and a shortcut to the gallery docked in the bottom right.
The image quality of the Google Nexus One camera is average at best. There's as much resolved detail as we hoped but contrast does need some improvement. Plus you can easily see a pinkish spot in the center of the frame - it's easy to spot on our synthetic resolution chart sample further down.
Here go the samples for you to check out.









Google Nexus One camera samples
Synthetic resolution
We also snapped our resolution chart with the Google Nexus One. You can check out what that test is all about here.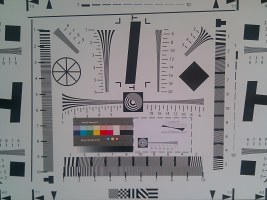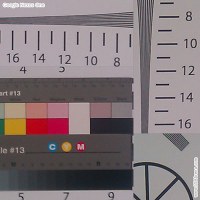 Google Nexus One resolution chart photo • 100% crops
D1 video recording
Video recording on the Nexus One is as good as we have ever seen on an Android handset as far as specs are concerned. D1 resolution (720 x 480 pixels) at 30 fps is where its capabilities end and we doubt its users will need much more.
The interface of the camcorder is similar to the one on the still camera, except that there are even fewer settings. You can set the video quality, the maximum duration of the clip, adjust white balance, apply color effects and that's that.
Videos are recorded in 3gp format suggesting lower bitrate, which in turn leads to some compression artifacts. It also suffers from the lack of contrast, much like the still camera so videos aren't too nice to watch on a computer screen.
Here is a sample video for you to see.
Plenty of connectivity
Connectivity is certainly an area where the Google Nexus One excels. For starters you get quad-band GSM/GPRS/EDGE for worldwide roaming and dual-band (900/2100 MHz) 3G with HSPA. The HSDPA is quoted at 7.2Mbps and the HSUPA can reach up to 2Mbps.
We then move on to local connectivity – the Nexus One offers USB v2.0, Bluetooth v2.1 with A2DP support and Wi-Fi. The USB interface is standard microUSB, which makes finding a suitable cable a lot easier. And now that they have enabled Bluetooth transfers, there is very little more to ask for.
Back on the positive track, we have to mention that the built-in microSD card slot can also be used as a data transfer tool. Card-readers are going for peanuts these days so having one around is quite likely and they give some pretty impressive speeds.