GPS navigation
The Nexus One comes with a capable GPS receiver, which coupled with A-GPS, gets a sattelite lock decently fast.
It comes as no surprise that Google Maps come preinstalled. Unfortunately, voice-guided turn-by-turn navigation through Google Maps is available in the US only. Still, even without Navigation, there is some kind of guidance: your route and current location appear on the screen so you'll reach your destination eventually... assuming you can read maps of course.
Quite naturally, the app also sports Street View mode. In fact, this mode is probably the best part of Google Maps. If the Street View is available in the area you're interested in, you can enjoy a 360-degree view of the surroundings. When the digital compass is turned on it feels like making a virtual tour of the location!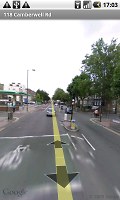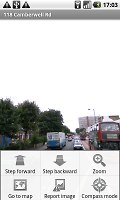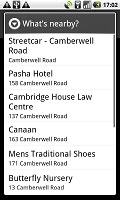 Using Street View • What's near by?
The Android Market offers a lot of alternatives, some of them free. One of the first apps we stumbled upon when searching the market for "navigation" was Wisepilot. We've seen it on quite a few other phones (feature phones included) and the interface looks exactly the same.
The thing about Wisepilot is that it requires a license for voice guided navigation and it downloads data over the Internet. That makes it unsuitable (or at least really expensive) for using when travelling abroad.
One of the free options we tried was an old favorite – AndNav! 2. Its maps are supplied by OpenStreetMap and it's ad supported (a small ad at the bottom of the screen and another one while you're waiting for route calculation).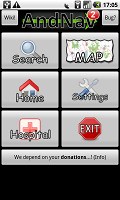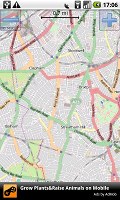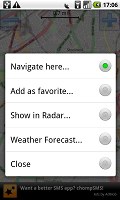 AndNav! 2 is a great free SatNav application
The best thing about it is that while it too downloads map tiles from the Internet, it has the option to preload them. You can either preload only the tiles needed for the route or preload a specific portion of the map up to some zoom level.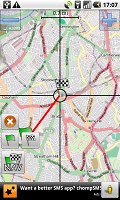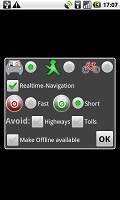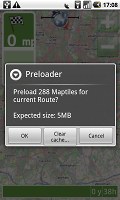 It can preload the map tiles, if you don't have a data plan
Preloading the whole of London at street level zoom requires a whopping 850MB (AndNav! can store the data on the microSD card), but a route across town is only about 5MB. Browsing the preloaded map works without an Internet connection, but you need to connect to the AndNav! server for calculating a new route.
Android Market has what you need
We mentioned the Android Market in the previous section and we found SatNav software, both free and paid, with very little effort. Since we haven't heard of some of the apps, user ratings were a good clue of waht's worth checking out and user reviews helped us decide which ones to download.
The Android Market made a very positive impression – the number of available apps is growing by the day and a good deal of them are free. In fact as it turns out, if you're after free apps, Android Market has a larger percentage of those than any of the application stores of the competition. The Market organizes apps and games into two separate tabs, and each tab shows the best in the relevant category. The third tab keeps track of what you've already downloaded.
Searching is very easy – just tap the search button, type what you're looking for (e.g. "navigation"). From then on, it's pretty easy to choose – each app has a rating, a short description by the author, user comments and screen shots.
A nice touch is that before you install an app, you are warned about what the app can access on your phone – the internal memory, your location, use the phone (e.g. make a call). This is great because it's easy to spot apps that can be potentially malicious (e.g. a notes app shouldn't ask for access to location services).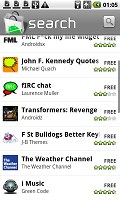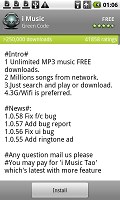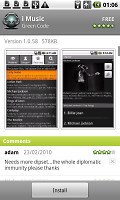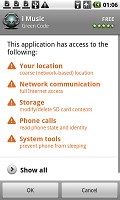 Finding the app you need is as easy as pie
When an app is being downloaded a status bar appears at the top of the display to track progress. When download is complete, you can start the application from there. That's very convenient - we would let several apps download at a time and after we were done trying one out, we'd pick another one from the status bar and continue, until we have found the best one.
Applications vary from pretty basic tools (such as the one that turns the display into a flashlight) to real must-have's (including file managers, navigation software and more), but that's true for every other app store.