Introduction
Good marketing is vital for a successful product. The HTC Bolt had a winning sales pitch - gold medal winning, that is. With Usain Bolt, the world-famous sprinter, advertising this phone for Sprint, it was an ad exec's dream come true. But what of the HTC 10 evo? It's the same hardware, but without the star power.
Well, with no World Champions lining up to peddle the 10 evo, it has to stand on its own merits. And those merits were instantly called into question - the big concern is that HTC is essentially trying to sell 2015 hardware in 2017. Sure, at a bit under €500, the HTC 10 evo isn't outrageously priced, but it still feels like we're being charged the "HTC tax" even though the brand has lost most of its luster in recent years.
Key features
Metal unibody with rugged, waterproof design
5.5" Super LCD3 with 1,440 x 2,560px resolution (534ppi)
Sigh... Qualcomm Snapdragon 810 - quad-core Cortex-A57 @ 2.0GHz, quad-core A53 @ 1.5GHz w/ Adreno 530; 3GB of RAM
Android 7.0 Nougat with HTC Sense UI
16MP main camera, f/2.0, OIS, Phase Detection autofocus; dual-LED flash; 8MP f/2.4 selfie cam
2160p and 1080p @ 30fps, 720p @ 120fps; High-Res audio recording (24-bit FLAC)
32GB of on-board storage; microSD card slot (dedicated)
LTE Cat. 6 - 300/50Mbps; Wi-Fi a/b/g/n/ac, Bluetooth 4.1, NFC; USB-C (USB 2.0)
3,200mAh battery (sealed)
Main shortcomings
Snapdragon 810 is inefficient, quickly gets hot and throttled
32GB is the only storage option, really? Plus, you lose at least 8GB of that to the system
Small battery capacity, considering the QHD screen and the chipset
USB-C headphones are rare, most don't support HTC's proprietary tech
Let us approach the phone with a positive attitude and see if the initial negative reaction was wrong. Remember the Butterfly? HTC doesn't make those anymore, but the HTC 10 evo is basically a Butterfly - a sharp screen in a waterproof body. That's a 5.5" Super LCD3 with QHD resolution and IP57 waterproofing rating, to be precise.
The other highlight is the camera - a 16MP OIS-enabled shooter with Hi-Res audio recording and other bells and whistles. Then there's the controversial move to drop the 3.5mm headphone jack, but there's a good technical reason for that.
The HTC BoomSound Adaptive Audio uses special USB-C headphones that analyze the inner shape of your ears and tune the sound to you specifically. You, of 7+ billion people on Earth, just you. That is something (presumably) not possible with old analog connector. This design is the first in the world, HTC is eager to add.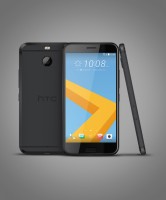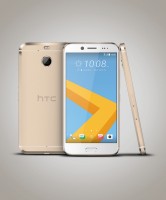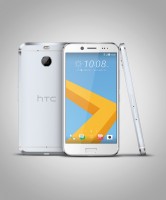 HTC 10 evo in: Black • Gold • Silver
How bad could the Snapdragon 810 chipset be, anyway? Other than the audio jack, that is people's main concern about the phone. The answer is complex and comes in several parts as it touches everything from performance to battery life.
So let's see if this honorary Butterfly will cause a hurricane when it flaps its wings or just a storm in a teacup.
P
HTC 10 EVO. HTC ditched the boomsound headset so the touting of the adaptive design is useless. The USBC port is also useless due to the fact that there is no headset adapter that can function properly with their proprietary nontechnology. Any USB-...
?
i bought this mobail but i am facing an issue in this mobail.that its screen it's not good ..mean its screen shows diffrent colure ..like yotube icon is red but this mobail showing drak red cloure,,pls tell me how change its cloure