Final words
If you go back to page one of this review, you'd probably be over and over that long list of disadvantages in disbelief. We did but hell… in HTC Hero we still trust. Really, some of them are big enough like the flawed video playback (which seems more of a software issue to us), the poor video recording (anything lower than VGA@30fps hardly cuts it anymore) and the slow file reindexing. And those are just the lame implementations of features that are already there - just don't get us started on MISSING features. But still the HTC Hero is no unlikely hero in our tale, if you would forgive us the pun.
Considering the small gap between Magic's and Hero's unsubsidized prices, the choice between the two is undoubtedly in the Hero's favor - especially since they share most of their disadvantages. The Hero not only sports a shinier and smoother UI but also has a few features the Magic is short of (like tethering enabled by default, multi-touch support and a better still camera). Of course, you can get some of those benefits just by installing a modded Hero ROM on your G1/Dream or Magic.
The most formidable adversary that comes to mind is probably the Apple iPhone 3GS. HTC Hero packs an exchangeable battery, microSD slot with microSDHC support, 5-megapixel snapper. The iPhone, on the other hand, offers faster processor, dedicated graphics chip, much better audio, quite richer app store and snappier overall performance. You can check the other differences using our comparison tool or you can revisit the iPhone 3GS review.
If you prefer to stick to Android, you can also consider Samsung's first Android powered smartphone - the I7500 Galaxy (check out our first take here), which is quite similar to the Hero. However, the Galaxy comes with less RAM and omits features like multi-touch support - porting those from the Hero might be trickier than with the Magic as they come from different manufacturers.
Another possible rival is HTC's own Touch Diamond2. The latest incarnation of the TouchFLO 3D UI brings a usability boost to Windows Mobile. Plus, it sure looks more up-to-date. Unfortunately, the flaws of the underlying OS are still there just swept under the rug of the TouchFLO 3D. So even though the Touch Diamond 2 is the most technologically advanced among the competitors on this page, we'd still think twice before going for Windows Mobile - at least not before 6.5 comes out and we take it out for a spin.
If those 500 euro they're charging for the Hero are a little too much for you, but you're keen to have a touchscreen smartphone, you might as well look at the Nokia 5800 XpressMusic or its more affordable variety Nokia 5530 XpressMusic. Before you drop the cash however make sure you go through our 5800 XpressMusic review as many of its issues are still unsolved even after a bunch of firmware updates.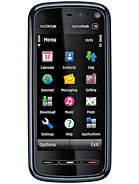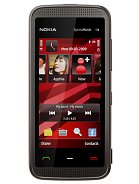 Nokia 5800 XpressMusic • Nokia 5530 XpressMusic
As our story draws to an end, we must admit we quite enjoyed walking with the Hero. It may not turn out the ultimate smartphone but things not always go as planned. It's nonetheless the best HTC and Andorid OS have churned out to date. And we don't mean to imply that HTC or Android's best is just not good enough. Rather, if they keep that pace of getting better, we're in for a close and wildly entertaining game.