GPS navigation
It comes as no surprise that the only application you can rely on for navigation right out of the box is Google Maps. The only difference from the version we saw in Magic are the added walk capabilities (not really much more than route planning for pedestrians).
Unfortunately, multi-touch doesn't work in Google Maps; double tapping won't do either. To zoom in and out you use the two virtual buttons at the bottom of the screen. These are hidden when not in use and only appear when you touch the screen.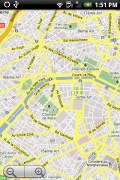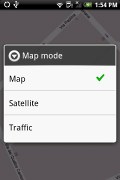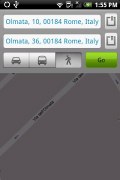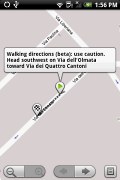 The familiar Google Maps app now with added pedestrian capabilities
At first we thought that the Street View mode isn't available anymore because it was missing from the modes list. It took a tap-and-hold on the screen for this option to get revealed. Aren't we glad to see it again! As usual, you can enjoy the sweet 3D view of the area, which the trackball controls with impressive fluidity.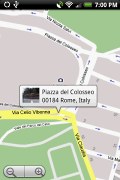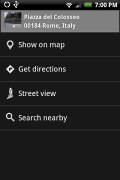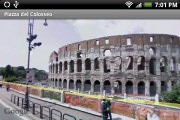 The Street View mode is still the best part of Google Maps
Voice-guided turn-by-turn navigation isn't available on Google Maps. Still, there is some kind of navigation: your route and current location appear on the screen so you'll reach your goal sometimes… assuming you can read maps of course.
There are already several ways around that. One of them, called CoPilot Live, offers 2D and 3D maps for North America and Europe, turn-by-turn voice guided navigation, portrait and landscape mode support as well as many more goodies. Once you purchase it you can download the needed maps and save them on a memory card so you won't have to worry about data charges.
If you are looking for a free navigation app, take a look at the AndNav2. It offers decent turn-by-turn navigation. The voice-guided part, however, is questionable - to use it you need an extra, free app (Text-To-Speech Library) which supports English along with many other languages. Text-to-speech instead of pre-recorded voices means a horrible computer voice but the app will still do the job.
Tweaks & Modding
Being an open-source OS, Android was sure to attract a lot of modder attention. You can tweak an Android phone beyond recognition - you just have to know how. However, not everyone will be comfortable flashing their brand new handset costing them their hard earned cash, but if they do they'd be getting more than what they paid for.
The Sense UI has really empowered the Hero, with multi-touch support and tethering (out of the box).
However, things like Bluetooth file transfer or changing ROMs and recovery images are enough to make you think of gaining root access ( the so-called "rooting") to your new HTC Hero Android OS. Of course, the coin has two sides, so be sure to check out what you might get and what you might lose if you decide to root your Hero after all.
So what does rooting exactly mean? Normally, there are some functions that are enabled in the phone's hardware but the software just can handle. A simple example: Hero would normally support Bluetooth file transfer but it's software-locked. Basically, the one-time process of rooting gives you full control over your phone OS and allows you to remove all those restrictions set by defaullt.
As usual, the xda-developers forum is your best source for more information on the matter.
Android Market: giving you more by the day
The HTC Hero comes with a few useful preinstalled applications - Google Maps, the Quickoffice, the PDF viewer and YouTube app. Others include Google Talk (its name says it all), Peep (app for access to Twitter's services), Stocks, HTC Footprints and the weather forecast app.
The HTC Footprints app allows you to geo-tag images and save them in diverse categories such as favorites, shopping, dining, etc accompanied by a personal note. Once you take a picture of a place you can look up its address and location using Google Maps.
The Weather application is also accessible using the dedicated widget. It not only has very attractive interface but is quite useful as well. As you might guess, access to internet is required.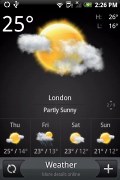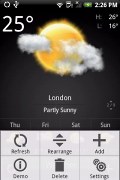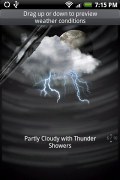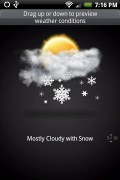 The weather forecast application is an eye-catcher interface
HTC Hero also packs a YouTube app, which may sound kinda redundant given the fully Flash-enabled web browser, but it's not. The application uses the mobile version of YouTube, which means less traffic and perfect playback (unlike the stuttery experience on the desktop YouTube).
For the rest, there's the Android Market. Here you can finds a large number of apps (a good portion of them is free by the way) which can be downloaded directly from the handset over Wi-Fi or the mobile network. If you're interested what type of apps the Androird market offers, you can jump over to Cyrket, an unofficial online market catalogue, developed and maintained by Jay Freeman (or saurik) - the same guy that gave iPhone users the unofficial third-party app repository Cydia.
A nice touch to the regular Android Market on the phone is the warning shown if the application you're about to download has potentially unsafe access to personal data, connectivity settings or else. The warning says exactly what data will be accessed so you can abort the download if you prefer.
When an app is being downloaded a status bar appears at the top of the display to track progress. When download is complete, you can start the application from there.
The Android Market follows the logic of the pioneering Apple App Store. Everything about it - the structure, the look - is pretty familiar.
Finding specific apps is pretty easy even now, several months after our first meeting with the Android Market and there are a lot more apps available.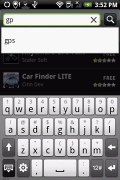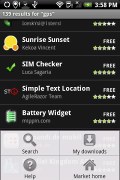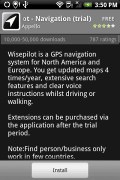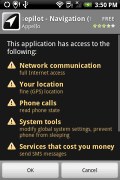 Finding the app you need is as easy as pie
Applications vary from pretty useless (such as the one that turns the display into a flashlight) to real must-have's (including file managers and video players).
As expected, there are also games... lots of them. That's quite nice, as the Hero has only one game pre-loaded. It's quite a catch though - the Teeter is loads of fun.