A good 5 megapixel snapper
HTC Hero is equipped with a 5 megapixel autofocus camera for a maximum image resolution of 2560 x 1920 pixels. Missing any flash whatsoever strongly suggests that you'd better not count on it in low-light situations.
The camera interface is simple enough and at first glance quite resembles the iPhone's. There is a camera/camcorder switch and a gallery button. The trackball serves as a shutter key. We would have preferred a dedicated shutter key with half-press action, but perhaps that's just us.
Tapping the viewfinder on screen reveals the digital zoom bar on the left. Hitting the "Menu" reveals five buttons on a tab at the bottom of the screen, the latter leading to an advanced settings menu. There you can set the metering mode, sharpness, saturation and contrast of the photos and you can add a viewfinder gridline to assist your framing.
The quick settings appearing in the viewfinder handle image resolution, white balance and brightness. You can also activate a self-timer (2 to 10 second lag) from there.
As you can guess the available options are quite outdated as there's no sign of stuff such as face, smile or blink detection, automatic panoramic modes, full resolution burst shooting modes and other modern stuff that have been making their way to cellphone cameras for quite some time now. At least geotagging of photos is available as an option.
The HTC Hero image quality is quite good for a 5 MP shooter. It produces satisfying enough photos with good amount of resolved detail. The colors aren't tuned so well and they are represented cooler than they are in reality and there is a bit over sharpening at some places.
Surely we have seen better (the recent Nokia 6700 and 6720 classic, for instance), but there's no major flaw here. There is no purple fringing and the dynamic range seems rather good.
The things that need some further adjustment are the white balance and the over sharpening issues.
Synthetic resolution
We also snapped our resolution chart with the HTC Hero. You can check out what that test is all about here.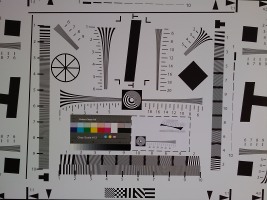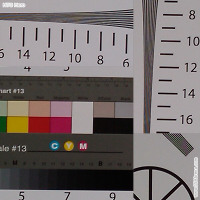 HTC Hero resolution chart photo • 100% crops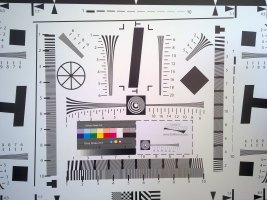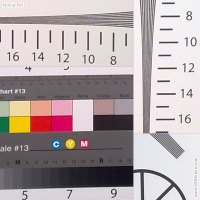 Nokia N97 resolution chart photo • 100% crops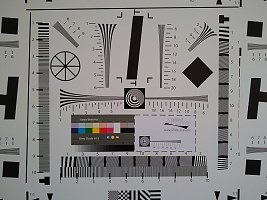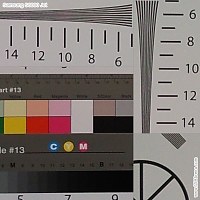 Samsung S8000 Jet resolution chart photo • 100% crops
As you can see, the HTC Hero fails to deliver as much detail as the Nokia N97, but it quite matches the Samsung S8000 levels. Still the difference between the Hero and N97 isn't too great so it probably won't even be noticeable in most cases.
CIF video recording
Quite disappointingly, the HTC Hero is capable of recording CIF video with 15 fps, which isn't something to write home about really. It still is better than nothing (remember the G1 back in the day or the unmodified Apple iPhone 3G), but it hardly qualifies as high-end.
We frowned at the Nokia N86 8MP for its VGA@30fps video recording, so you may guess we're already spoiled by the bunch of D1-res recording Samsung and LG phones. We quite expect something along those lines from every high-end device out there.
The camcorder interface is almost identical to the still camera's. It sports a setting for picking between MP4 and 3GP (H.263) encoding, which theoretically should give you the choice between smaller file and a higher-quality video. In practice the low resolution makes sure that the differences aren't really so obvious.
Here's a HTC Hero video sample to check out.
All-round connectivity
The HTC Hero offers 7.2Mpbs HSDPA, 2 Mbps HSUPA, Wi-Fi and Bluetooth 2.0. The handset features quad-band GSM and tri-band HSDPA support, as well as USB 2.0.
Accessing the connectivity options can be done via the Main Menu by looking up Wireless controls under Settings.
Thanks to the new Sense UI implemented in the Hero, there are quick homescreen widgets for turning Wi-Fi and Bluetooth on or off. If you have already configured wireless networks or previously paired devices, they will be connected automatically.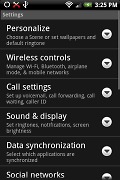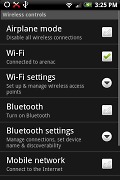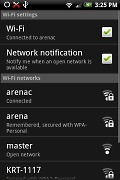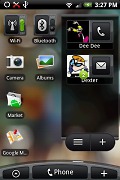 Connectivity menu • Wi-Fi and Bluetooth widgets
Wi-Fi support is excellent. It's very easy to get running, with no need to dig through the menus or meddle with various settings. Just click on the desired network, type a password if needed and there you go.
Bluetooth support is far from being so good though. It's limited to headset use and does not support file transfers. Those disadvantages can be addressed by gaining access as "root" to the OS files - the popularly called "rooting". We'll say more about that in the Tweaks&Modding section.
At least the HTC Hero comes with A2DP support, which allows streaming music to a stereo Bluetooth headset.
Synchronizing your data couldn't be easier - it's just that you mainly sync with the Google services. For those of you who prefer desktop syncing with Outlook or Outlook Express, the HTC Sync comes in handy. It is a nice tool for quick syncing your contacts and calendar events with PC (Outlook) and works just fine for both Magic and Hero.
As part of its connectivity suite, the HTC Hero also has a standard 3.5mm audio jack. There's no TV-out functionality though.
The Hero can be used as a USB 3G modem under Windows. You need to connect your device to a PC with HTC Sync installed. When done, you should enable the "Mobile network sharing" setting in the Wireless Controls menu of the Hero. Your Windows OS will do the rest and you'll be ready to use the Hero as a wireless 3G modem. Unfortunately, the whole tethering thing is not available over Bluetooth.