Android 6.0 Marshmallow out of the box
The HTC One A9 is the first device we meet running on the newly released Android 6.0 Marshmallow. Naturally, the A9 comes skinned with the company's proprietary Sense 7.0 UI layer on top, and we're already familiar with this latest iteration from the One M9.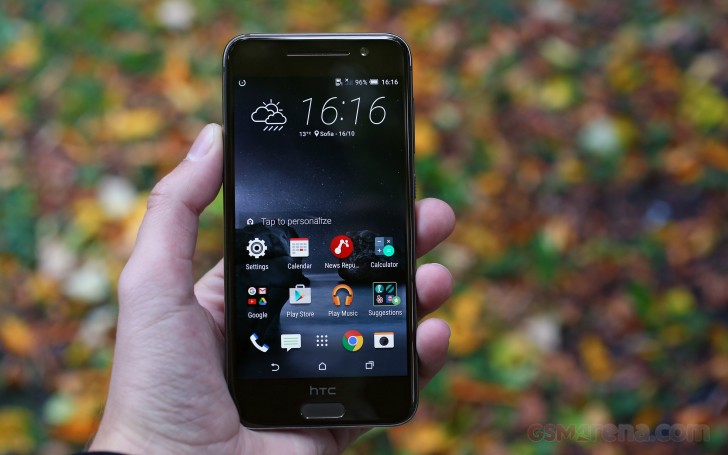 The lockscreen hasn't changed much since Sense 6 - it features a clock with weather info plus four shortcut slots. Missed calls and incoming messages are duly displayed, too, of course. You can limit the notifications' displayed information or disable them entirely if you have privacy concerns.
We are happy to report the always-on fingerprint sensor is very accurate and unlocks the display immediately even when it's turned off. The Home key, which houses the sensor, is capacitive though and we needed some time to get used to it.
HTC One A9 supports both swipe up and double tap to unlock, meaning you won't have to rely on the power/lock key all the time. You should use the gestures with care though, as you may end up accidentally unlocking your phone.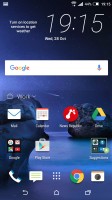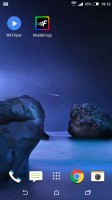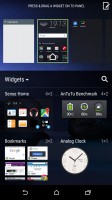 Sense 7 homescreens • Editing homescreens
The leftmost homescreen pane of the HTC One A9 is once again reserved for HTC Blinkfeed. It aggregates content from your social networks (Flickr, Foursquare, Google+, Instagram, LinkedIn, Tumblr, Twitter, Zoe), as well as from over a thousand news sources. You can pick the topics you're interested in and Blinkfeed will automatically pull relevant content. You can also search for specific content.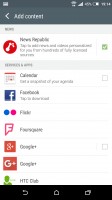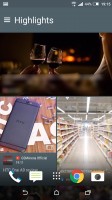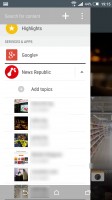 Blinkfeed combines social updates with news articles
The Blinkfeed service, with the help of the new Sense Home feature will now suggest nearby places to eat. Blinkfeed becomes aware of your eating habits and will eventually begin popping up restaurant suggestions on your lockscreen shortly before your lunch break or after you leave work. And if some of your friends have left reviews for those places, those will be shown as well, thanks to the Yelp and Foursquare integration.
Homescreens are fully customizable with links and widgets. If you don't find Blinkfeed particularly useful and don't want it lingering on the front you can do away with it just like any other widget.
The Sense Home widget, which debuted on the M9 is present here as well. It looks quite ordinary with eight shortcuts - six of them are app shortcuts, while the last two are folders for recent documents and recommended apps you may want to download.
You can't configure the shortcuts, Home Sense chooses them for you, but you can opt to remove the smart folder. After you input your home and work addresses, the widget changes the visible shortcuts depending on your current location - work, home or outside. It learns what you are using the most and puts those apps up front. The Home Sense locations are also used by the Blinkfeed for mealtime suggestions.
Wallpapers, lockscreen style, ringtones, notification sounds and alarms can be customized via a dedicated menu.
Themes are also supported, and they change your lockscreen and homescreen wallpapers, the app drawer background, the default messaging app wallpaper, the system color scheme, the icon package for apps and settings, all ringtones and the system font.
There is a dedicated Themes Store for downloading themes, but you can also get fonts, pictures and ringtones separately and apply them to your current theme. You can even build your own themes very easily and if you think they are really good, you can upload them to the store for others to use.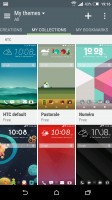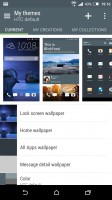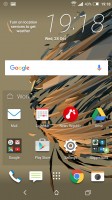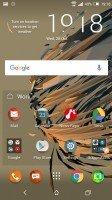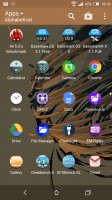 Theme Store offers various customizations including icon and font packs
One finger swipe from the top of the homescreen will open the notification area, which features a cleaner look in Android 5.0 Lollipop. An additional swipe reveals the quick toggles area that include Wi-Fi, Bluetooth, Airplane mode, screen auto-rotate, flashlight, location on/off, and the option to cast the screen. A double-finger swipe goes straight to the toggles, which are configurable, of course.
The default layout of the app drawer is a 4 x 5 grid of app icons. A 3 x 4 mode is also available, though a 5 x 6 would have made far more sense. You can sort app icons alphabetically, chronologically or manually and you can hide the ones you don't need.
The app switcher has a neat card interface that allows you to select the app you need by swiping up or down. The Chrome tabs now can appear as a cards, too. There is an option to close all opened/suspended apps at once.
Screen pinning allows to have an app displayed at all times until you unpin it with a simultaneous press and hold on the Back and Task switcher buttons.
Tap and hold on the Home button brings the new Now on tap UI with a new animation, courtesy of Android Marshmallow. This new interface recognizes what's on your screen and offers suggestion results based on the automatic search it's done in the meantime. For example - if you are inside the HTC One A9 review, the Now on Tap will detect the HTC One A9 as a keyword and will search for it on the web (don't you go anywhere else yet). While the feature seems useful it doesn't really look more than an automatic Google search and it's nowhere near the Google Now AI.
Android Marshmallow also offers the Do Not Disturb as a quick setting - it's right below the Wi-Fi quick toggle. It is essentially the previous Interruptions feature. You can choose between Total silence mode, Alarms only mode, or Priority only mode. You can customize these options from the notifications drop down or the Settings app.
A lot of people were upset by the lack of a traditional Silent mode in Lollipop. With M, the silent mode is back, accessed by holding down the volume button and then once again to exit the vibrate mode. Only scheduled alarms would sound off in Silent mode, pretty much as they're expected to.
Finally, new permission management system is available. Each app that requires special permission will be installed without warning, instead you will be asked to allow or deny access upon the first launch. This way you can install and update apps easily, and you will never miss a suspicious permission request as Marshmallow will ask you at every first launch.