Performance
HTC One A9 is the first smartphone to utilize the Snapdragon 617 SoC, which upgrades the mid-range Snapdragon 615 with the ability to use all 8 Cortex-A53 CPU cores at once and bumps the RAM frequency. The connectivity suite got faster Wi-Fi, support for LTE Cat.7, Bluetooth 4.1 and Quick Charge 3.0.
HTC One A9 is not a flagship device, so we didn't expect flagship results. By choosing a mid-tier chipset HTC made a clear statement the A9 won't be fighting the top of the shelf devices, but rather the upper midranges.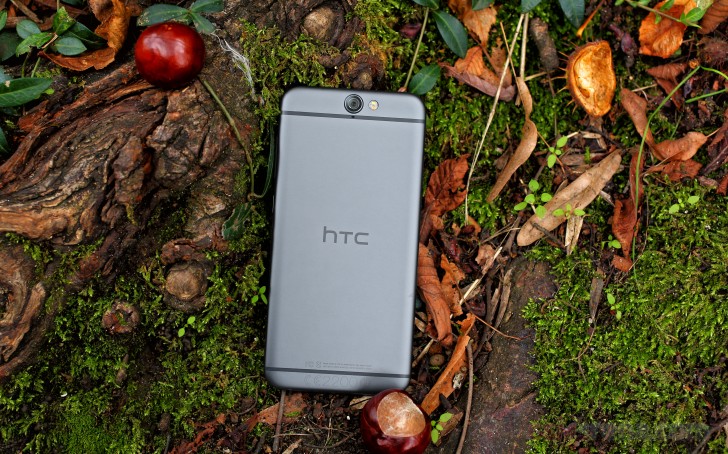 GeekBench 3 puts to the test the multi-core performance of the octa-core processor of the One A9. It's a quad-core 1.5 GHz Cortex-A53 & quad-core 1.2 GHz Cortex-A53 actually, but unlike the Snapdragon 615 chips, the S617 can use all of those cores simultaneously. The final result is a noticeable performance increase over the S615 devices (Oppo R1x and R7, vivo X5Pro), while the A9 is also very close to the hexa-core CPU of the Snapdragon 808 (LG G4, Xiaomi Mi 4c) and the Helio X10 chip performance (Xperia M5).
GeekBench 3
Higher is better
Samsung Galaxy S6
5215
Meizu MX5
5110
OnePlus 2
4429
Sony Xperia Z5 Compact
3796
HTC One M9
3761
Sony Xperia M5 Dual
3554
LG G4
3509
Huawei P8
3380
Xiaomi Mi 4c
3321
HTC One A9
3209
Apple iPhone 6
2924
Sony Xperia Z3 Compact
2856
Oppo R7
2683
Oppo R1x
2507
ZTE Nubia Z9 mini
2298
vivo X5Pro
2241
Samsung Galaxy A5
1460
AnTuTu 5 gauges CPU, GPU and memory performance and the HTC One A9 outs mid-range scores, as expected. It does the same as the Snapdragon 801-packing Xperia Z3 Compact and the Helio X10-powered Xperia M5. The S808 and S810 chips are obviously better.
AnTuTu 5
Higher is better
Samsung Galaxy S6
69396
Sony Xperia Z5 Compact
61481
HTC One M9
51427
Huawei P8
50876
Xiaomi Mi 4c
50875
LG G4
49295
Meizu MX5
48915
OnePlus 2
47207
Sony Xperia Z3 Compact
46566
HTC One A9
40631
Sony Xperia M5 Dual
38786
ZTE Nubia Z9 mini
35582
vivo X5Pro
34649
Oppo R1x
30187
Oppo R7 (retail)
29452
Samsung Galaxy A5
21581
Another well-known compound test is the BaseMark OS II 2.0 app, which takes into consideration the CPU, GPU and RAM, but also the web and OS performances. The HTC One A9 once again came in the middle of the chart, outing similar results as the Helio X10 fellas.
Basemark OS 2.0
Higher is better
Samsung Galaxy S6
1674
OnePlus 2
1622
LG G4
1584
Sony Xperia Z5 Compact
1440
HTC One M9
1365
Meizu MX5
1252
Xiaomi Mi 4c
1233
Huawei P8
1112
HTC One A9
944
Sony Xperia M5 Dual
860
Oppo R7 (retail)
757
Oppo R1x
753
vivo X5Pro
738
Samsung Galaxy A5
569
ZTE Nubia Z9 mini
282
Its single-core performance is quite mediocre, but so are all Cortex-A53 cores out there.
Basemark OS 2.0 (single-core)
Higher is better
Samsung Galaxy S6
6306
Sony Xperia Z5 Compact
6234
LG G4
5871
Xiaomi Mi 4c
5739
OnePlus 2
5301
HTC One M9
4688
Huawei P8
3684
Meizu MX5
3262
vivo X5Pro
2767
HTC One A9
2753
ZTE Nubia Z9 mini
2676
Oppo R7 (retail)
2452
Oppo R1x
2177
Sony Xperia M5 Dual
2065
Samsung Galaxy A5
1861
Fortunately, the true-octa core power shines at the multi-core test.
Basemark OS 2.0 (multi-core)
Higher is better
Samsung Galaxy S6
26799
Huawei P8
23676
Meizu MX5
22976
HTC One A9
19160
HTC One M9
18047
Sony Xperia Z5 Compact
17770
LG G4
17739
OnePlus 2
16798
Xiaomi Mi 4c
14276
ZTE Nubia Z9 mini
9979
Oppo R7 (retail)
9755
vivo X5Pro
8733
Oppo R1x
8683
Sony Xperia M5 Dual
7891
Samsung Galaxy A5
7492
Now, about the graphic capabilities. The Adreno 405 GPU has never been known of its superb performance - it was designed to serve the mid-class after all. The one in the HTC One A9 does not support Quad HD resolutions, so video playback and capturing are out of the question. And while the Adreno 405 will do awesome on 720p screens, the one in the HTC One A9 is a 1080p one, which should somewhat lower the performance.
So, both the offscreen and onscreen tests reveal the One A9 is a mediocre achiever at best, putting it next to its S615 siblings (Oppo R7, R1x, vivo X5 Pro, Nubia Z9 mini). This isn't bad, but it means you should not expect smooth performance of heavy 3D games.
GFX 3.0 Manhattan (1080p offscreen)
Higher is better
Sony Xperia Z5 Compact
25
Samsung Galaxy S6
24
HTC One M9
23
OnePlus 2
22
Apple iPhone 6
17.7
Xiaomi Mi 4c
15
LG G4
14.9
Sony Xperia Z3 Compact
11.8
Meizu MX5
10
Sony Xperia M5 Dual
8.4
HTC One A9
6.4
Oppo R7 (retail)
5.9
ZTE Nubia Z9 mini
5.9
vivo X5Pro
5.8
Huawei P8
5.4
Oppo R1x
4.9
Samsung Galaxy A5
1.8
GFX 3.0 Manhattan (onscreen)
Higher is better
Sony Xperia Z5 Compact
39
Apple iPhone 6
29.2
Sony Xperia Z3 Compact
25.4
HTC One M9
24
OnePlus 2
22
Xiaomi Mi 4c
15
Samsung Galaxy S6
14
Oppo R1x
9.6
Meizu MX5
9.5
LG G4
9.4
Sony Xperia M5 Dual
8.7
HTC One A9
6.7
Oppo R7 (retail)
5.9
vivo X5Pro
5.8
ZTE Nubia Z9 mini
5.8
Huawei P8
5.7
Samsung Galaxy A5
3.9
The latest GFX 3.1 tests and the BaseMark ES3.1 bench based on the OpenGL ES 3.1 reveal the same findings.
GFX 3.1 Manhattan (1080p offscreen)
Higher is better
Sony Xperia Z5 Compact
18
OnePlus 2
16
Xiaomi Mi 4c
10
Meizu MX5
4.8
Sony Xperia M5 Dual
4.5
HTC One A9
3.8
Huawei P8
3.4
GFX 3.1 Manhattan (onscreen)
Higher is better
Sony Xperia Z5 Compact
38
OnePlus 2
16
Xiaomi Mi 4c
9.7
Sony Xperia M5 Dual
4.9
Meizu MX5
4.7
Huawei P8
4.3
HTC One A9
4
Basemark ES 3.1 / Metal
Higher is better
HTC One M9
409
Samsung Galaxy S6
311
Xiaomi Mi 4c
248
HTC One A9
132
Finally, the BaseMark X GPU test also puts the HTC One A9 behind the Xperia M5 and Meizu MX5, which are running on MediaTek's Helio X10 (with PowerVR G6200 GPU).
Basemark X
Higher is better
Samsung Galaxy S6
27169
Sony Xperia Z5 Compact
23703
OnePlus 2
21937
HTC One M9
19848
Apple iPhone 6
17054
LG G4
15090
Xiaomi Mi 4c
12096
Sony Xperia Z3 Compact
12080
Meizu MX5
10403
Sony Xperia M5 Dual
7780
HTC One A9
6617
Huawei P8
6307
Oppo R7 (retail)
5382
vivo X5Pro
5091
ZTE Nubia Z9 mini
5003
Oppo R1x
4018
Samsung Galaxy A5
1897
A mid-ranger usually does average on the web benchmarks and so is the HTC One A9. The Chrome's JavaScript performance (the Kraken test) and the overall web performance (the Browsermark 2.1) are about the average.
Kraken 1.1
Lower is better
LG G4
4085
Samsung Galaxy S6
4154
Xiaomi Mi 4c
4506
Apple iPhone 6
4710
HTC One M9
5500
Sony Xperia Z3 Compact
6480
OnePlus 2
6808
Sony Xperia Z5 Compact
7868
HTC One A9
11069
Oppo R7 (retail)
11257
Meizu MX5
11414
Huawei P8
11867
vivo X5Pro
12525
Oppo R1x
12826
Samsung Galaxy A5
13083
ZTE Nubia Z9 mini
18583
Sony Xperia M5 Dual
25088
BrowserMark 2.1
Higher is better
Apple iPhone 6
3153
Samsung Galaxy S6
2718
Xiaomi Mi 4c
2113
Sony Xperia Z5 Compact
2099
OnePlus 2
2055
LG G4
1990
HTC One M9
1681
HTC One A9
1562
vivo X5Pro
1509
Sony Xperia Z3 Compact
1500
Meizu MX5
1471
Oppo R7 (retail)
1433
Sony Xperia M5 Dual
1203
Samsung Galaxy A5
1171
ZTE Nubia Z9 mini
767
Huawei P8
764
Oppo R1x
627
Regardless of whether you opt for the HTC One A9 with 2 or 3 GB of RAM, you'll get a mid-range smartphone to the bone. Its processing power is indeed very impressive, but its GPU is an average performer and may struggle in future top-tier 3D games.