Camera
The HTC One A9's main camera is a brand new unit. It has a 13MP BSI sensor (4:3) behind an f/2.0 lens and it's armed with optical image stabilization.
A dual-tone, dual-LED flash will help out for night shots, while a sapphire cover keeps the lens from getting detrimental scratches. Good thing too since the camera protrudes slightly from the back (about as much as on the iPhone 6s).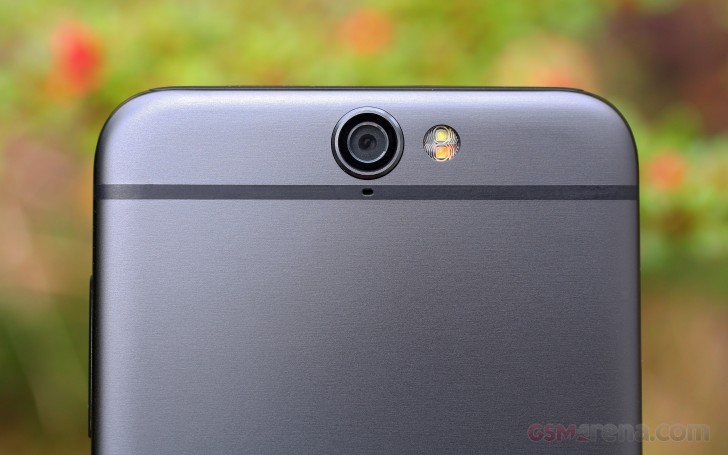 The selfie camera uses HTC's UltraPixel sensor (4MP, 16:9), which also employs an f/2.0 lens.
HTC streamlined the camera UI, but it remains familiar to One users. Auto mode is for quick and simple shooting, while Pro mode lets you tweak shutter speed (up to 2s), ISO and other settings to get the perfect shot. For ultimate tweaking you can switch to RAW files that you can edit later.
The One A9 comes with an automatic RAW Enhancement option that takes several seconds to process the file and bring out the best quality. It doesn't allow manual tuning of the parameters though, you can use third-party software if you want total control over the processing.
The captured photos came out with very good amount of resolved detail, accurate colors and spot-on white balance. Foliage is resolved very well, something lots of devices are failing to do recently.
There is lots of noise though, but we guess the untouched noise is the reason of the high amount of detail. The noise in the shadows is hurting the pictures though as it makes the images look softer.
The HDR option, if turned on, brings back detail in the shadows, while keeping the highlights almost intact. The One A9 offers high dynamic range, but there are occasion where the HDR option would definitely help.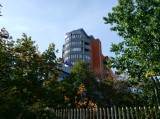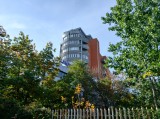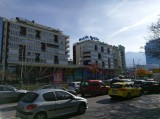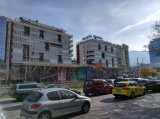 HDR off • HDR on • HDR off • HDR on
Finally, the optical image stabilization allows for shutter speeds as low as 1/5s in low light. Most of the images shot at night may turned quite well thanks to these lower shutter speeds.
If you really want light trails in your shots, you can choose an even longer shutter speed (up to 2s) from the manual Pro mode, but you'll have to use a tripod for those. Both samples came rather soft, but are still OK for sharing on social networks and the likes.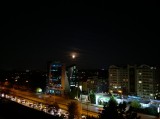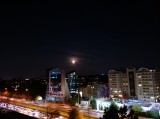 Hand-held night sample • using a tripod allows for 2s shutter speed
The panorama resolution is the same as on the HTC One M9 - the A9 it shoots at 1850px in portrait mode and up to 1080px if you are using landscape view. The images are OK, stitching is very good, but the resolved detail is far from great.



Panoramic samples taken in portrait (top) and landscape (bottom) modes
Finally, we took a sample with the front 4MP UltraPixel camera. It isn't shining with detail, but it's super wide and will do for great group selfies.
The One A9 turned out quite capable 13MP sharpshooter. You can put it next to other competitors in our picture comparison tool.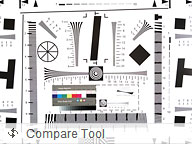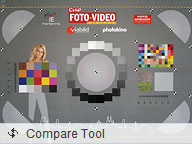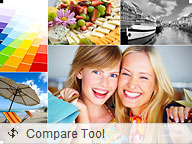 HTC One A9 in our Picture Compare Tool
Video recording
Both cameras top out at 1080p @ 30fps video recording though, a limitation of the Snapdragon 617 chipset. There's no 60fps mode either for those action-packed scenes.
The A9 seems more focused on still photography than video excellence, aside from one thing - the Hyperlapse mode. We've seen several implementations of the hyperlapse concept (by Instagram, Microsoft and others), but if you're unfamiliar, hyperlapses are basically heavily stabilized time lapse videos shot by hand. They look impressive, and the best app we've seen so far - called Hyperlapse - is only available on iOS, so kudos to HTC for bringing that functionality straight inside the A9 camera.
Yes, the One A9 has OIS, but Hyperlapse makes it look like the camera is sliding on rails, giving the video a cinematic feel.
You can speed up time by up to 12x and then use Zoe to stitch several videos together, add some music and you're ready to share your vacation videos with friends.
Unfortunately, the Hyperlapse videos come out in 720p resolution and the detail is rather low. Still, the Hyperlapse effect is good and the videos will serve their purpose.
Here is a Hyperlapse video we've taken with the HTC One A9 at 6x speed.
The regular 1080p videos are shot at steady 30 fps and saved in MP4 containers. The videos use H.264 video codec (video bitrate is about 20Mbps), while the AAC audio is stereo with 192Kbps bitrate at 48 kHz sampling rate.
The resolved detail is unsatisfactory though, the videos are very soft and the dynamic range is low. They have far less noise than the still images though.
You can download the 1080p video sample from here.
HTC One A9 is also available in our Video Compare Tool and you can put it head to head with other 1080p shooters.