User Interface powered by Emotion UI v3.0
Huawei Ascend Mate7 runs on Android 4.4.2 KitKat, skinned with an updated version of their home-brewed Emotion UI v3.0. The result is a very simple, flat interface with no app drawer (think iOS style).
Even though the EMIUI got upgraded to v3.0, the interface hasn't changed much since we've met Ascend P7 last summer. It is still a really smooth UI, highly customizable, with flat looks, redone icons and a boatload of extras.
Here's quick walkthrough of the Emotion v3.0 on video to get you started.
The default lockscreen features a nifty "sunshine" effect as you drag your finger across. You customize it to display various wallpapers, widgets, iOS-style shortcuts, and even dual clocks when roaming.
Fingerprint unlock is available as well. It works way better than any other device we've seen so far. You can position your finger however you like on the sensor, even without waking up the screen and it will unlock immediately. It is faster than Apple's implementation and a lot better than Samsung's swipe-able sensor on the Galaxies.
By the way Huawei offers individual lock on apps of your choice - you can protect any app with your fingerprint. Thanks to the high-tech sensor better than the competition this won't slow you much and yet it will provide additional layer of security on you data.
Beyond the lockscreen we find a fairly standard Android homescreen with five customizable shortcuts, which are docked at the bottom and are visible on all homescreens.
There are nine homescreen panes at most - and at least a couple of them will be populated by the preinstalled apps. In the absence of an app drawer, anything you install pops up on the homescreen, just as it would on an iPhone or a Xiaomi. While this means that you don't have to bother creating shortcuts to your apps on the homescreens, it also means that you cannot effectively hide any of your installed apps either. You can, however, group them into folders.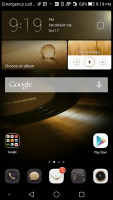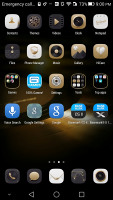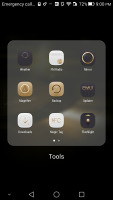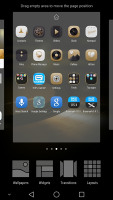 The homescreen is where your apps reside, like it or not
A pinch on the homescreen triggers the familiar Overview mode to let you check out and organize the homescreen panes currently in use, remove or add panes as you please. Widgets are available too - it's mostly the stock Android ones, but Huawei has thrown in some of its own as well. The overview mode also offers option for transition effects, wallpapers and even edit the layout grid of the panes (4x5, 5x4, or 5x5).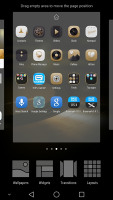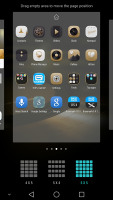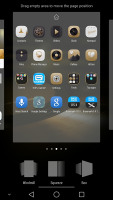 The overview mode • changing the layout grind and pane effects
Themes are available as well. A theme will change your homescreen wallpaper, lockscreen style, system and app icons, system font, system color and the sound profile. You can also adjust things like homescreen transition effects, and even change your wallpapers at random or specific time intervals.
The notification area has two pages - one that hold al notification sorted in a timeline, and another for all of your quick toggles. You can swap around the ones you want visible on the first three rows.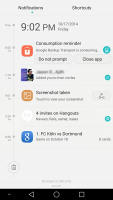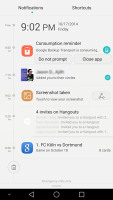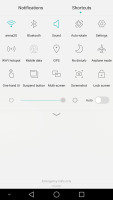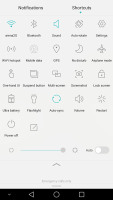 The notification area with toggles
Huawei offers a few extra features like power manager, customizable navigation bar, simple homescreen, Do not disturb mode, and even one-hand optimizations for system apps.
The Power Manager feature, available in your device's settings, shows the time left on your battery (or how much time you need to fully charge it when plugged in), as well as three non-customizable power modes - Smart, Normal and Ultra performance.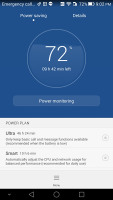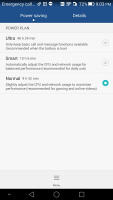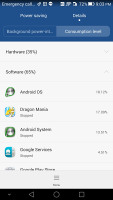 The extensive power management settings
The bottom navigation bar with the default Android controls is customizable - you can swap the task-switcher and back keys, or even add a shortcut for the notification area. You can hide the navigation bar and bring it back with an upwards swipe from the bottom.
The Do Not Disturb mode is self-explanatory - you can schedule it when to turn on and off, and you can add a list of exceptions.
You can enable the so-called Suspend button - it's a virtual key you can move anywhere on the screen and expandable to the primary Android keys - Back, Home, Task Switcher, Lock and Close all running apps. It will help you control your Mate7 with just one hand, but if that's not enough for you, there is always the one-hand mode - it uses the accelerometer to move the keyboard, the dialer and the navigation bar to the left or right side of the phone.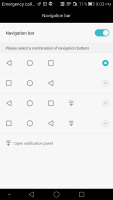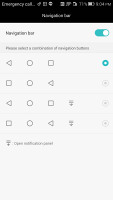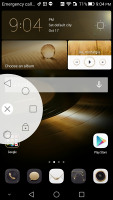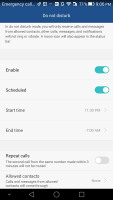 Navigation bar options • Suspend button • Do Not Disturb mode settings
There's also a Gloves mode toggle in the Settings menu, which will increase the touchscreen sensitivity of the Ascend Mate7 display, but may reduce your battery life.
The Ascend Mate7 features a task switcher that lets you swipe away unwanted apps, and there's a "Clear all" button that also informs you how much memory you've freed up.
Finally, Google Now integrates with your Google account and can access your daily routine, internet searches, email, etc. and give you information relevant to your interests and daily needs.
It provides traffic information to your work or home, knows the scores of sports teams you follow and gives you the weather forecast for your location. It's great for at-a-glance info, but can handle voice input as well. It also has a dedicated homescreen/lockscreen widget.