Connectivity misses LTE and NFC
The Huawei Ascend P6 comes with quad-band 2G/GPRS/EDGE and penta-band 3G, meaning you'll be able to use it pretty much anywhere in the world. 3G comes with HSDPA and HSUPA - for up to 21Mbps downlink and 5.7Mbps uplink. There is no LTE support though.
Local connectivity is covered by dual-band Wi-Fi b/g/n with DLNA, so you can easily play media (photos, videos, music) from DLNA-enabled storage devices or push content from your phone to a DLNA TV or multimedia player.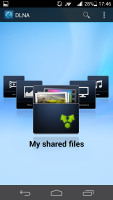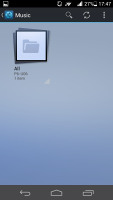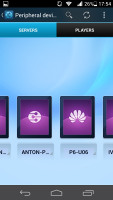 The DLNA app handles the wireless multimedia duties • Sharing files over DLNA
Bluetooth 3.0 is also available but there's no NFC.
The Ascend P6 also supports USB host so you can attach USB flash drives or connect mice/keyboards.
Great web browser experience
The Ascend P6 comes with two excellent web browsers - the stock Jelly Bean edition and Google Chrome. The stock browser UI is quite minimalistic - you get the URL bar with a tabs and a settings shortcuts, and that's it. Hitting the Settings key reveals the rest of the controls - everything from searching on the page, saving to bookmarks to useful options like bypassing mobile sites, saving a page for offline reading and sharing a page.
The full settings menu includes some interesting options. For example, you can set your search provider to be Yahoo or Bing, you can adjust text size and the level of which double tap will zoom in.
Tab switching is handled in a similar way to switching between apps. You can even close tabs by swiping them off the screen.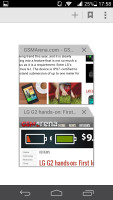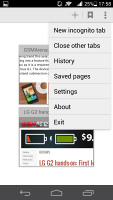 Switching tabs works the same way as switching apps does
The browser has Incognito mode (there's no global setting, but you can open Incognito tabs). The other thing the browser does is preload search results when it's confident you'll click on them. These are two tricks borrowed from Google's desktop browser.
Quick controls are available from the Labs settings, which reveal three controls (Tabs, URL, More) when you tap anywhere on the edge of the screen.
We still prefer the Chrome browser because of its cross-platform sync capabilities. It's absolutely identical in terms of interface, features (sans the Quick Controls), and behavior. Sometimes it's even faster, as our benchmarks showed earlier in the review.
Document editing is easy
The Huawei Ascend P6 comes with Polaris Office 4.0, which handles document editing with ease. It supports Word, Excel and PowerPoint docs (both the 2003 and 2007 versions), it opens PDF files and it doubles as a file explorer.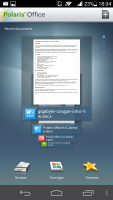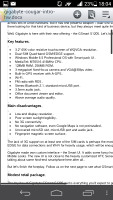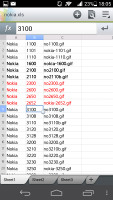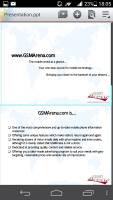 Polaris Office document editor
When editing a document, you get plenty of options - from text size and formatting to text justification, lists, tables, an Excel formula editor and more.
You do get a proper file explorer too - it has two tabs that handle the internal and external storage organized by folders. The app also handles ZIP files. It supports batch operations too.